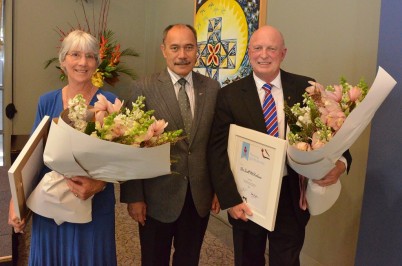 E kui mā, e koro mā, e huihui nei, tēnei aku mihi māhana ki a koutou. Kia ora tātou katoa. Nau mai, haere mai rā ki Te Whare Kawana ki Tamaki Makaurau.
Distinguished guests, ladies and gentlemen, warm greetings to you all. Welcome to Government House Auckland.
I specifically acknowledge: Robyn Kiddle and Pat Wilkes, CEO and Vice-Chair respectively of the Child Cancer Foundation; Dr Scott MacFarlane and Anne Bielby, today's two Honorary Life Membership Award recipients and the Hon Tony Ryall- tēnā koutou katoa.
It is a great pleasure for Janine and me to welcome you all to Government House today. This is the second time I have presented the Child Cancer Foundation Honorary Life membership Awards. I am pleased to once again help recognise two people who have done so much to help children and the families of children who are dealing with cancer.
American author Robert Brault once said "The hardest thing to accept as a parent is that you cannot apply the bandage before the bruise." As parents we do everything we can to keep our children safe from harm. We teach them how to cross the road safely, we buy our products with child proof caps, we advise on the dangers of running with scissors. We do all we can to make sure they get to the end of each day in one piece.
While we'd love that nothing bad ever happened to our children, if things do go wrong, generally we've got the answers. If kissing it better doesn't work, a band aid will cure it and Wikipedia is always a handy tool for sorting out queries about why the sky is blue. We've got most things covered.
A diagnosis of cancer throws all those certainties out the window. We don't have a band aid in the first aid kit for cancer and there are questions that we as parents just don't know the answers to. It's a scary thing for a child and a family to experience and sadly three New Zealand families each week come face to face with the reality of living with cancer.
Most of the families who have been placed in that situation will have a story to tell of how the Child Cancer Foundation helped them cope. According to the Foundation's annual report , 3,682 family members were supported nationwide by staff and volunteers. 124 personal development grants were awarded, 112 families enjoyed the Foundation's Holiday Home Service and 1,400 families received hospital meal vouchers. That's just some of the activities undertaken in the 2013/14 financial year. I'm sure the figures from the next annual report will tell a similar story. That this work is funded solely by the generosity of New Zealanders, rather than by the Government or cancer support agencies, makes it remarkable in both its scale and effectiveness.
The success of any organisation is a direct result of the calibre of people associated with it. Today, we are here to present Dr Scott McFarlane and Anne Bielby with Honorary Life Memberships in recognition of the commitment, dedication and service they have given to the Child Cancer Foundation. Both medical professionals, although Anne is now retired, they have made major contributions to the Child Cancer Foundation and to the field of child cancer care as a whole.
The citations prepared for them tell a story of service above and beyond the call of duty. Scott has played a leadership role in governance and strategy, helping provide families with access to the best possible care and achieving the best possible outcomes. Anne used the knowledge she'd gained from working with families with a child with cancer to improve practical support for parents and siblings and to improve the management of care for terminally ill children.
As well as working with child cancer patients, they have gone beyond their job description and given their personal time as well. That contribution of time is equally as valuable to an organisation as money. It has to be said that both have done their fair share of fundraising though. Anne's citation even mentions shaking buckets!
I congratulate Scott and Anne on your well-deserved Honorary Life memberships. Only 20 of these have been given out , so you are joining a very select group. I thank you for the care and concern you have shown for other New Zealanders, particularly in the provision of better support for families and patients. Given you both have medical backgrounds, I feel the words of Greek physician Hippocrates are most appropriate to sum up your work "Cure sometimes, treat often, comfort always."
Kia ora huihui tātou katoa