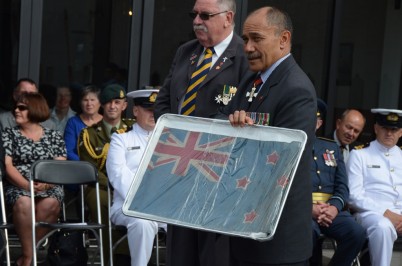 E nga mana, e nga reo, e nga iwi o te motu e huihui nei, tēnei aku mihi māhana ki a koutou. Kia ora tātou katoa.
I specifically acknowledge: Rear-Admiral Jack Steer, Chief of Navy; Air Vice-Marshall Mike Yardley, Chief of Air Force; Barry (BJ) Clarke, National President of the RSA; Members of Parliament and City Councillors. Can I also acknowledge the veterans on parade today.
Tēnā koutou katoa.
It's a real pleasure to be here today for the opening of a new building for New Zealand's oldest RSA.
I appreciate how distressing it must have been to lose your previous building after the earthquakes – and so I'm pleased to be able to follow in Lord Jellicoe's footsteps and help you celebrate today.
It's highly symbolic that this opening should be so close to the centenary of the Gallipoli landings – given that it was wounded veterans from that campaign who were instrumental in getting the RSA up and running, here in Christchurch and around New Zealand.
Those veterans understood comradeship – the kind of comradeship that develops when we are dependent on our mates for our very survival.
And having been to Gallipoli a number of times myself, I can appreciate the terrain and appalling conditions that our men had to contend with – and the comradeship which helped them get through that campaign.
In 1919, on their return, they looked out for each other as they faced the challenges of returning to civilian life. This sense of mutual support continues to underpin the work of the RSA today.
Our First World War veterans are no longer with us, but their children and grandchildren are. They can tell us the stories that have been passed down to them – and testify to the impact that the War had on the men, their families and their communities.
First World War accounts are increasingly available in new books coming out to coincide with the centenary commemorations. Many of these draw on personal diaries, letters and oral histories.
It's good to see these books showing increasing emphasis on our contributions on the Western Front and I hope this will lead to greater understanding of the significance of New Zealand's contribution there – and a greater appreciation that it was there where we suffered two-thirds of our casualties in the First World War.
When I read the vivid first-hand accounts of soldiers, they just reinforce my conviction that veterans need to tell their stories, and get them recorded, if they can.
This was the message I gave to Second World War veterans at the 75th anniversary commemorations at Cassino and Normandy last year. And today I urge veterans of subsequent theatres of war, from Korea through to Afghanistan – to make sure that their stories are also shared and recorded in some way.
Just two days ago, I was at the dawn blessing of our new Pukeahu Park at the National War Memorial. It was good to be able to re-enter the Hall of Memories, which has been closed for earthquake strengthening.
The Hall of Memories has been the venue for many functions associated with the RSA, including the annual RSA Cyril Bassett VC speech competition. While the Hall of Memories has been closed, the competition has been held at Government House. And so I have had the pleasure of meeting young finalists. This year, all eight regional finalists are part of a group of 25 young New Zealanders going to Gallipoli as this country's Youth Ambassadors.
When I met them all, it seemed to me that the RSA's commitment to honour and preserve the memory of our war dead is shared by those young New Zealanders.

As more young people attend Anzac Day services and go to Gallipoli we have reason to be confident that future generations will honour the sacrifices made by our service men and women and will carry the torch of remembrance into the future. And it is fitting to have places, like this building, where we can do that.
Kia ora, kia kaha, kia manawanui, huihui tātou katoa