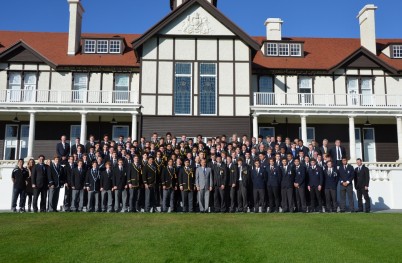 Rau rangatira mā, e ngā Kaiako, ngā tama mā, o tēnei hui – the Quadrangular Tournament - tēnei aku mihi māhana ki a koutou. Naumai haere mai ki Te Whare Kawana ki Te Whanganui-a-Tara.
Leaders, staff and young men here for the Quadrangular Tournament, I extend my warm greetings and welcome to Government House.
I specifically greet: Roger Moses, Headmaster of Wellington College and your team; Gary O'Shea, Headmaster of Nelson College and your team; Chris Moller, Headmaster of Wanganui Collegiate School and your team; and Neil Porter, Deputy Headmaster of Christ's College and your team.
I'm really pleased to welcome you all to Government House for this morning tea. It is the calm before the storm, before you do your finals' preparation and commence the finals tomorrow. Possibly your coaches are anxious. This interlude on your rest day has a double concern – they will have wanted more time to reinforce tactics for tomorrow's games and they may be concerned that you young men may not be able to resist the food – props excluded!
The last time Wellington College hosted the tournament in 2011, my predecessor Sir Anand Satyanand hosted an afternoon tea here. With less than 58 hours to go before he finished his term as the Governor-General, he thought it important to continue a tradition. I share Sir Anand's view, and that's why I was keen, when asked, to host a morning tea for this longstanding quadrangular tournament.
As the oldest secondary school rugby tournament in New Zealand – starting as a triangular tournament 125 years ago - in 1890 - becoming a quadrangular in 1925, its traditions are those of which you can all be proud. It is superb to see four boys' schools come together in the spirit of fair competition, comradery and energy.
Rugby has been part of our country's culture for around 145 years. As our national sport, many young men aspire to be All Blacks, not many succeed. Since the first All Blacks in 1884, 1137 men have succeeded. With the Rugby World Cup due to start in a few months, it is likely that number will top 1140. Each of the players here today may aspire to become a member of the All Blacks, but not this year – perhaps!
To be an All Black and to win this quadrangular tournament requires special commitment. An American author, Zig Ziglar said: "You were born to win, but to be a winner you must plan to win, prepare to win, and expect to win". Winning is a frame of mind.
I think it is great to see the four schools encouraging students to win.
In the rough and rumble of rugby, bodies are conditioned, minds are tuned and importantly character, something that will stay with you for life, is built. The Springbok coach, Heyneke Meyer has said "Ballroom dancing is a contact sport, rugby is a collision sport". This collision sport has the potential to bring out the best in you young men.
The tournament this week coincides with the Sir Peter Blake Trust's Leadership Week. And so I will take this opportunity to say something about leadership.
My third and final quote is from Sir Peter Blake, a great sportsman, competitor and leader. It is from his final logbook entry, before he was murdered on the Amazon:
"Again, I raise the question: why are we here? Our aim is to begin to understand the reasons why we must all start appreciating what we have before it is too late….. We want to make a difference."
Each of you is at this quadrangular tournament to make a difference. Leaders make a difference.
It's not only the captains, co-captains and vice captains that are leaders. Those are positions of responsibility. In your schools each of you, whether it's obvious or not, is a leader.
Leadership is a position of accountability. Leaders lead, they provide the inspiration for those who will follow. Leaders are accountable to your family, to your school, to your team mates and to yourself for how you make a difference.
I expect your Headmasters will have impressed on you that it is important to remember that good sportsmanship is as important as winning the game. It is. Also, while you may not agree with a referee's decision, it is essential that you respect and accept the on-field rulings. Use setbacks as motivation to improve and go harder.
No-one ever plays to lose. However, in hotly contested tournaments like this one, losing is a reality that a team has to face, unless, of course, there is a draw. Accepting defeat with dignity and learning from it is a virtue that will always be valuable; not only in sport, but in many other aspects of your life.
It is through our defeats, as much as our successes that we learn and develop our character; and much better equipped to face the challenges of life. The All Blacks 2007 RWC loss to France had a significant effect at the time, but a much more beneficial effect for players and coaches in 2011.
Finally, and most importantly, I trust that you will not only play to win tomorrow, but play for your own enjoyment! Remember that while winning is the goal, having fun is the real purpose of any good game. And win or lose you all have the opportunity to make a difference. In the meantime enjoy our hospitality – and I can recommend the sandwiches!
No reira, tēnā koutou, tēnā koutou, tēnā tātou katoa.