Dawn Service at Gallipoli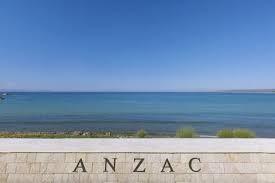 Tihei mauri ora
E te tini me te mano e huihui nei,
Nga mihi māhana ki a koutou katoa.
Tēnā koutou i tēnei karakia atatū o te rā o ANZAC ,
E maumahara ana i te pakanga tuatahi ki Kariporia,
Me ngā pakanga katoa o te Ao,
Kia ora huihui tātou katoa.

To the many people gathered
warm greetings to you all.  I greet you all at this dawn service on this ANZAC day, as we remember WW1 at Gallipoli, and all the wars where we have fought.  Greetings to us all
One hundred years ago, Europe was heading into what has long been remembered as a golden summer.  No-one could have foreseen that summer's end would herald one of the darkest periods in our history.  The First World War cast a long shadow and ripped the world apart. 
Now, remembrance ceremonies like this one bring us together.  Each year New Zealanders, Australians and Turks come from the four corners of the earth, to this place where our grandfathers, great grandfathers and great-great grandfathers fought, and where many of them died.
This morning we stand at the brink of the Centenary of the First World War.  At dawn, a year from now, those gathered here will look back to the start of the Gallipoli campaign.  People's thoughts will rightly be focused on the events that unfolded exactly one hundred years ago.  They will imagine the Australian troops landing at Anzac Cove on a cold crisp morning and the New Zealanders that followed in the heat of the afternoon.  They will also contemplate the thoughts and deeds of the Turkish troops up on those hills who braced themselves to defend their homeland. 
This year, the 99th anniversary year, our thoughts, our reflections, will likely be the same.  However, in the space before the centenary begins, it is timely to remember the peace that was over this land 100 years ago as we honour those who fought here in 1915, and all the service men and women who have answered the call since. 
In the words of the New Zealand historian Neil Atkinson, 'History is a responsibility we carry with us now and into the future'.   As the years pass and new history is made, it is important we stop and remember the momentous events of our past.  We do that not to glorify war, but to pay homage to the men and women who served in them.  They have served, and some of them are currently serving, often very far from home, to defend our freedoms and to bring about a better peace for their families, for our families.
The Anzac name and its meaning were born of those times.  And every Anzac Day, we spare a thought for the ANZACs and the friendships that were forged on these battlefields at Gallipoli 99 years ago.
After the war, our New Zealand Gallipoli veterans spoke warmly of their Australian mates.  These words of Sergeant Harvey Johns are an example: "They were good. You could depend on them… If they wanted anybody to back them up it would be the New Zealanders".  And there were many other comments along similar lines – unsentimental, as was the nature of those men, but indicating a deeply felt respect and rapport.  Australians and New Zealanders retain a special relationship and confidence in each other to this day.
Our histories, our peoples and our well-being are tightly interwoven.  We continue to have close partnerships in security and defence, most recently in our near region - Timor-Leste and the Solomon Islands – and further afield in places like Afghanistan and the Sinai.  Our defence forces continue to work together closely, especially in support of our neighbours in the Pacific.
We also remember that we were not alone at Gallipoli.  Many other countries, on both the Allied and Ottoman sides, lost men in that terrible campaign.  For New Zealand and Australia, Gallipoli also shaped a new and profound relationship with Turkey.  Once on opposite sides of the Gallipoli campaign, we have developed the greatest respect and affection for Turkey and its people.
Every Anzac Day, the Government and people of Turkey are our most considerate hosts.  They allow the descendants of the first ANZACs the opportunity to remember our forebears' experience of war in the land where they served.  For this I thank you on behalf of all New Zealanders – here, at home and around the world.
This commemorative site at Anzac Cove was created as a collaborative venture between Turkey, Australia and New Zealand.  The men who fought here could scarcely have imagined this in their future.  And yet, standing here today, we remember their examples and we know there can be hope even in the darkest of times.
In New Zealand, we are proud to have a memorial on New Zealand soil to Mustafa Kemal Ataturk, the man who fought valiantly against us and then forged an enduring friendship.  He was a leader in the art of peace and the art of nation-building as much he was in the art of war.
This year we will also mark the 75th anniversary of the outbreak of the Second World War.  Some of those who served in that war are still with us today.  I want to take a moment to acknowledge those brave men and women – and those, too, who were not on active service, but nevertheless suffered the stresses and privations of wartime. 
Far away from here, in Wellington our national capital, a National War Memorial Park – Pukeahu - is being built to mark the centenary of the Anzac landings.  I will have the honour of opening Pukeahu next year.  It will be a place to remember all who have served our country.  And it will be a place where other nations that we share wartime experiences with may choose to place a memorial.  It is fitting that the first country to place a memorial at Pukeahu will be Australia, our brothers in arms at Gallipoli.
When we remember our brave forebears we pay them the honour they deserve.  It is also a time for reflection on war and its impact.  And it is a chance to enlighten new generations about the events that shaped their world, and to encourage them to strive for peace.
Looking out from where I stand this morning, it is very moving to see so many people assembled for this Dawn Service and to know Anzac Day services are taking place in many countries throughout the world.  The scale of these commemorations shows how deeply people have been affected by what happened here.
On Anzac Day we remember the suffering and loss of life at Gallipoli, and yet we also celebrate the values that rose above the hardship: comradeship, courage, compassion, loyalty, and self-sacrifice for the greater good.  And looking back, we know wars pass but these values and the prospect of a better peace endure.
Our being here this Anzac Day, keeps alive the torch of remembrance that has been passed to us so we can pass it on to our children and through them to their children.  In this way we ensure the service, sacrifice and hope of past generations is never forgotten.
I will close by quoting the last refrain of "The Ode to the Fallen".
I te hekenga atu o te ra,
Tae noa ki te aranga mai i te ata,
Ka maumāhara tonu tātou ki a rātou.
At the going down of the sun and in the morning, we will remember them.