Ta Meihana Durie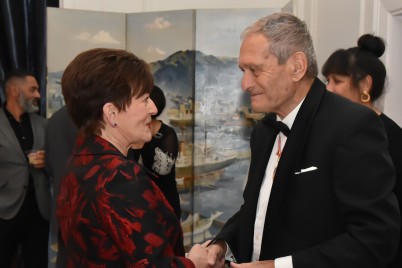 Ko koe ko Rangitane,
ko Rangitane ko koe
Ko koe ko Ngati Kauwhata,
ko Ngati Kauwhata ko koe
Ko Koe ko Ngati Raukawa,
Ko Ngati Raukawa ko koe
He Rangatira,
he pononga
He Pononga
he Rangatira
Tihei Mauriora
Ki te whei Ao
ki te ao marama
Ta Mason, you are hugely deserving of Aotearoa's highest honour and I am absolutely delighted that David and I can celebrate the conferral of your insignia with you, your friends and whanau this evening.
I know I cannot possibly do justice to your many contributions and achievements in the next few minutes.
What I can do is congratulate you most sincerely for this public recognition of a life of service to your fellow citizens.
Your Order of New Zealand recognises the profound impact of your work on the wellbeing of iwi Māori, particularly in health and education – and of your work to ensure that te ao Māori and matauranga Māori are incorporated into the fabric of our public institutions.
I cannot imagine how daunting that must have been at the beginning of your career.
Only you will fully appreciate the resilience required to challenge entrenched systems and pioneer approaches which honour, incorporate and promote tikanga.
Thank you for taking on those challenges. Thank you for everything you have achieved as a leader on that journey of transformation in Aotearoa.
No doubt progress has been slower than you would have liked, but your wisdom and influence have become evident in the generational changes we have witnessed across many domains.
You can take satisfaction in seeing the impact of your involvement in Māori community health initiatives and health research, wananga and university programmes of study and research, in the kura you established, in policy development and in the governance of national institutions.
Yes, there is still work to be done, but you have helped us in the task of developing institutions and practices that better reflect the principles that underpin our Treaty relationship.
And that work is helping to make Aotearoa a better place for all New Zealanders.
Your influence will be felt through generations to come, through the impact of your teaching, research, mentoring and empowerment of fellow citizens.
The Order of New Zealand is distinguished by right of being our nation's highest honour – and by the fact that that each insignia is passed on to succeeding recipients.
Ta Mason, I imagine it will be deeply satisfying to know that when you wear your insignia, you will be strengthened by its whakapapa, knowing that you are embraced with the mana and wairua of Bishop Manuhuia Bennett, Sir Paul Reeves and Ralph Hotere.
Like them, you have earned the lasting esteem of New Zealanders for the contribution you have made to the betterment of our lives in Aotearoa.