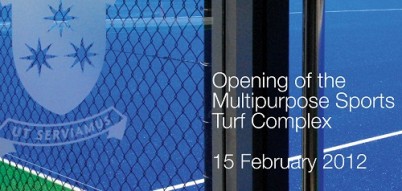 E nga reo, e nga mana, e nga iwi me nga kotiro o tēnei kura, e huihui nei, tēnei aku mihi māhana ki a koutou. Kia ora tātou katoa. Distinguished guests, and girls of the school, warm greetings to you all.
I specifically acknowledge: Rt Rev Ross Bay, Anglican Bishop of Auckland—tēnā koe; Andrew Peterson, Chair of Diocesan School for Girls, and your predecessor Angela Coe—tēnā korua; Heather McRae, Diocesan Principal—tēnā koe; Hon John Banks, Epsom MP and Associate Minister of Education—tēnā koe; and Head Girl, Annelise Hassell—tēnā koe.
Thank you for inviting me to open the Diocesan Multi-Purpose Sports Turf Complex. Can I first of all convey Her Excellency's apologies, she is in Wellington organising our private arrangements – or more specifically our two teenage sons.
However, it is a distinct delight to be here today, and to follow in the footsteps of five of my immediate predecessors in opening facilities here. The Aquatic Centre was opened by Sir Anand Satyanand, in February 2009. Before that Dame Silvia Cartwright had opened the Centennial Building, Sir Michael Hardie-Boys the redeveloped Science block, Dame Cath Tizard the old Junior School Hall and the late Sir Paul Reeves the Dawn Jones Sports' Centre. Given that Government House in Auckland is just around the corner, it should be no surprise that Governors-General have supported one of our local schools!
From the outset, I want to congratulate everyone who has been involved in bringing this project to fruition. This new multi-purpose complex is another major milestone in the on-going implementation of Diocesan's 20-year Campus Master Plan. The complex continues in that proud tradition of the physical development and renewal at "Dio". The state-of-the-art artificial blue-turf is the premium hockey surface available in the world. With lighting and a tiered spectator gallery, all sitting above space for the school archives, Property-team facilities, shop and 209-vehicle car park, it is a fantastic facility.
In my address today, I would like to speak of the significance of this new complex. To me, it touches on matters that are important to New Zealanders—education, sport and excellence.
This is the fourth complex that I have opened at a "school" since being appointed as Governor-General almost six months ago. The others are the student centre at the University of Waikato, the Chapel Close at Kings' College in south Auckland and Te Tahūhūroa o Īhenga, the new teaching and administration centre at the Waiāriki Institute of Technology in Rotorua. At each ceremony we have celebrated the completion of those facilities and the time and effort people have committed in conceiving, designing, building and funding. More importantly, we have also acknowledged the foresight of people and their commitment to education and its power to transform lives for the better.
Often people talk of schools delivering to the academic mantra of reading, writing and arithmetic. While these are essential competencies, any school that limits its curriculum to such matters does not, in my opinion, provide a rounded education.
Education is more about developing capable young people who can think and act critically and creatively, and who can practice leadership in a world that is increasingly complex, changing and challenging. And for these qualities and attributes to blossom in young people, healthy minds need healthy bodies.
Sport has obvious benefits for health and fitness, whether you're 5, 15 or 65. It also has the potential, however, to foster key qualities around setting and achieving personal goals, team work and leadership. Nelson Mandela once put this notion neatly when he said: "Sport has the power to change the world. It has the power to inspire, it has the power to unite people in a way that little else does. It speaks to youth in a language they understand."
Diocesan School for Girls clearly speaks a language young people understand for its alumni are a who's who of New Zealand's top achievers in many fields; including law, science, education, business, medicine, and art. Of course, we New Zealanders love our sport – and we love it even more when one of our own wins! Diocesan girls have also been and still are formidable competitors in sport, and your list of high achievers is impressive. It includes swimmer (and author) Tessa Duder, Olympic equestrian double medallist Vicky Latta, champion marathon runner Allison Roe, Olympic champion cyclist Sarah Ulmer, All Blacks doctor, Dr Deborah Robinson, and there are the hockey girls!
Given Dio's involvement with hockey and as this turf will be used to play hockey, it's not surprising the school's alumni boasts several current and former Black Sticks. I note there is a game to follow this ceremony, and with the Olympics only a few months away, they will no doubt be keen to train on a turf similar to the one they will be competing on in London! It is also good that Diocesan has made the turf available for touch rugby and soccer as well as for school competition games organised by Auckland Hockey and College Sport.
In conclusion, while this is a fantastic facility, it represents much more than reinforced concrete and synthetic surfaces. It speaks of a school with proud traditions that reach back more than a century. It speaks of a school with a commitment to its core "STAR" values: success, tradition, achievement and respect. And it speaks of a school where young women are encouraged to take responsibility for their academic, spiritual, moral and physical development and well-being. This is so well encapsulated in the school's purpose statement: "Be more than you ever imagined."
This facility is certainly more than many could have or would have ever imagined. Accordingly, as a Governor-General who never imagined he would be here in this capacity 55, 15 or 5 years ago it gives me great pleasure, to declare the Diocesan School for Girls' multi-purpose sports turf complex officially open.
Kia ora huihui tātou katoa.
Last updated:
Wednesday, 15 February 2012