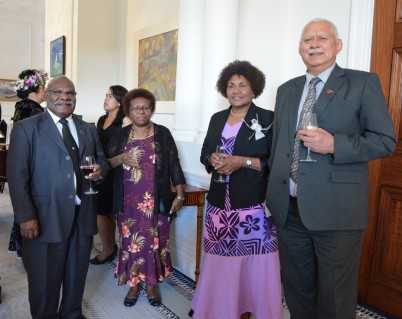 Rau rangatira mā, e huihui nei, tēnei aku mihi māhana ki a koutou. Kia ora tātou katoa. Nau mai haere mai ki Te Whare Kawana ki Te Whanganui-a-Tara. Distinguished guests, warm greetings to you all. Welcome to Government House.
I specifically acknowledge the Acting Dean of the Diplomatic Corps, HE Tekaotiki Matapo - tēnā koe e hoa.
It is a great pleasure for Janine and me to welcome you all to Government House this evening. I am conscious that you have listened to me speaking on many occasions over the past four years, and so this is an opportunity for me to be very brief so that we can enjoy each other's company – and our hospitality.
It has been my privilege to formally welcome almost all of the Heads of Missions here tonight – the exception is the Acting Dean. Her Excellency Leonora Rueda is the only remaining ambassador of the first group of Ambassadors and High Commissioners that I accepted credentials from, in September 2011. And so, Janine and I feel we know you well.
You may recall that when you presented your credentials, there were three elements to your welcome: the pōwhiri outside, the formal ceremony in the Blundell Room, and then a less formal lunch in the Norrie State Dining Room.
You may also recall that at lunch I welcomed you for the third time - on behalf of the Government and people of New Zealand - and said that in having been welcomed three times you became part of our whanau – our family. This meant that as much as you represent your nation in New Zealand, henceforth we expected that you would also represent New Zealand in your nation.
I am pleased that each of you has fulfilled my request. So I hope you see this evening as less of a diplomatic nicety, and more as a family occasion.
So in the context of a family gathering, my comments will be most in that vein. At family gatherings we talk about the things that are important to us.
The timing of this dinner may be less than optimal – coinciding as it does with Halloween, the final of the Rugby World Cup and a Robbie Williams concert at the Basin Reserve.
It is quite by chance that we are celebrating this dinner on 31 October – Halloween. But as chance would have it, tonight's is a most appropriate date.
Halloween began as a Celtic end-of-summer festival, and November 1st the start of their new year. And most Halloween traditions and beliefs focused on the future.
Tonight's timing, I see as an opportunity to celebrate the future - the coming warm summer months and the potential that tomorrow will be better.
It might seem that the most important thing on Kiwi minds is the sporting competition that is about to culminate tomorrow morning – the Rugby World Cup.
For a small number of the countries represented here this evening, tomorrow's Rugby World Cup final between Australia and New Zealand is of keen interest. Perhaps no country cares more about the outcome of that game than my own. I will concede that for some, it may be somewhat off the radar. For the latter group – shame on you!
While I would have liked to be at Twickenham tomorrow with my Australian counterpart, Sir Peter Cosgrove, to watch him cheer on his country's team – and perhaps console them after the final whistle – tonight's gathering is a reminder that there are much more important issues being faced by humanity.
If such a thing as a country's soul exists, it would be best understood through its passions – and one of ours is rugby. For two hours tomorrow morning, I together with four and a half million New Zealanders will put humanity's issues to one side and watch a rugby game.
Like a team plan for a rugby game, national interests are best advanced if our partners know us and trust us. The truth about the timing of this dinner is that the work you all do is important. Tonight we are celebrating relationships. Relationships are founded in trust - relationships require familiarity, and familiarity requires a continuity of presence and a consistency of behaviour.
Relationships are a prerequisite for all of our nations – that's why you do what you do. But doing it properly and well is the mark of professionals. Hence, in the context of relations between nations, there is a need for professional foreign services.
I acknowledge that each one of you represents a professional diplomatic service. I thank you for your professionalism and for helping us to better understand your nations, the challenges they face and the opportunities that they present. In turn, I hope your stay in New Zealand has given you greater insights into the New Zealand way of doing things.
All in all, the international dimension of my role has been more extensive than I had imagined – but also immensely interesting and rewarding. As the Governor-General of a small global trading nation, that is a beneficiary of global prosperity and stability underpinned by international rules, Janine and I have been keen to promote personal relationships.
We have been pleased to play our part in furthering New Zealand's bilateral relations during our visits. And we have been pleased to welcome Heads of State, Heads of Government and members of the British Royal Family to New Zealand.
Over the last four years, Janine and I have particularly enjoyed the opportunities we have had to get to know members of the Diplomatic Corps, and to represent New Zealand when we have travelled overseas.
At the start, I did mention three things about tonight's timing – Halloween, RWC and a concert. Rationalising the clash with the concert at the Basin has been a little harder to explain – especially to Janine who is something of a Robbie Williams fan. Suffice it for me to say the concert at the Basin, gives us great background music to enjoy your company tonight.
Kia ora huihui tātou katoa and please enjoy the hospitality of the house.
Last updated:
Saturday, 31 October 2015