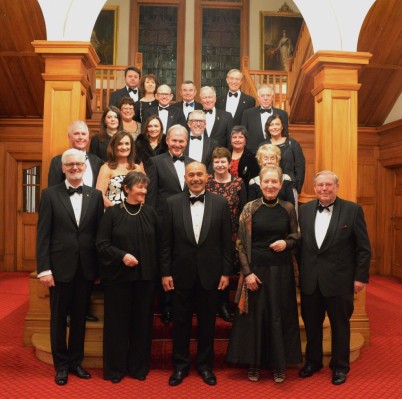 Rau rangatira mā, e huihui nei, tēnei aku mihi māhana ki a koutou. Nau mai haere mai ra ki te Whare Kawana ki Te Whanganui-a-Tara. Distinguished guests, warm greetings to you all, and welcome to Government House.
I specifically acknowledge Chair of the Duke of Edinburgh Hillary Awards in New Zealand, Prue Kelly; the recently (today) retired Chair, Chris Luoni and his wife, Rosanna; and our guest speaker, Alice Finch – tēnā koutou kātoa.
It is a great pleasure to welcome you all to this dinner.
We all hail from different backgrounds and endeavours – including law, commerce, education, manufacturing, and the arts. And while we may be a diverse bunch, we are brought together by our mutual interest in helping our young people to achieve. They are, after all, our future – and we want them to have the opportunities to reach their potential and succeed in life.
I believe that every generation has wanted the same for their successors – so it's not surprising that the Duke of Edinburgh Award concept of fostering young talent and leadership is an enduring one – and so widely adopted around the world.
The Award programme is good for the individuals involved. It is also good for the wider community - for New Zealand and our wider world.
For these reasons I've been a keen supporter of the Duke of Edinburgh Hillary Awards and other organisations that foster self-development, excellence and achievement – especially when they inculcate a sense of civic responsibility, a concern for the welfare of others and a pathway to leadership.
We are fortunate to have, in the persona of Sir Edmund Hillary, someone who encapsulated those qualities, a fantastic inspiration for generations of New Zealanders – a perfect person to be associated with the Award programme in New Zealand.
It wasn't his great achievements on Everest or in the Antarctic that he saw as his legacy; it was what he leveraged off those accomplishments – his work to improve the lives of others, and his determination to give them the tools to have a brighter future.
We can see this sense of service at work in the dedicated people who work on this Award programme, especially amongst the many volunteers who make it possible.
They in turn ensure that the young people under their charge achieve a healthy balance between personal achievement and a sense of service, thereby becoming the well-rounded citizens we need in New Zealand.
Later this evening, I'm delighted we will have an opportunity to hear first-hand from Alice about the difference the Duke of Edinburgh Hillary Award experience has made to her life.
In the meantime, thank you for joining us, and please enjoy the hospitality of Government House.