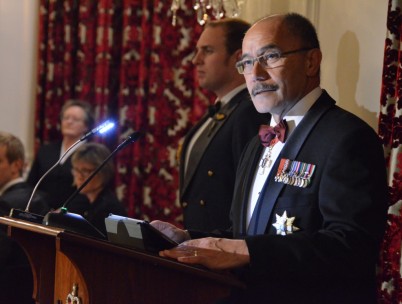 E kui mā, e koro mā, e huihui nei, nga mihi o te po ki a koutou. Nau mai, haere mai rā ki te Whare Kawana ki Te Whanganui-a-Tara. Ladies and gentlemen, good evening and welcome to Government House Wellington.
I specifically acknowledge: Dr Russ Ballard, Chair of the Rotary Eureka Trust and Chairman of Judges; Kerry Prendergast, President of the Rotary Club of Wellington; Dr Jim Callaghan, Rotary EUREKA Trust Trustee; Sam Hall-McMaster, last year's Premier Award winner; and Sir Peter Gluckman: tēnā koutou katoa.
It's a great pleasure for Janine and me to host tonight's dinner and awards, which celebrates excellence, young people and enterprise. It's also an opportunity to recognise the enduring influence of one of our most distinguished scientists and science communicators – and great New Zealander - Sir Paul Callaghan.
The Sir Paul Callaghan EUREKA Awards build on Paul's legacy, and are a tribute to his passion for science, technology, engineering, maths and innovation and his skills as a science communicator.
Paul inspired us with his conviction that New Zealanders need to embrace these domains if we are to address the multiple issues and challenges we face and achieve a truly smarter, more prosperous New Zealand. We have the opportunity to secure a brighter future for our children and our children's children.
I expect that we all agree Paul's position and passion. And so, as Patron of the EUREKA Trust – and a previous member of the Rotary Club of Wellington – I am delighted that the Club is involved in these awards together with organisations and individuals who can make "it" happen.
We all need to be prepared to seize opportunities to promote a greater awareness of the work being done in our science, technology, engineering and mathematics sectors – to acknowledge the clever people in them – and to encourage more young people to follow a career path in them.
There is a Maori whakatauki or proverb that is relevant to our being here tonight. It goes: "Ka pu te ruha, ka hao te rangatahi – as the old net is laid aside a new net is made". Sir Paul Callaghan said that the aspect of his career that he was most proud of was the calibre of the young people who had come out of his laboratory. And as he was happy to note, they all got great job offers after their studies.
The young New Zealanders who have participated in the Eureka! Programme and Symposium show that there is cause to be optimistic that yet another "generation" has the potential, the passion and the power to make Paul's dream of New Zealand being "the most beautiful, stimulating and exciting place in the world in which to live" happen.
I extend my congratulations to all the finalists, to those who were highly commended, and of course to the winner of the Premier Award. Along with everyone else present, I salute your dedication, your efforts, your intellect, your understanding, and your skills in conveying your ideas. I hope your experience in the Sir Paul Callaghan Eureka Programme will spur you on to make your passion your career, wherever it may take you.
Tonight, we are celebrating New Zealand's science capital - young people like those who have been recognised tonight. They are the key to a better future for New Zealand. Equally though, those of you who are here supporting this event; who can help young people to do their research, to find solutions, to innovate and to exploit opportunities and also to communicate what they know, are champions for New Zealand.
And so, it is appropriate we celebrate these Sir Paul Callaghan Eureka Awards in this way. I look forward to helping to presenting the Highly Commended and Premier Awards later this evening. Please enjoy the hospitality of Government House and the company of your companions.
Kia ora huihui tātou katoa
Last updated:
Thursday, 3 September 2015