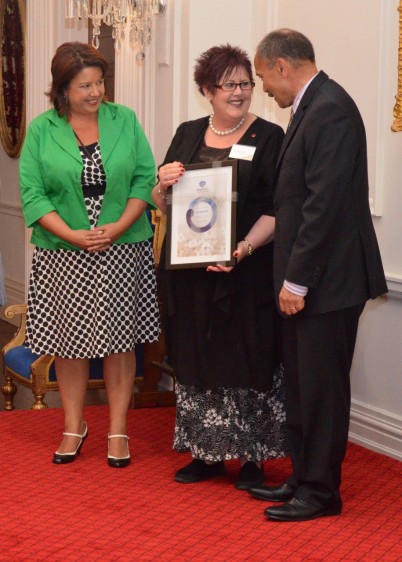 To view more images, click here
E kui mā, e koro mā, e huihui nei, tēnei aku mihi māhana ki a koutou. Nau mai, haere mai rā ki Te Whare Kawana o Te Whanganui-a-Tara. Ladies and gentlemen, warm greetings to you all, and welcome to Government House Wellington.
I specifically acknowledge: Hon Paula Bennett, Minister of Social Development; Bernadine MacKenzie, Deputy Chief Executive of Child, Youth and Family; Linda Surtees, Chief Executive of Fostering Kids New Zealand;Colin Hardgrave, Fostering Kids Chairperson and special guest speakers Sarah and Martin Giles- tēnā koutou katoa.
It is a great delight for Janine and me to welcome you all to Government House this evening. Coming at the end of two special days for the award recipients, I trust this ceremony reinforces the sentiment of thanks for what Fostering Kids – Whangai Whakatairangi - does. I also hope that the award recipients have enjoyed the delights of Wellington and the special treatment you have received. The sleep-ins would surely have been very much appreciated! Your being here this evening is a way for us to open our home to you as you have opened your homes and hearts to so many vulnerable children.
If you cast your mind back to your childhood think about the memories that stand out for you. For most of us we recall the fun things that reflect a New Zealand childhood – messing about with friends, swimming at the beach and stable home-lives. As Professor Bryan Gould, former Vice-Chancellor of the University of Waikato once said "Every child should have a New Zealand childhood."
There are many different reasons why children end up separated from their birth parents. For many of them, their experiences are happy ones – they get to have a New Zealand childhood. However, many others are not so lucky and their circumstances are not so fortunate. For them their worlds can be bleak, frightening and unpredictable places.
There are more than 10,000 New Zealand children who do not live in their birth parents' homes because they are at risk of neglect and or abuse. For many of these children, foster parents like you offer the necessities of life - food, shelter, warmth. More importantly you give them love, compassion and understanding at a time when they need it most.
The children and young people you look after may not always seem to appreciate or welcome your efforts. I guess that's a feature of many young peoples' demeanour. However, with some of the young people you foster you know how hard it is for these scared and damaged children to drop their barriers and let people get close.
Some of you have taken on the responsibility of caring for babies and younger children with disabilities with all their associated challenges. For all of you, being a foster carer can at times be a real test. Your dedication to "your" children and that you continue to do the work you do is a testament to your strength of character and desire to make a difference.
And make a difference you have. The number of children and young people you, the award recipients, have helped over the years is phenomenal. Some of you, I note, have looked after a list of children as long as a school register! That's a lot of lives that have been touched. That's a lot of lives that have been supported. That's a lot of lives that have been cherished. For all of you though, the most important number is 'one' – one person listening, advocating, caring, worrying and fighting for these young people when almost no-one else could or would.
Looking after children is a huge responsibility. Parenting is challenging, and it takes a very special person to parent a child that is not biologically their own or otherwise connected. And yet, just as there are the lows there are also the highs.
I'm sure there are successes that you treasure. There may be the baby who came to you under-nourished and who left your care a few months later chubby and thriving. The little girl who was so timid and scared of everyone who is now on the debating team, and there's the sullen pre-teen who's now a university graduate and has no trouble greeting you with a hug and a smile. These stories may not mean much to some, but to you and to these young people it's something special; and it's these things we also celebrate today.
Thank you for making the commitment to caring. You have enriched lives and helped some of our most vulnerable citizens. You deserve our admiration, not just for offering your skills and love, but for also sticking with them and not giving up on them.
Someone once said "A child fills a space in your heart you never knew was empty." If this is the case then this evening we are in the company of some extremely big hearted people. Thank you all for realising that you have plenty of empty space to fill and for making it available for so many. I'm sure that just as you have made room for others there are many of your former charges who hold you in a special place in their hearts too.
Thank you once again for your compassion, selflessness, dedication and aroha.
Kia ora, kia kaha, kia manawanui, huihui tātou katoa