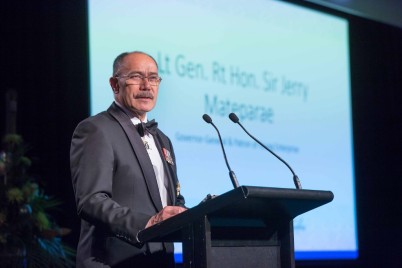 E nga mana, e nga reo, e nga iwi o te motu e huihui nei, tēnā koutou, tēnā koutou, tēnā tātou katoa.
I specifically acknowledge: Hon Steven Joyce, Minister of the Crown and Suzanne Joyce; Sir Eion Edgar, Chairman of the New Zealand Business Hall of Fame Selection Panel; and Nigel Gould and Terry Shubkin, Chairman and CEO respectively of the Young Enterprise Trust - tēnā koutou katoa.
Thank you for inviting Janine and me here this evening. We welcome this opportunity to again join you to recognise business leaders who have contributed to our country's economy and the prosperity of New Zealanders.
Albert Einstein said that "The world – as we have created it – is a process of our thinking. It cannot be changed without changing our thinking".
One of the great privileges of my role is the opportunity to meet clever New Zealanders who are doing great things. They have often got there by thinking outside the square. They have been prepared to be creative in their problem-solving, they have changed the way we think and they have been prepared to work – hard!
One need only look to the examples of Business Hall of Famers.
Bill Gallagher senior's problem was his horse – it wouldn't stop rubbing itself against his car, and his great idea was the first electric fence. The great idea might very well have fizzled if Bill hadn't had an eye for an opportunity and the vision to develop it.
Sir George Fistonich had to deal with his family's traditional expectations that he would take up trade training – his idea of becoming a wine-maker was not part of their plan. Nonetheless, he pursued his dream and is now recognised as one of the great pioneers of our contemporary wine-industry's success.
Amy Hellaby had to step up and outside her comfort zone when her husband, sister and brother-in-law died. She became head of two families – and then took responsibility for the family firm - R & W Hellaby Limited. She resisted attempts to buy the firm out, and continued to manage the Hellaby Empire for nearly 20 years. All the while she concurrently cared for a large extended family.
Like the three people I have mentioned, tonight's inductees are exemplars - motivated entrepreneurs – people of enterprise, excellence and inspiration. The fact that some of them are no longer with us is no barrier to their being recognised in the Business Hall of Fame. They are part of New Zealand's economic development story.
They are also role models for the next generation of entrepreneurs and business women and men. The representatives of the Young Enterprise Scheme – YES - here tonight represent that next generation.
The success of YES gives cause for us to be optimistic. The programme is bearing fruit – it's changing our thinking. A survey of its 2013 alumni shows that 95 percent of them attribute YES as a factor in becoming an entrepreneur, and 22 of them were responsible for setting up 47 companies, creating more than 1,000 jobs.
Tonight is an opportunity to celebrate enterprise and the eight outstanding people being inducted into the New Zealand Business Hall of Fame. To say they join an illustrious alumnus is a statement of the obvious – but they do! Equally though, they add to and enhance the mana of the Hall of Fame through their example, their leadership, their excellence and their enterprise.
Kia ora huihui tātou katoa and my warmest congratulations to the inductees, their families and their many supporters.