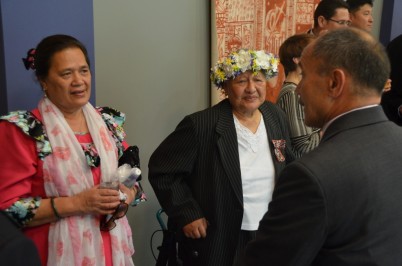 Rau rangatira mā, e kui mā, e koro mā, e huihui nei, tēnei aku mihi māhana ki a koutou. Nau mai, haere mai rā ki Te Whare Kawana ki Tamaki Makaurau. Distinguished guests, ladies and gentlemen, warm greetings to you all, and welcome to Government House Auckland.
Families and peace have been the two themes of our work throughout 2014. As the year draws to a close, I am taking this opportunity to acknowledge organisations and individuals who contribute to the wellbeing of our families and to the goal of peace.
It has been a privilege and a pleasure to host some of these organisations this year and to celebrate the recipients of Royal Honours in 2014 for their outstanding contribution to New Zealand and their community service.
We have a broad range of people here tonight who have all contributed in diverse ways. What you all have in common is a commitment to serve others:
To be there when times are tough, giving families shelter, and keeping them safe, fed and warm.
To give spiritual guidance to congregations and to sustain cultural communities.
To offer help and guidance to children and parents.
To transform people's lives through training and development opportunities.
To inspire people to follow their dreams and reach their potential.
And to inspire others to work, in their turn, for the greater-good, and thereby have a stronger sense of purpose in their lives.
Whatever qualities, experience, and personal circumstances parents have, they have the responsibility of raising children who will be happy, considerate and effective members of society. That can be a big ask, particularly in the rapidly evolving world that we live in. Our children have so many pressures, influences and challenges to contend with. And there are so many factors conspiring to weaken family bonds.
Our ideas about what constitutes a family have also changed markedly, and within just a few generations. We have seen incredible shifts in social attitudes towards marriage, gender roles, sexuality and values.
Whether children are living with two birth parents, or in a blended family, or with extended whanau, or with a single parent, or in foster care; they are our most precious of tāonga. They deserve the best we can give them. Whatever their circumstances, our children deserve love, care and attention.
An ancient African proverb says that it takes a village to raise a child. In this complex world, the organisations and people here tonight represent the 21st century equivalent of the village. You provide that network of support, inspiration and development opportunities that are essential for our families and our children.
Our ancestors came to this country in the hopes of creating better opportunities for themselves and their families. For those who are escaping war or terrorism in contemporary times, New Zealand also represents the promise of peace and opportunity.
However elusive peace may be; it is an ideal worth striving for. We can be proud of our country's record of peace-keeping: New Zealand has played its part in improving the lot of people damaged by war, conflict and despotism. And through our seat on the United Nation's Security Council, for the next two years we will have the opportunity to work on measures that de-escalate tensions, help sustain fragile states and rebuild war-torn societies.
I want to conclude with a quote attributed to the Buddha: "A generous heart, kind speech and a life of service and compassion are the things that renew humanity."
This year we have been privileged to meet extraordinary people who show those qualities of generosity, kindness, service and compassion. We have been moved and inspired by their efforts and by the stories of lives transformed by their work.

Thank you for your tremendous contributions and for sustaining aspirations of peace in our families, communities and the wider world.
Kia ora huihui tātou katoa and please enjoy the hospitality of Government House.
Last updated:
Wednesday, 26 November 2014