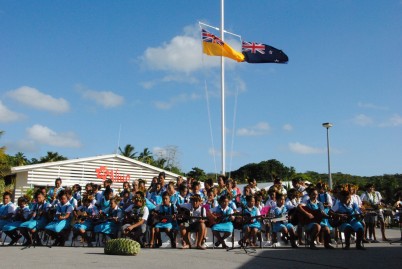 To view more images from the visit to Niue, click here
Tau Iki Lilifu, Tau Tui, Tau Tupuna, Tau Mamatua Fifine, Tau Mamatua Taane, Atuhau Tupuhake, Fakaalofa atu ki a mutolu oti.
Rau rangatira mā, e kui mā, e koro mā, e huihui nei, tēnei aku mihi māhana ki a koutou. Kia ora tātou katoa.
Distinguished leaders; Elders; ladies and gentlemen; boys and girls, warm greetings to you all.
Lilifu he matua Palemia, Hon Toke Talagi, lilifu he tau Ikipule moe ha mutolu a tau tokua; Lilifu he Fakatonu Fono moe haau a iki fifine; Lilfu he tau Ekepule moe ha mutolu a tau magafaoa; matua Pelesiteni he Ekalesia Niue - fakaalofa lahi atu.
Ladies and gentlemen, my role is usually referred to as the "Governor-General of New Zealand." However, when I took my oath of office, I was very conscious that it was to be "Governor-General and Commander-in-Chief in and over the Realm of New Zealand." I therefore see that I have a special service obligation to all parts of the Realm of New Zealand. Albeit two years after my swearing-in I am here to fulfil my obligation of service to Niue.
It is both an honour and a privilege to stand here before the Fale Fono and to extend to the Government and people of Niue, warm greetings from Her Majesty Queen Elizabeth II, and also the Government and people of New Zealand as you celebrate 39 years of self-government on Niue's Constitution Day.
This occasion is a proud moment for all of us here today. It is an especially proud moment for all Niueans, including those who join with us in spirit from New Zealand and many other places. Thirty nine years ago, in 1974 the people of Niue expressed their desire for self-determination in a United Nations-sponsored referendum. The referendum asked the people of Niue how they, their children and their grandchildren wanted to be governed in future. Their choice – your choice – was self-government in free association with New Zealand.
And since then our two countries and our peoples have been bound together in a special and enduring relationship. Its many strands include our shared Polynesian heritage and stories, our common citizenship, our shared values, our family ties and many other people-to-people connections. It includes the service of Niueans who fought alongside New Zealanders in the Māori Pioneer Battalion in the First World War and the 28 (Māori) Battalion in the Second World War.
At its heart, however, the relationship is founded on the authority and mana that comes from Niue's expression of self-determination. And it is the choice made in 1974 and the ensuing legacy that we celebrate today as Niue's flag is raised.
There are many here who were not born when the referendum was held. We should not forget just how momentous an occasion it was. Recently I read an article in which former Premier Hon Young Vivian recounted those times and the many achievements since then. He said:
"Well, I felt that the people were over the moon. They were excited. They had hope and faith that things would happen in the future that their lives would change and they would be in control of their country. They will be able to make legislations for their country. And there will be in their dreams good housing, good water, electricity, good education, good health system. And then, they have achieved that. We have achieved those things through self-governing status. Now we have achieved that, we're moving forward."
And as Niue has moved forward, so has the relationship between Niue and New Zealand. There have been challenges, which is to be expected in a relationship. However, through our combined efforts, Niue and New Zealand have set a pathway for the benefit of both Niueans and New Zealanders. I'm confident we can continue to work together constructively because as partners in the Realm, we have a shared responsibility to nurture the relationship so it continues to grow.
Last year I visited Tokelau, and after our visit here, we will travel to the Cook Islands. As I have travelled in the Pacific, I have been struck by the similar challenges all island nations face here posed by geographic isolation, small and declining populations and seemingly limited resources.
In my view challenges are opportunities playing hard to get! I applaud the way Niue and New Zealand have taken the view to act proactively and not allow matters to simply take their own course. Two years ago, Premier Talagi and New Zealand's Foreign Minister Hon Murray McCully agreed on a Joint Commitment. What sets it apart is its vision for our relationship summarised by the phrase "Niue ke Monuina."
The agreement reaffirms New Zealand's commitment to working with Niue for a prosperous Niue and to support sustainable economic development, with a particular emphasis on developing tourism and growing the private sector. It has given new impetus to our relationship. And as pleasing as words on paper are, I am hearted that words have been matched by deeds on the ground, and many achievements.
Since I arrived, I could not help but notice the new Kiwibank premises. In a practical sense, it speaks of enhanced banking services for both Niueans and tourists. Likewise, the Taoga Niue building that was opened earlier this year, during the Arts and Cultural Festival, is an example of preserving and promoting Niue's cultural heritage for Niueans and tourists alike. In a wider sense, these things reflect the commitment to an enduring relationship between our two countries.
Likewise, there have been significant advances in developing Niue's tourism industry. We are enjoying staying at the newly refurbished Matavai Hotel. It is an example of the positive results that come when the Niue and New Zealand governments invest together in developing the tourism sector. I've been told that the additional beds and the second weekly flight have had a significant impact on businesses, with accommodation nearing capacity and restaurants buzzing with life each night of the week. These things lead to sustainable economic development of benefit to Niue and New Zealand.
I want to acknowledge Niue's efforts to implement a range of initiatives designed to it allow it to become more economically self-reliant. While there are always risks, the determination to turn this goal into a reality is impressive.
Despite this evident progress, challenges remain. I quoted earlier from an interview with Hon Young Vivian. In the same interview he also spoke, with some sadness, of the loss of population. His comments pinpoint the fundamental need to maintain Niue's population and to offer opportunities for Niueans, those who choose to stay and those who would seek an opportunity.
The achievements to date, self-determination, governance, infrastructure and now a growing tourism industry, are like a young coconut tree. The tree has grown quickly, but it requires care and attention to ensure it establishes strong roots and grows into a hardy tree that can that provide bountiful fruit, and stand tall in the face of inevitable tropical storms.
The Niuean diaspora represents an opportunity. A critical issue is how to involve them in the growing dynamic here in Niue. While the thousands of your kin living in New Zealand have chosen that life in search of higher education and careers, they are not lost to you. Their energy, if harnessed, will further drive the development of Niue. And, it's not necessarily by enticing large numbers home, rather being focused in your approach.
In conclusion, the vision of Niue ke Monuina – a prosperous Niue that all Niueans can take pride in – can be achieved. It will be achieved because the people of Niue – both here and in New Zealand – are a strong and resourceful people. Niue has immense potential, and the positive changes that have come about from the developments in tourism alone, show what is possible.
And, like the coconut plant that is a mainstay in the Pacific, our ancestors owned the Pacific. They were no strangers to assessing opportunities, taking risks and succeeding. If you can crack the husk of that particular people-coconut, to reach the sweet meat and water within, the potential for Niue is limitless!
The vision for a prosperous Niue can be achieved because its people do not stand alone. New Zealand remains Niue's committed partner. The relationship we have established is well described in a Māori whakatauki or proverb: "Mau tēnā kiwai o te kete, maku tēnei" which translates as "You at that handle, and me at this handle of the basket".
And so, in the spirit of our enduring relationship, it gives me great pleasure to offer everyone my best wishes and those of New Zealand's Government and people on this important day. On behalf of my wife Janine and our party, I hope that you all enjoy wonderful Constitution Day celebrations. May God bless Niue on its 39th Constitutional Day anniversary celebrations!
Last updated:
Saturday, 19 October 2013