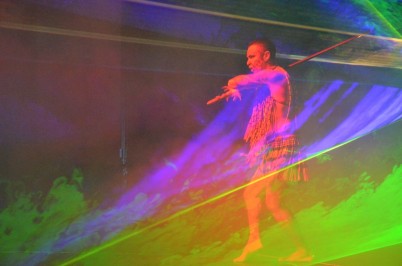 Kia Ora Koutou. Greetings to you all.
I specifically acknowledge: Fay Edgecombe, President of the Floral Art Society of New Zealand and the past presidents and life members present here tonight - tēnā koutou katoa.
I am delighted to be here, as your Patron, to open the 50th AGM and Conference of the Floral Art Society of New Zealand. I am pleased to be able to support your organisation and the opportunity members have for fellowship and creative expression through floral art.
Although I'd planned to be at your conference last year, I wasn't able to attend because of the Royal visit by the Duke and Duchess of Cambridge and Prince George. Fortunately this year's Royal visitor, Prince Harry, is coming in May, so I'm here as promised.
While this is my first official function with you all, I have had contact with a couple of your branches. Members of the Wellington branch provided the floral displays for the "Celebrating Women" reception, held at Government House in November 2013. Their contribution to the event, which recognised New Zealand's pioneering work in giving women the right to vote 120 years ago, was much appreciated.
And during our regional visit to Marlborough I met members of the local branch when I visited the Alzheimers Society Marlborough. A joint event saw members of your organisation make small bouquets for me to present to the Alzheimers Society's clients. I was struck by the pleasure on the faces of the recipients. And there were lots of comments on social media about the bracelet, made of succulents, that was presented to me.
We all appreciate the significance of attending the conference and exhibiting this year – the Floral Art Society of New Zealand's 50th Anniversary year. This year, the theme for the conference - 'All that glitters is not gold" – reminds us that beautiful work does not always require the most expensive components. Flowers are beautiful in their own right. Even the plainest leaves or branches can become something amazing in the hands of someone with an eye for design and skilful hands.
So, I'm looking forward to seeing the work this year's theme has inspired at the FloravisioNZ 2015 Awards tomorrow. I am also looking forward to meeting more of you, and finding out about your designs and what inspired them.
The Floral Art Society has come a long way since it started in Wellington. Trends have changed dramatically. However, the original members would find the enthusiasm, commitment, and talent displayed by today's members very familiar. And they would be delighted by the opportunity to learn from world class floral designers, like Hitomi Gilliam and Mark Pampling, at this year's conference.
I thought I'd leave you with some advice from renowned British florist Constance Spry , who summed up the philosophy behind good floral art like this:
"Do what you please, follow your own star; be original if you want to be and don't if you don't want to be. Just be natural and light-hearted and pretty and simple and overflowing and general and baroque and bare and austere and stylized and wild and daring and conservative, and learn and learn and learn. Open your mind to every form of beauty."
Congratulations to the Floral Art Society of New Zealand on reaching your half century. I wish you all well for your activities over the next few days. Enjoy your time here in Rotorua - the conference, AGM, FloravisioNZ 2015 and the friendship.
Please join me in a round of applause to celebrate the official opening of the Floral Art Society of New Zealand's 50th AGM and Conference.