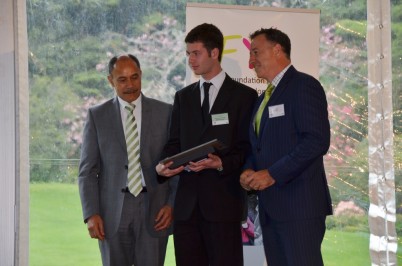 E kui mā, e koro mā, e hine mā, e tama mā e huihui nei, tēnei aku mihi māhana ki a koutou. Naumai haere mai rā ki Te Whare Kawana ki Tamaki Makaurau. Kia ora tātou katoa.
Distinguished guests, ladies, gentlemen, young women and young men warm greetings to you all, and welcome to Government House Auckland.
I specifically acknowledge Hon Dame Catherine Tizard; Graeme Dingle and Jo-anne Wilkinson, Foundation for Youth Development Founders; Dean Ellwood, Chair of the Foundation for Youth Development; Brian Corban of the Graeme Dingle Foundation; and Sarah Hillary.
Tēnā koutou katoa.
It is my great pleasure to welcome you all to Government House to celebrate another great year of work by the Foundation for Youth Development.
In previous years Hon Paula Bennett has attended and co-hosted this event. Following the elections she has taken on new responsibilities and today is away overseas. Although she is no longer Minister for Social Development, Hon Paula Bennett remains a strong supporter of FYD. She asked me to convey to you just how much she appreciates what the Foundation achieves, and sends her best wishes.
When I was approached to be Patron of FYD and to host these awards I was keen to be involved because I share the passion of the FYD people for the wellbeing of our rangatahi. I think it's vital for our young people, for our communities, and for our country's future for our young people to dream their dreams, to have opportunities to develop their confidence, and to realise their potential.
I want to acknowledge the extraordinary vision of Graeme Dingle and Jo Wilkinson, and their determination to help more New Zealand children achieve those goals.
The young people here tonight are a testament to their vision.
A few weeks ago I was asked in an interview to reflect back on my 20-year-old self. In casting my mind back, it became clear to me that although I had little idea where my life would take me when I left school, I had been encouraged by my parents and I was motivated to take up opportunities. They had encouraged me to do things that would extend me. I realised that in many ways, my parents' approach had instilled in me the optimism and confidence to pursue opportunities that came my way.
Nelson Mandela spoke about seizing possibilities when he said "We pass through this world but once, and opportunities you miss will never be available to you again".
Some opportunities may appear, on first sight, to be too hard, too challenging and way beyond you. But when I meet young achievers, they tell me about the satisfaction they got from testing themselves, from taking on something that was demanding, which took them out of their comfort zones. And finishing a hard task and finding out what they can do is awesome.
A wise author and winner of a Nobel Prize for Literature called Pearl S Buck once said "The young do not know enough to be prudent, and therefore they attempt the impossible – and achieve it, generation after generation". Optimism, enthusiasm and being confident that you can overcome difficulties are wonderful attributes for a young person to have.
We want our young people to be strong, to succeed and be confident in taking their place in the economic and social life of Aotearoa-New Zealand. The FYD programmes assist young people to be self-confident.
It's good, but of course not at all surprising, to see that research confirms the benefits of FYD's programmes. I particularly liked the Infometrics report finding that every dollar invested in Kiwi Can, Stars, Project K and MYND has an average return to the New Zealand economy of $7.15. While it's great to have this economic validation, I think the most valuable outcomes of the programmes are the benefits to individuals.
There is quite a range of award-winners here tonight. Whether you are mentors, leaders and or participants, you will have been affected by your participation in FYD programmes. Congratulations - you are all winners and can be proud of your accomplishments.
I want to say a special thanks to the leaders and mentors. You are doing fantastic work to make a positive influence in the lives of thousands of our young people. New Zealand will be all the better for your contribution.
And you young achievers in Project K, Career Navigator and MYND; I am rapt you have had the opportunity to test yourselves, to step up, to achieve and to serve your communities. Good luck, and dream big, work hard and follow your dreams.
Kia ora, kia kaha, huihui tātou katoa and please enjoy the hospitality of Government House.
Last updated:
Wednesday, 22 October 2014