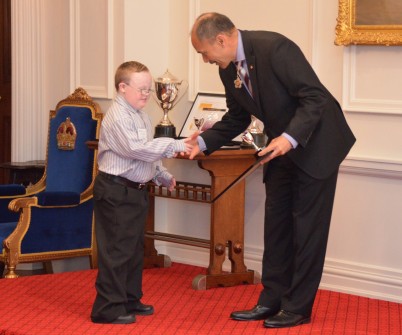 E nga mana, e nga reo, e nga iwi o te motu e huihui nei, tēnei aku mihi māhana ki a koutou. Kia ora tātou katoa. Nau mai, haere mai ra ki Te Whare Kawana o Te Whanganui-a-Tara.
Distinguished guests, ladies and gentlemen, warm greetings to you all and welcome to Government House Wellington.
I specifically acknowledge: Kate Young, Catherine Hansen and other members of the Wellington Down Syndrome Association executive; Pam and Forde Clarke, parents of the late Frances Clarke, Andrew Durante of the Wellington Phoenix, our guest speaker today and above all our five very special award recipients, Luke Frude, Oliver Langdale, April Nickel, Emily Thompson and Nicholas Fyfe - tēnā koutou katoa.
It is a great pleasure for Janine and me to welcome you all to Government House today.
This is the third time we have hosted the Frances Clarke Memorial Awards ceremony here at Government House and we are delighted to join with you again to celebrate the achievements of some very special young people.
I take great pride in the youth of New Zealand and what they are achieving. During my time as Governor-General I have encountered many engaging, ambitious and determined young people. The Frances Clarke Memorial Award recipients I have met, however, are amongst the most memorable. Courageous, confident and more than capable of demanding that the world accept them on their own terms, these young people are truly inspirational.
Many of you here live with Down Syndrome on a daily basis - whether as a person with Down Syndrome, supporting someone with Down Syndrome or working with people with Down Syndrome. You've all seen and experienced the challenges that come as part of that.
The flip side of that coin, however, are the successes and today we get to celebrate those with these five remarkable young achievers – Luke, Oliver, April, Emily and Nicholas.
The five of you have every right to feel proud of the things you've done and how you've handled the challenges you've faced. You can also stand tall as role models. By your efforts, you have shown the rest of the community what people with Down Syndrome are capable of and given other young people like you an example to follow.
Your presence here today is a tribute to your hard work and perseverance but I think we also need to acknowledge your parents and caregivers, siblings, coaches, teachers, bosses and friends who have helped along the way. These awards are a testament to their love and support as well.
Today you represent young people with Down Syndrome but that's only one part of your identity. You are also Luke the race walker and triathlete, Oliver the leader and commander, April the musician and surfer, Emily the dancer and basketball player and Nicholas the power lifter and skier. You can feel proud of everything you are and everything you have achieved.
You've worked hard; enjoy this moment and let it inspire you to challenge yourselves further. As someone once said "Big shots are only little shots who keep shooting" so take aim and keep working towards your goals.
Kia ora huihui tātou katoa
Last updated:
Wednesday, 30 October 2013