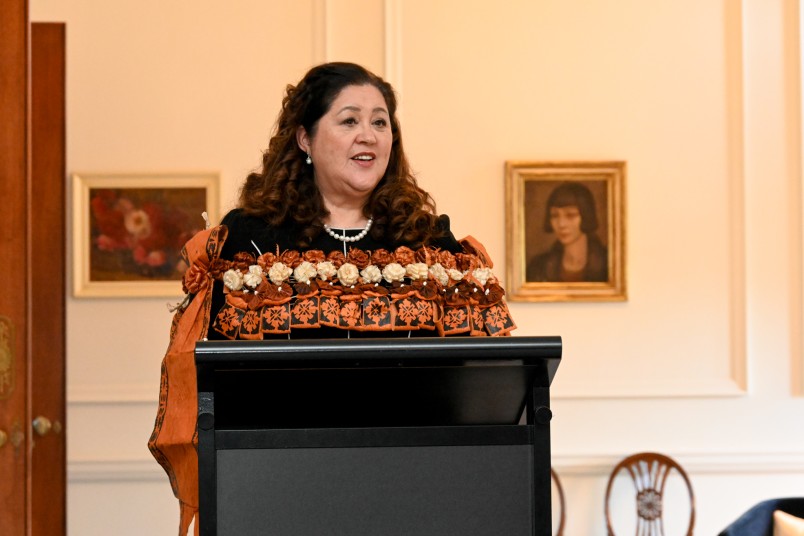 Rau rangatira mā, e kui mā, e koro mā, e huihui nei, tēnei aku mihi nui ki a koutou. Nau mai, haere mai ra ki Te Whare Kawana o Te Whanganui-a-Tara.
I specifically acknowledge:
Members of the Diplomatic and Consular Corps

Members of Parliament

Dr Audrey Aumua, Chief Executive Officer of the Fred Hollows Foundation New Zealand

Mr Craig Fisher, Board Chair of the Foundation

Jovesa Saladoka

Dr Samantha Murton, President of The Royal New Zealand College of General Practitioners

Kate Wareham, CEO, Volunteer Service Abroad

Professor Frank Bloomfield, Deputy Vice Chancellor (Research), University of Auckland

Gerardine Clifford-Lidstone, CEO, Ministry of Pacific Peoples
We can all appreciate how losing your sight impacts on every aspect of your life, on your family, and your community.
It takes a very special person to witness the impact of preventable blindness in countries where eye-care health is not readily available –  and then to inspire others to do something about it.
That person was Professor Fred Hollows. His energy, enthusiasm and sheer gumption are summed up in this whakatauki:
Ko te puawaitanga o nga moemoea, me whakamahi.
"Dreams become a reality, when we take action." 
The staff, Board members and supporters of the Fred Hollows Foundation all share Fred's dream.
Thank you for building on his remarkable legacy and taking the Foundation forward.
If he was still with us, Fred would be delighted to see what you have achieved in terms of treatment and empowerment of local providers – and he would be keenly interested in your strategic plans for the future.
My husband Richard and I both have a background in health – Richard as a GP – and in my case – through my research into Māori health, and public health roles.
When it comes to research, I am most interested when it leads to practical applications. So too is the Foundation.
As a partner in the State of Eye Health Research Programme, the Foundation is helping to develop sustainable and resilient eye-health programmes in the Pacific.
The participating governments will be better placed to tackle avoidable blindness – and in ways that reflect their local needs and contexts.
This is so timely, as the global incidence of avoidable blindness is on the rise. The United Nations General Assembly has recognised that some of its Sustainable Development Goals will be compromised if eye-health care is not addressed. 
Here in the Pacific, the Fred Hollows Foundation has proven that  restoring vision transforms lives and enables people to pursue their dreams and develop their potential.
During my term of office, I am keen to highlight and affirm New Zealand's close ties with our Pacific whanau.
During my official visits to the Cook Islands and Samoa, I was acutely aware of both my whakapapa ties to the region and the particular responsibilities New Zealand has to support the wellbeing of Pacific peoples.
On so many levels, the work of the Fred Hollows Foundation is close to my heart. It was wonderful to see Fred's mission in action at Tupua Tamasese Meaole Hospital in Samoa. I met Dr Lucilla Ah-Ching Sefo, who was trained by the Foundation, and saw for myself the particular challenges and opportunities for the staff at the eye clinic.
I witnessed the life-changing impact of treatment and the jubilation of patients when they regained their sight. And I imagined how that joyful scene was being repeated, in other clinics around the Pacific that are supported by the Foundation.
I appreciate there are significant challenges ahead with the increasing rates of blindness and vision impairment in the Pacific.
By working with local governments, by empowering local providers, the Foundation will help to address those challenges.
Congratulations for reaching a momentous 30-year milestone. I am a huge admirer of the Fred Hollows Foundation, and I am looking forward to hearing more about your programmes and plans for the future.
I wish you every success in bringing them to fruition in the years ahead.
The blog for this event can be found at this link: The Fred Hollows Foundation New Zealand 30th Anniversary.