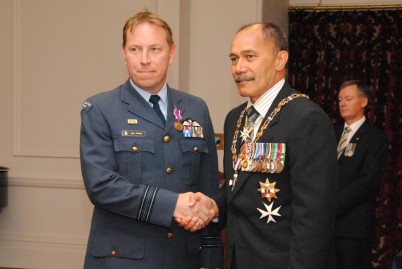 To view more images, click here
Introductory remarks
E nga mana, e nga reo, e nga rangatira me nga toa o Te Ope Kātua o Aotearoa, Ngāti Tumutauenga me Te Tauaarangi o Aotearoa, e huihui nei, tēnei aku mihi māhana ki a koutou. Nau mai, haere mai ra ki Te Whare Kawana o Te Whanganui-a-Tara. Distinguished guests, leaders and service personnel of the New Zealand Defence Force, the New Zealand Army and the Royal New Zealand Air Force, ladies and gentlemen, warm greetings to you all and welcome to Government House Wellington.
I specifically acknowledge: Hon Dr Jonathan Coleman, Minister of Defence; Major General Tim Keating, Acting Chief of Defence Force; Major General Dave Gawn, Chief of Army; Air Vice Marshall Peter Stockwell, Chief of Air Force; and Air Vice Marshal Kevin Short, Commander Joint Forces New Zealand – tēnā koutou katoa.
Those of you here to support the two members of the New Zealand Defence Force being recognised today, Janine and I welcome you to Government House.
As Governor-General, I have the authority and privilege on behalf of Her Majesty The Queen of New Zealand to hold an Investiture for her, and to confer the decorations and medals to which the recipients have become entitled. Each recipient has rendered distinguished service to the New Zealand Defence Force, to New Zealand, and to The Queen.
Ladies and gentlemen, you will hear of the actions that resulted in the honours being awarded. After each award is presented, please join with me in acknowledging, thanking and congratulating the recipients on their well merited awards.
I will now ask Niels Holm, Official Secretary at Government House, to read the citations and to summon those who are to receive the awards.
NEW ZEALAND GALLANTRY DECORATION
The late Lance Corporal Leon Kristopher Smith of the 1 New Zealand Special Air Service Regiment
On 19 August 2011 Lance Corporal Leon Smith, as a member of the New Zealand Special Air Service, responded to an insurgent attack on the British Council Office in Kabul, Afghanistan, where five British nationals were isolated within the compound. Five insurgents had used a suicide vehicle-borne improvised explosive device to gain entry and were raining down small arms fire, hand and rocket-propelled grenades and ultimately detonated suicide vests against the rescue force.
Lance Corporal Smith arrived with other members of the NZSAS to support the Afghan Crisis Response Unit. As part of a supporting plan Lance Corporal Smith moved into an over-watch position 30m away from the insurgents' stronghold. The NZSAS personnel, including Lance Corporal Smith, began to prepare a plan to rescue the hostages and assist the Afghan Crisis Response Unit to clear the insurgent stronghold.
About 1135 Corporal Doug Grant, another member of the Task Force, was mortally wounded by insurgent fire as he rushed up a stairwell to link up with other NZSAS members. Initially it was not known where he had fallen or what condition he was in.
With no concern for his personal safety, Lance Corporal Smith pushed into an exposed position to confirm Corporal Grant's location. Without hesitation he requested to move to Corporal Grant's position to render first aid, but was told by his Commander to wait for a ballistic shield. During this period Lance Corporal Smith's position was receiving significant insurgent machine gun and rifle fire.
Once he received the shield, and again without thought for his own safety, and with insurgent fire landing around him, Lance Corporal Smith leapt over a wall and across exposed and open ground and up the same stairs where Corporal Grant had been shot. Lance Corporal Smith threw himself into the room where Corporal Grant was lying and began to provide immediate medical treatment. Corporal Grant was not yet confirmed dead and Lance Corporal Smith, as an SAS medic, applied first aid to the wound and commenced CPR, which he continued to administer until Corporal Grant was evacuated.
Lance Corporal Smith then returned to the fight and again exposed himself to enemy fire so he could engage the insurgents. He took part in blowing a large hole in the compound's outer wall so the task force could minimise the open ground they had to cover to get to the panic room where the British captives were hiding. Lance Corporal Smith then provided covering fire as the captives were rushed to safety.
Throughout the incident Lance Corporal Smith displayed extreme calmness under pressure, tremendous personal bravery, and the utmost professionalism whilst under continuous insurgent fire. As a direct result of Lance Corporal Smith's courageous actions Corporal Grant received the best medical treatment possible, the Task Force was able to recover all five British Nationals alive and the insurgent threat was neutralised.
Lance Corporal Smith was subsequently killed in action in Afghanistan on 28 September 2011.
NEW ZEALAND GALLANTRY MEDAL
Squadron Leader Benjamin Mark Pryor of the Royal New Zealand Air Force
During April and May 2012, Squadron Leader Pryor (then in the rank of Flight Lieutenant) served as a helicopter pilot on secondment to the Royal Air Force in support of the British Forces in Afghanistan.
On 22 April 2012, Squadron Leader Pryor was captain of the lead aircraft (a Chinook medium-lift helicopter) of an eight-ship aviation assault with the Special Forces Support Group. During a complex multi-formation landing in very challenging environmental conditions, with almost-zero visibility at times, his aircraft came under intense enemy fire. Squadron Leader Pryor abandoned his initial approach after his aircraft was hit three times in the vicinity of the cockpit, but elected to make a second approach in order to get his troops onto the ground in support of their colleagues. Showing remarkable courage in the face of extreme danger, he landed the aircraft in the same area and effected the safe disembarkation of his troops whilst directing effective suppressive fire from the aircraft's weapons.
During May 2012 Squadron Leader Pryor took part in a number of casualty evacuation missions. One in particular took place on 23 May 2012, when he was required to conduct the emergency evacuation of a casualty who had suffered a traumatic gunshot wound to the neck during a fire-fight in the Green Zone of the Southern Helmand province. While the casualty was being prepared for evacuation, the Chinook came under heavy enemy fire at the emergency landing site. Despite this, Squadron Leader Pryor kept the aircraft on the ground until the medical team was able to get the injured person onto the aircraft. After informing the crew of his intentions, he directed the number two crewman to engage with the enemy with one of the aircraft's weapons. While still under sustained fire, Squadron Leader Pryor extracted the aircraft from the landing site, and returned the casualty to the safety of medical facilities at Camp Bastion. This was the second time in as many months that Squadron Leader Pryor had displayed calmness, courage, and professionalism in a situation of intense pressure and while under enemy fire.
Concluding remarks
Ladies and gentlemen, distinguished guests, I have acknowledged and congratulated the recipients individually, I will now do that collectively.
This is a special occasion. It is special because the actions that warranted recognition relate to gallantry and distinguished service on operations.
It is special because the awards stem from incidents in Afghanistan that involved the safety of New Zealanders, and our coalition partners in Afghanistan, and they demonstrate professional, loyal and honourable service.
And it is also special because we have the opportunity to recognise a New Zealander who subsequently paid the ultimate sacrifice in the service of his country.
The late Lance Corporal Leon Smith and Squadron Leader Benjamin Pryor won their respective awards because their actions demonstrated courage, comradeship, commitment and integrity to a high threshold. The two men honoured today displayed the four values of the New Zealand Defence Force in abundance.
Dealing with uncertainty and rapidly changing events, in difficult terrain where lightning quick life-and-death decisions were required, they displayed exemplary commitment to their missions. Their example demonstrated comradeship. They did not let their mates or those they were supporting down. And through their actions they demonstrated the highest level of professional integrity and brought credit to New Zealand and the New Zealand Defence Force. Both Lance Corporal Smith and Squadron Leader Pryor placed their own lives at risk to ensure the successful completion of their missions and the safety of their comrades.
In the case of Squadron Leader Pryor, his brave actions, piloting his helicopter in the face of sustained enemy gunfire, occurred within the context of his secondment to the Royal Air Force. His gallantry not only brought great credit to himself, but also to the New Zealand Defence Force and the Royal New Zealand Air Force.
As has been noted, Lance Corporal Smith was subsequently killed in action in Afghanistan six weeks after the gallant actions that gain him this honour. He was one of 10 New Zealanders who lost their lives attempting to bring peace to Afghanistan.
While our Defence Force endeavours to keep safe the men and women in its service, it is in the nature of operational service in conflicts zones that lives are lost. There is no honour that can substitute for a human life, for a grandson, a son, a brother, an uncle and a mate. And yet in this award, I hope that Lance Corporal Smith's family can take some solace in remembrance of a courageous man who was taken before his time.
That being said, it has been an honour to recognise two members of the New Zealand Defence Force for their gallantry on operational service in Afghanistan. On behalf of all New Zealanders, I congratulate the recipients on their awards. Lance Corporal Smith and Squadron Leader Pryor demonstrated gallantry, courage and distinguished service above and beyond the call of duty.
Kia ora, kia kaha, kia manawanui huihui tātou katoa. Again, greetings to all.