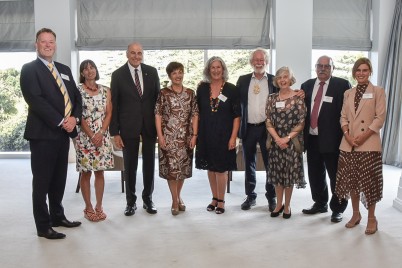 Rau rangatira mā, e kui mā, e koro mā, e huihui nei, tēnei aku mihi nui ki a koutou. Nau mai haere mai ki te Whare Kawana
Kia ora tātou katoa.
(A special welcome to Sir Graeme Dingle and Jo-Anne, Lady Dingle.)
Thank you all for joining David and me here to celebrate the wonderful work Sir Graeme and Jo-Ann do, along with their terrific team at the Graeme Dingle Foundation.
Vice-Regal involvement with the Graeme Dingle Foundation extends right back to the organisation's early beginnings.
Former Governor-General Sir Paul Reeves was among those who gathered with Sir Graeme and Jo-Anne in 1994 on Maungakiekie - One Tree Hill - to figure out how best to support Aotearoa's youth to thrive.
Dame Silvia Cartwright became the first Governor-General to be patron, and the vice regal connection has continued ever since.
You may not be aware that when a Governor General's term ends they resign from all of their patronages. The incoming Governor General has the opportunity to decide which organisations they wish to become Patron of.
This is quite a daunting task, but I recall that I had no hesitation in accepting the Graeme Dingle Foundation's invitation.
I already knew some of Sir Graeme's story as an intrepid mountaineer and adventurer, in the best Sir Edmund Hillary tradition.
And I recalled the success of the Outdoor Pursuit Centre that he founded back in the 1970s.
But when I learnt about what he and Jo-Anne had created since those early years, I saw the authentic passion with which they built this Foundation and the programmes that it supports.
The Foundation's values say it all:
Manaaki – caring
Māia – courageous
Tūhono – collaborative
They are what we should all aspire to.
So I accepted with alacrity – indeed your 2016 awards were one of the first events I attended, in the second week of my term.
It's been just over one year since Covid-19 arrived in New Zealand, and we continue to live in tumultuous and uncertain times.
It's affected every one of us in some way, here and around the world. Some effects become apparent straight away; and we know some will only become evident over time.
A recent study from Koi Tū: The Centre for Informed Futures, found that before the impact of the pandemic, the mental health of our young people was already in a vulnerable position.
The past year has only worsened this impact and without effective support, the effects on tamariki and rangatahi could potentially be lifelong. Their resilience has become more important than ever.
That is of course, what this Foundation builds.
Just as it's been a difficult year for individuals, the same can be said for charitable organisations.
But when the going gets tough, the tough get going.
I know that the support of all of you here this evening has been essential. I thank you for your many different contributions.
It's been fantastic to see the many creative ways you've kept the Graeme Dingle Foundation going during these times, including a wine venture to support the Marlborough branch and of course the 'Drop your Boss' campaign.
Thank goodness quite a few bosses bravely put their hands up to jump out of planes and off the Sky Tower, and my name wasn't pulled out of a hat. I don't think I'd be up for that, although I do recall that at least one of my predecessors – our first female GG Dame Cath Tizard – gave sky diving a go. I'm definitely not keen to follow suit!
Country music singer Dolly Parton, who has done amazing work for youth, once said
If your actions create a legacy that inspires others to dream more, learn more, do more and become more, then you are an excellent leader.
This describes what the Graeme Dingle Foundation does. It enables young people to become resilient, discover their own potential and develop into strong leaders themselves.
Those that have the chance to experience Kiwi Can, Stars, Career Navigator, Project K or MYND learn valuable life skills and develop into their best selves; and some go on to repay those lessons by becoming mentors and programme leaders themselves.
In the past 25 years, the Graeme Dingle Foundation has helped around 300,000 tamariki and rangatahi through their programmes. And it has also trained more than 10,000 mentors.
The Foundation's programmes have a positive ripple effect in our communities. By creating strong kids who realise their full potential, their futures, families and our communities become stronger as well.
We have seen over 25 years of amazing growth in Graeme Dingle Foundation.
I have been proud to be your patron and I wish you every success in the years to come.
Kia ora, kia manaaki, kia māia, kia tūhono huihui tātou katoa