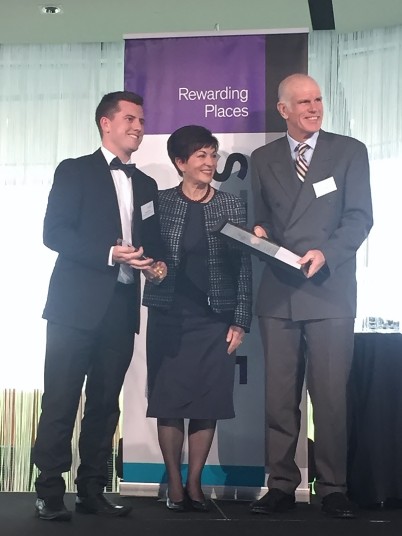 E nga mana, e nga reo, e nga iwi o te motu e huihui nei, tēnei aku mihi māhana ki a koutou.
Kia ora tātou katoa.
Distinguished guests, ladies and gentlemen, warm greetings to you all.
I specifically acknowledge: Hon Anne Tolley, Minister of the Crown; Graeme Dingle and Jo-Anne Wilkinson, Founders of the Graeme Dingle Foundation; Brian Corban and Marion Short, Chair and CEO of the Graeme Dingle Foundation respectively and Peter Hillary - tēnā koutou katoa.
Thank you for inviting us here today. David and I are delighted to be able to attend our first Graeme Dingle Foundation Awards ceremony. We've been told to expect a memorable evening and some remarkable personal stories.
One of the markers of getting older is complaining about the attitudes and behaviour of the younger generation. In classical times, Homer and Socrates had quite a bit to say about the bad manners and lack of wisdom of Athenian youth.
More recently, sociologist David Finkelhor coined a new term – 'juvenoia', to describe older people's panic about the behaviour of the next generation.
Fortunately, not everyone older than 25 holds such beliefs or anxieties. While some might regard young people as a Snap-Chatting crowd of clones, others, like those involved with the Graeme Dingle Foundation, see individuals, each with his or her own unique potential.
Some people seem to arrive on this earth fully-formed, ready to take life by the horns – but they're in the minority. Many of us need some help to get on the right path.
Over the last 21 years, the Graeme Dingle Foundation has worked to unlock the potential of our young people and to inspire them to be the very best they can be. Since its inception in 1995, nearly 200,000 young people have participated in the Foundation's programmes.
This significant investment in our nation's youth continues to pay dividends as course graduates move through the system and enter adult life. The self-esteem, confidence, intrapersonal skills and values instilled during these programmes have a flow–on effect to our wider society. Ultimately we are all better off.
We can even put a monetary value on that benefit. A recent Growing Great Futures review concluded that for every $1 invested in Graeme Dingle Foundation activities, the country receives over $7 in terms of long term benefit to society.
Then there is the value that cannot be measured in monetary terms. Graduates of the Foundation's programmes say things like "I have friends now" or "this programme changed my life". These comments speak to the Foundation's success in supporting young people to become confident contributors to New Zealand life.
When I was sworn-in as Governor-General, I spoke of unleashing the potential that exists within all of us – individually and collectively. I also spoke my aim to play my part in this process by acknowledging success and achievements, and by championing those who are prepared to assume leadership roles.
Tonight is an opportunity for me to do exactly that. Graeme Dingle and Jo-Anne Wilkinson have shown inspiring leadership in launching the foundation and making it a successful, forward-thinking enterprise.
I also recognise the opportunities for personal growth the Foundation has given to the many people who take on leadership roles in the programme – the mentors and peer mentors, team leaders, school principals, tutors, volunteers, sponsors and other supporters. It is their guidance and active contribution to these programmes that has created the success we are celebrating this evening.
Kiwi Can, Stars, Career Navigator and MYND touch the lives of nearly 20,000 young Kiwis every year. To the award winners from those courses here tonight, congratulations. You've worked hard to overcome challenges and reach your goals. I'm sure that in many cases your experience will have been life-changing. You should all feel very proud of what you have achieved.
I wish you all the best, now and in the future.
Kia ora huihui tātou katoa
Last updated:
Wednesday, 12 October 2016