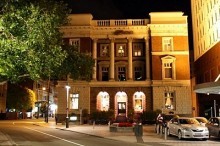 Kia ora – nga mihi mahana kia koutou! Warm greetings to you all.
I specifically acknowledge: Jeffrey Tang, Managing Director of Heritage Hotel Management Ltd; Your Worship Bob Parker, Mayor of Christchurch and Mayoress Jo Nicholls-Parker; Hon Gerry Brownlie, Minister of the Crown; Hon Kate Wilkinson, Hon Ruth Dyson and Hon Lianne Dalziel; Dr Anna Crighton, President of Historic Places Aotearoa; and Superintendent Andy McGregor, Christchurch Area Commander for the New Zealand Police – tēnā koutou katoa.
Thank you for inviting me here for the reopening of the Heritage Hotel Christchurch. Having lived in Christchurch, it is great to be back in this city. And as someone who has stayed in the hotel before, it's also great to be back at the Heritage Hotel Christchurch.
In a few minutes, I'll join Mr Tang in cutting a ribbon to officially reopen this beautiful building. Before I do that I want to say something about the significance of this event.
I do enjoy opening new facilities or reopening a building after major refurbishment. I find it a time to celebrate, and a time to congratulate people. As an event, it reflects the work of people during construction and in planning and fit-out design.
In the context of this city, and all that its people have endured since the first earthquake hit Canterbury in September 2010, the reopening of Heritage Hotel Christchurch has added significance and on many levels.
As we've heard from Dr Crighton, the Heritage Hotel - Old Government Building - has great heritage significance. Built 100 years ago, this building has seen Christchurch's history unfold. It has seen good times and sad times; parades and demonstrations. So many other historic buildings were damaged beyond repair by the 2010 and 2011 earthquakes and have had to be demolished. When this building was built, the Minister of Public Works at the time, criticised the building as too expensive and "too elaborate ". We remain grateful that architect Joseph Maddison was not so narrow minded. It remains one of his most impressive creations.
Given that this building celebrates its 100th birthday this year, we should also thank those who campaigned in the 1980s and 1990s to save it when its fate was uncertain. The Heritage Hotel Team also deserve our thanks for the work undertaken to strengthen this building in 1990s, and for the refurbishment that has just been completed. That this building survived structurally unscathed when more modern ones did not, speaks volumes of the thorough work that has been done.
The reopening of the Heritage Hotel also has an important significance for the economy of the region. After the February 2011 quake, the naysayers predicted that the city's tourism industry and economy would flat line. And given the destruction wrought in the CBD – retail and hotel accommodation – that seemed evident. How wrong they were!
The Lonely Planet has praised the energy and inventiveness of Christchurch. The opening of ReStart Mall and the reopening of New Regent St have contributed to retail sales exceeding the national average, and yet tourists have struggled to find accommodation. The reopening of the Heritage Hotel Christchurch will be a boon for tourists seeking high-quality, high-end accommodation.
The greatest significance of the reopening of the Heritage Hotel and Old Government Building lies in its location. When I spoke at the memorial service to mark the first anniversary of the tragic February 2011 earthquake, I emphasised that it was a turning point. While we will never forget those we have lost, it was a time to look forward, to the rebuilding of this great city. Bricks and mortar, buildings like this one, represent the physical rebuild. They are also important in re-establishing the "soul" of the city. The process of the physical rebuild has taken time, but much has been achieved. This is the sixth new or restored building I've opened in this city. They've included the new City Mission building, the YHA Rolleston House, an expansion of the Canterbury Charity Hospital, a new chapel-auditorium at St Margaret's College and St Andrew's College's new preparatory school.
And while each of those was important, none of them is located in such a commanding position. The Heritage Hotel sits in the heart of Christchurch, in the Square. The reopening of this building is a potent symbol that Christchurch will be rebuilt, and that after the devastation and heartache of recent times, there is a brighter future ahead.
As the poet John Ruskin once said: "When we build, let us think that we build forever. Let it not be for present delight nor for our use alone. Let it be such work as our descendants will look upon with praise and thanksgiving in their hearts."
And on that note, it gives me great pleasure to declare the Heritage Hotel Christchurch, officially open.
Kia ora, kia kaha, kia manawanui, huihui tātou katoa
Last updated:
Friday, 20 September 2013