Rau rangatira mā, e kui mā, e koro mā, e huihui nei, tēnei aku mihi nui ki a koutou. Nau mai, haere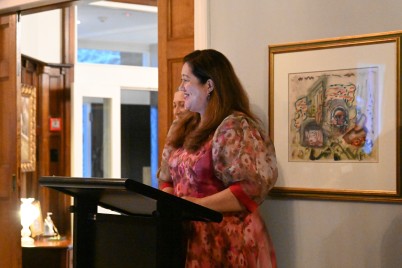 mai ra ki Te Whare Kawana o Tamaki Makaurau
I specifically acknowledge:
Ang Kaji Sherpa,
Peter Hillary, Chairman of the Himalayan Trust New Zealand
Alexander Hillary, NZ Operations Manager of the Himalayan Trust New Zealand,
Dr Michael Gill and members of the Hillary family.
Tena koutou
Richard and I are very pleased to host the Himalayan Trust and its supporters, and to join you all in celebrating the 69th anniversary of Sir Ed Hillary's ascent of Everest.
Tonight, we remember an event that made Sir Ed the most highly acclaimed New Zealander of his time – and we celebrate the legacy that ensured him an enduring place in our national memory – the Himalayan Trust.
Sixty-nine years ago, on Her Majesty Queen Elizabeth's Coronation Day, she was greeted with the astounding news of the success of the British Everest Expedition.
The timing was perfect – on a day that heralded such promise of a new Elizabethan age.
In 1999, on Sir Ed's 80th birthday, he was honoured with a dinner at Government House and a personal letter from Her Majesty. She wrote that she would never forget receiving that news from Everest.
Sir Ed's resilience, skill and courage had put New Zealand on the map – in ways that have yet to be surpassed.
He maintained that people don't set out to become extraordinary – but rather they set out to do extraordinary things.
However, as he also found out, those extraordinary acts change people's lives in ways that they can never imagine.
When someone achieves heroic status, they can be put on a pedestal and find that a return to their previous lives may not be an option.
They then face the challenge of finding new purpose to their lives.
Sir Ed found his purpose in Nepal. He saw need and he did something about it.
In Her Majesty's birthday letter to Sir Ed, she commended him for his lifetime of public service, and made particular reference to the Himalayan Trust.
Sir Ed understood that when someone is empowered by educational opportunities – or has a health issue addressed – the benefits extend beyond them across communities and across generations.
I can vouch personally for the transformative impact of education. I was the first in my family to go to university. I was able then to pursue opportunities and contribute to positive change in the health sector, social services and education.
In addition, I was able to help my whanau and encourage others to follow in my footsteps.
My husband Richard's work in a low-cost medical practice provides daily reminders that everyone deserves access to medical care – and that access to the right treatment can help people get their lives back on track.
So in hosting the Himalayan Trust and its supporters tonight, I know I am amongst kindred spirits who share my values and goals.
I salute your commitment to continue Sir Ed's mission to provide practical humanitarian assistance in Nepal, and to encourage New Zealanders to have a broad internationalist vision.
In 2022, our global connections and responsibilities are sharply in focus as humanity faces the existential challenges of our times.
Nepal and Aotearoa may be 12,000 kilometres apart, but along with so many other nations on the planet, we are both experiencing the brutal impact of climate-related events.
Sir Ed would be so gratified to know that you are continuing to work through these complex challenges.
In a few days' time, when Richard and I head to London to represent New Zealand at Queen Elizabeth's Platinum Jubilee commemorations, we will be thinking of those bonds between Her Majesty and a very remarkable New Zealander who has inspired generations of his compatriots to work for the wellbeing of others.