Kia ora koutou. Nga mihi māhana ki a koutou. Nau mai haere mai ra ki te Whare Kawana o Te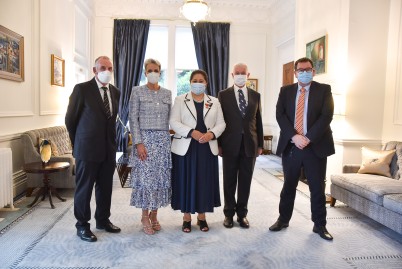 Whanganui-a-Tara.
Ladies and gentlemen, warm greetings to you all, and welcome to Government House Wellington.
It's an honour to host so many luminaries from the world of cricket tonight, and I also acknowledge
Hon Grant Robertson, Deputy Prime Minister and Minister for Sport; and
Rt Hon Trevor Mallard, Speaker of the House of Representatives
Tēnā koutou katoa
For many of you here tonight, cricket has been the absolute centrepiece of your summer days.
No doubt you can draw on memories of searching for a passable stand-in for wickets – and debating which rules count for the back-yard format.
And you will remember how these rules had a peculiar way of changing – depending on who was at the crease at any given time.
Some of my predecessors had a long association with cricket. In 1906, Lord Plunket donated the shield that is still contested by our men's first-class provincial teams.
Lord Cobham was perhaps the Governor-General who was most devoted to the game. He installed cricket nets on the front lawn, and hosted a Wellington versus Auckland match right here in the ballroom.
The next Governor-General had the chandeliers installed – perhaps to replace broken light fittings – or to discourage further play.
More recently, Sir Anand Satyanand took a great interest in cricket during his term as Governor-General, resurrecting the tradition of games on the North Lawn, though thankfully not inside the House.
During my term of office, I think Government House's grounds committee can rest assured that the windows facing the North Lawn will be perfectly safe from stray cricket balls.
Lord Cobham described the role of Governor-General as being akin to that of a wicket-keeper: "Definitely part of the game, but seldom noticed until they make a mistake".
It's an apt metaphor. Like every wicket-keeper, Governors-General are aware of their responsibility to not drop the ball at crucial moments– particularly when it comes to constitutional matters.
Tonight we celebrate the return of a premier sporting event to Aotearoa New Zealand. When we last hosted the World Cup in 2000, the White Ferns etched their name on the silver-ware for the very first time. It was the first of three international trophies that New Zealand cricketers have won.
Our current World Cup campaign might not have gone as we would have hoped – but we can celebrate how much cricket in has progressed in New Zealand over the past few decades.
Twenty years ago, when we last hosted the World Cup, two aspiring young cricketers watched the final over on television. It was probably one of the first times they had ever seen a women's game televised.
Those cricketers, Sophie Devine and Suzie Bates, have developed into two of the finest players New Zealand has ever produced, leading the White Ferns' campaign in the current tournament.
Many of you here tonight have been part of the recent effort to increase the visibility of women's cricket. We are seeing it on our screens more than ever before.
I am delighted when women who consistently achieve at the highest level have this kind of platform to show what they do best.
If we want young women to continue playing sport in their teens and beyond, seeing women's sport on their screens – and seeing outstanding players in action – gives them something tangible to aspire to.
In 2000, the White Ferns inspired a generation of players in Aotearoa. In 2022, they are inspiring another generation of young women who will want to emulate Suzie Bates' 1000th World Cup run.
Since 2019, women cricketers have had the chance to play professionally. Like their male counterparts, our top players can now focus on their game and make it a priority.
And this is going to be a busy year for them. After the World Cup tournament, they will be focussing on preparations for the Commonwealth Games later this year.
I am sure that everyone here tonight is delighted to see the growth and sustained success of women's cricket, here in Aotearoa and internationally.
No doubt I will catch up with some of you at tomorrow's semi-final match – and I look forward to joining you again in supporting our teams in Birmingham.
No reira, kia ora, kia kaha, kia manawanui katoa.