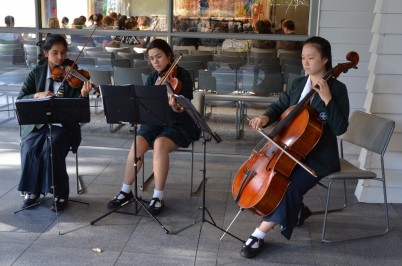 Kia ora koutou. E hine mā, e tama mā; e kui mā, e koro mā tēnei aku mihi māhana ki a koutou. Nau mai haere mai rā ki Te Whare Kawana ki Tamaki Makaurau. Young women, young men, ladies and gentlemen, warm greetings to you all. Welcome to Government House Auckland.
I specifically acknowledge: Lynda Reid, Chair of the New Zealand International Baccalaureate Heads Caucus; and Steve Caunce, Marketing Manager at Fuji Xerox - tēnā korua.
It is a great pleasure for Janine and me to host for the fourth time an IB awards reception. These events are particularly enjoyable for us because the achievements and aspirations of young people – our rangatahi - are things we both take a keen interest in. As parents, we are also mindful that celebrating the successful conclusion of months and years of hard work with students and their parents and teachers is a special delight.
The English writer and politician Joseph Addison once said "What sculpture is to a block of marble, education is to the human soul." 400 years after his death, the idea that education and learning are what shape a person still resonates strongly. The journey you have taken through the education system, since early childhood, has taught you much more than facts, figures and formulas - although I imagine you know plenty of those. It's the ability to set goals, to face up to challenges, to motivate yourself and to manage workloads that has been important.
The results you have received in terms of grades tell us a story of success and you can be proud of what you have achieved. However, the IB programme, with its commitment to developing your mind and your character, has given you the tools, talents and inclination to achieve excellence in what you do now and in to the future.

One thing that impresses me about the IB programme is the year on year improvement in results in New Zealand. This year is no exception. In 2014, 413 students were awarded the IB Diploma and both the pass rate and the national average score continue to be ranked amongst the highest worldwide.
In 2014 90 students gained 40 or more points compared to 74 in 2013. In 2014, four students achieved a perfect 45 score compared with eight in 2013. And, New Zealand candidates had an average Diploma score of 34.15 compared to a global average of 29.94.
These numbers demonstrate both how well our students perform in the programme and the quality of an education in New Zealand. The statistics are confirmation of the aspiration of the late Sir Paul Callaghan, one of New Zealand's foremost scientists, in his desire for New Zealand to be "the most beautiful, stimulating and exciting place in the world to live".
While tonight is a chance for our Top IB Scholars to celebrate, it is also an opportunity to celebrate other people who have had a hand in their success. Parents and caregivers can be justly proud of their effort too. You have set the right tone in their upbringing and in being supportive of them to meet their goals.
Similarly, teachers and schools have provided the right environment and championed learning and hard work. Your expertise, guidance, teaching and time have made a difference.
This year New Zealand will be marking a number of very important anniversaries. Last week at Waitangi we commemorated 175 years since the signing of the Treaty of Waitangi. In April we mark 100 years since New Zealand troops were committed to battle at Gallipoli, and it's 150 years since the shift of the seat of government to Wellington. As much as we need to look back, 2015 is a time to look forward to the future, and how we might shape it. The Top IB Scholars here tonight have a part to play in that – contemplating our future and shaping it.
Most of you will be going on to further education. In recent months you will have been thinking hard about where your ambitions lie and what pathways you need to take to get there. For some of you, the goal will be to study and ultimately work overseas.
I encourage you to seize the opportunities an IB Diploma provides. Certainly, your success with an IB Diploma shows that you can acquit yourselves well against the best in the world. Always remember where and how your success started and how you might use your success. Again, to quote Sir Paul Callaghan: "What greater sense of fulfilment can there be but to make a difference to the community in which you live?"
Congratulations to all the young people being honoured here this evening and my thanks again to all the families, teachers and supporters who have helped them attain their goals. I look forward to meeting and talking to you as the evening progresses, and to hearing of your successes in your communities in the future.
Please enjoy the hospitality of the House. Kia ora huihui tātou katoa.