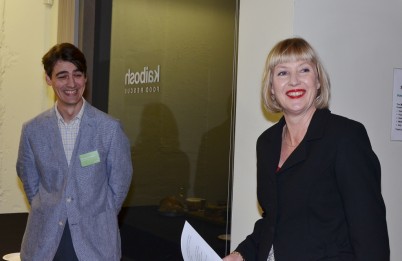 Good evening. I would like to acknowledge Matt Dagger, General Manager, George Langlands, Co-founder and Board Chairperson, Members of the Board of Kaibosh, and Members of the Diplomatic Spouses Group.
Ladies and gentlemen, it's a real pleasure to come to Kaibosh this evening.
I accepted Matt's invitation to come here because I think Kaibosh has done a great job getting food that would otherwise be wasted to people in need.
You started the ball rolling for food rescue in New Zealand and that means that people in other regions have benefited from your ideas and commitment.

The people at Kaibosh can be incredibly proud of what has been achieved since the early days when it was just a laptop and a second-hand fridge.
The Kaibosh concept makes so much sense. It's clear that partner charities and clients appreciate what you are doing, and no doubt the suppliers are really pleased to know that their food is not being wasted.
Ten thousand kilograms of food rescued a month and 28,500 meals provided from that is an impressive statistic. And on top of that, is the considerable environmental benefit of not wasting this food.
I want to congratulate Kaibosh's 85 volunteers. They are vital to this operation. We're so lucky that good people in our community step up to do work like this.
I also think it's really important to acknowledge the contribution of companies who have provided pro bono services – whether it's putting together a great website or looking after legal matters.
All in all, Kaibosh's story is a good one: charity, service and endeavour. It's great to be here and I'm looking forward to seeing for myself the fantastic work you're doing.