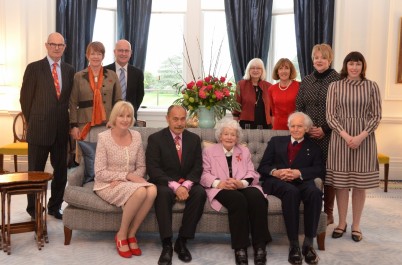 Kia ora Koutou, nau mai, haere mai rā ki Te Whare Kawana o Te Whanganui-a-Tara. Greetings to you all, and welcome to Government House Wellington.
I specifically acknowledge: Greg Thomas, President of the Katherine Mansfield Birthplace Society; Your Worship Celia Wade-Brown, Mayor of Wellington; Oroya Day, founding President of the Katherine Mansfield Birthplace Society; and Your Excellencies: Rosaura Leonora Rueda Gutierrez, Dr Alessandro Levi Sandri, Anne Marie Schleich, Laurent Contini – Ambassadors of Mexico, Italy, Germany, and France respectively – tēnā koutou katoa.
It is a great pleasure for Janine and me to welcome you all to Government House, and to join with you in celebrating both the anniversary of Katherine Mansfield's birth and the anniversary of the opening of our most significant memorial to her: The Katherine Mansfield Birthplace.
Twenty-five years ago today, on the 14 October 1988, Lady Beverley Reeves, officially opened the restored Beauchamp family home at 25 Tinakori Rd. The house had been restored after being rediscovered by Oroya Day and members of the Historic Places Trust's Wellington regional committee. The realisation that the house, where Mansfield was born, still stood was the heritage equivalent of finding one of her unpublished short stories in an attic!
Serendipity has a lot to recommend itself! The restoration process; subject to the usual vagaries of funding, sponsorship and resources; continued to be characterised by a stream of happy coincidences.
As related by Oroya Day, the removal of two bay windows revealed that the exterior was almost exactly as it had been when the house was first built. And while the interior had been changed, the architect's plans for the alterations were discovered to have been lodged with the Wellington City Council, making it easier to return the house to its original state. Even the process of consulting with the neighbours about whether they wanted a museum in their neighbourhood turned up a treasure - Lulu McIntosh, a relative who as a baby had been bathed by Katherine Mansfield.
These events would have been a massive spur for the restoration team who were working to a very tight time frame. Along with Oroya Day I must acknowledge James Beard, who is also here today, and architect Martin Hill, key drivers of the project. It was their dedication, determination and persistence that ensured that enough of the house was ready in time to be opened for the celebration of Katherine Mansfield's centenary.
It is thanks to them and many others who have given countless hours of volunteer work, that we have a fitting tribute to one of our most gifted writers. As Oroya has said, the restoration was a way of bringing Katherine Mansfield back to her own country, something that was very important when so much of her life was lived overseas, and other countries regarded her equally as much theirs as we regard her as ours.
It is said that when Katherine Mansfield decamped to England in her early 20s she was desperate to escape the socially rigid life of Wellington, which she considered no match for the bohemian joys and intellectual delights she thought she'd find in London. Despite this she remained keenly aware of how much her character had been shaped by this country. Writing to her father in 1922 she said: "And another thing is the longer I live, the more I turn to New Zealand. I thank God I was born in New Zealand. A young country is a real heritage, though it takes one time to recognise it. But New Zealand is in my very bones. What wouldn't I give to have a look at it!"
It is in some ways fitting then that the best physical memorial to her in this country should be her birthplace. It is also seems fitting that we should be celebrating our most famous woman writer at a time when we have also been celebrating the 120th anniversary of the adoption of women's suffrage in this country. With the exception of Mr Beauchamp, the household at 25 Tinakori Rd was exclusively female - grandmother, mother, two aunts and the four young Beauchamp sisters.
It would be intriguing to know what conversations among the adults about women's suffrage the young Katherine overheard. Could it be that the trailblazing example set by her country in some small way influenced the girl whose adult life was described by one commentator as "a lesson in casting off convention"?
That is a question best left for the academics. One thing is for certain and that is that Katherine Mansfield was a trailblazer. She helped to revolutionise the English short story, and left behind a body of work that is as sharp, intriguing and fresh as the day it was written.
The rebirth of 25 Tinakori Rd as the Katherine Mansfield Birthplace 25 years ago has given New Zealanders a cultural focal point. We, and others from around the world, continue to evaluate, assess and most of all, enjoy, the work of this fascinating and most talented writer.
In conclusion, I want to thank all of you who have helped, and are continuing to help, keep the house and the stories of its most notable inhabitant alive well into its second century.