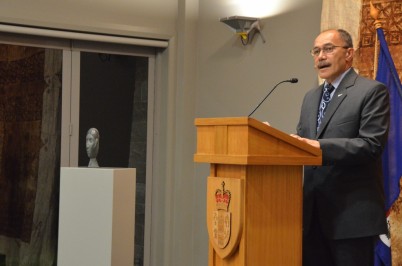 E kui mā, e koro mā, e huihui nei, tēnei aku mihi māhana ki a koutou. Nau mai, haere mai rā ki Te Whare Kawana ki Tamaki Makaurau. Ladies and gentlemen, warm greetings to you all, and welcome to Government House Auckland.
I specifically acknowledge: Garth Gallaway, Chairman of Arts Foundation New Zealand; Richard Cathie, Chairman of the Winn Manson Menton Trust; Keith Ferguson, Chairman of the Katherine Mansfield Menton Fellowship Fundraising Committee; and Associate Professor Sir Witi Ihimaera - tēnā koutou katoa.
It is a great pleasure to welcome you all to Government House this evening and to help, in a small way, put the Katherine Mansfield Menton Fellowship in a better sustainable position.
I'm sure many of you here will agree with the Mainland cheese advertisement that declares good things, like cheese, improve with age! This year we as a nation have celebrated some notable anniversaries.
New Zealanders have celebrated the 175th anniversary of the signing of the Treaty of Waitangi; and we will mark 150 years of the capital moving to Wellington, the 50th anniversary of the Cook Islands independence and 40 years since Dame Whina Cooper's land hikoi. The 100th anniversary of Gallipoli rekindled conversation about our identity as New Zealanders - who we are, what we value and how we see ourselves.
These events are a part of our national story. Stories and their telling are important to people. They tell us much about ourselves – factually and spiritually.
However, stories need storytellers. It's been storytellers, whether on the page or on the stage, who have shaped our view of ourselves, as much as the twists and turns of history. John Mulgan's "Man Alone" and the books of Barry Crump, as different as they are, have conveyed a certain idea of Kiwi manhood. And writers like Keri Hulme and Margaret Mahy changed us in another way, by showing us that stories and fiction produced here are as good as any in the world.
Our writers have played an important role in telling our stories. They've help define our culture and, occasionally, held a mirror up so we can assess whether we like what we see. For these reasons, and more, stories and their tellers are valuable. Unfortunately, they're not always appreciated or even rewarded.
Katherine Mansfield once said "To be alive and to be a 'writer' is enough". She didn't have to deal with the Auckland Housing Bubble. Making a living as a writer in this country can often be a fraught existence. Unlike other professions, we've yet to see a crack team of New Zealand authors, playwrights and poets score a lucrative sponsorship deal to promote fast-food, breakfast cereal or energy drinks! Rather, writers rely on the goodwill and generosity of benefactors.
And so it's little wonder the Katherine Mansfield Menton Fellowship is sought after. The six months or more of financial security and the benefits of a dedicated writing-space which the Fellowship provides, brings with it the luxury of being able to focus on writing.
I congratulate the Winn Manson Menton Trust and Creative New Zealand for facilitating this outstanding Fellowship. I also acknowledge foresight of Sheilah Winn and Celia Manson, and the generosity of the people of Menton. Given the Fellowship is in its 45th year, good things do improve over time!
Our writers deserve the support the Fellowship provides. I wish the Katherine Mansfield Menton Fellowship Foundation all the best with its fundraising efforts because the work of writers is necessary in enriching our nation's cultural heritage.
I thank you all for coming along this evening. Please enjoy the rest of the night and the hospitality of the House.
Kia ora huihui tātou katoa