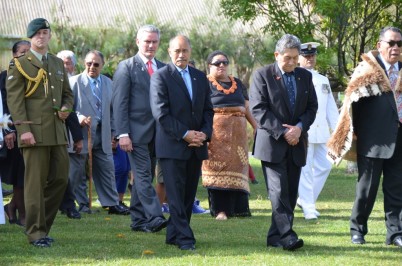 Rau rangatira mā e huihui nei,
Tēnei aku mihi māhana ki a koutou katoa.
Tēnā anō koutou mo te pōwhiri ki ahau, me taku tira, ki Pehiaweri Marae.
E hine, Esther-Jordan Muriwai, moe mai, okioki.
Na reira, kia ora huihui tātou katoa
Distinguished guests, I extend warm greetings to you all. Thank you for the pōwhiri, to me and my group at Pehiaweri Marae.
To you Esther-Jordan Muriwai – sleep, be at rest.
Greetings to us all gathered.
I specifically acknowledge: Kelvin Davis, MP for Te Tai Tokerau and the Trustees of the Bronchiectasis Foundation - tēnā koutou katoa.
Thank you for inviting me here today, I'm pleased to join you all in celebrating the launch of the Bronchiectasis Foundation - the legacy of the remarkable young woman who brought the Foundation into being.
I met Esther-Jordan Muriwai at the Asthma Achievers Awards at Government House last year. It was there that she asked me if I would become the Patron of her Foundation, and I am delighted I could eventually say yes to her request. 'Request' might not be the right word – I got the strong impression that saying 'no' to Esther wasn't an option. She may have been frail physically but her inner strength and determination were patently obvious.
I have a couple of other vivid memories of that evening. The first is from the official photo session before the ceremony. Esther was quite happy fitting in with the various requests for photographs. For one of them, I told her it was for my Facebook page. Esther put a halt to proceedings while she took out her ventilation tubes. When I asked her why, she explained that she wanted to look "normal". Everybody wants to present their best side on social media and she was no exception. It was her statement to the world to see her as a young woman, not as a young woman with a disease.
Later in the evening when I went over towards her table to give her the award, she waved me back. She wanted to get her award from me the same way everyone else had, and she made it very clear that she was going to walk up to receive it.
It was those qualities of determination, tenacity and humility that assisted Esther in her objective of establishing the Bronchiectasis Foundation. She knew better than most what it was like to live with a chronic condition. She, better than most, understood the need to support people with her illness.
Esther reached out to medical experts, other families affected by the condition and the wider community to get the support she needed to achieve her goal.
The launch of the Foundation today, on what would have been her 25th birthday, is a poignant milestone in Esther-Jordan Muriwai's remarkable legacy. The Foundation is so much her work that she even wrote the Foundation's constitution deed, which she saw as a labour of love. It stands as an example of her courage and determination.
Esther's compassion for others, her grace in dealing with her illness, her ambition in the goals she set for herself and a hint of cheekiness are testament to the endeavour – the mahi - she packed into her short lifetime. Reporter Michael Holland was correct when he said that only Esther could get away with calling me "Uncle Jerry" on nationwide TV. All these things combine to make her a truly remarkable person, and someone that all New Zealanders should feel very proud of.
This event and Esther' example remind me of the words of author Leo Rosten who said: "The purpose of life is not to be happy — but to matter, to be productive, to be useful, to have it make some difference that you have lived at all." Esther mattered and her legacy, the Bronchiectasis Foundation will continue to make a difference in the lives of others.
As Patron, I wish everyone associated with the Bronchiectasis Foundation all the very best with your future work.
Kia ora huihui tātou katoa.