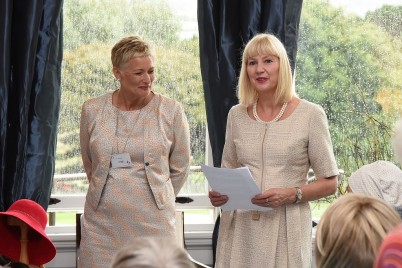 Kia ora koutou – greetings to you all
I want to specifically acknowledge Claire O'Higgins, General Manager of Look Good, Feel Better; and Leigh Renai, Look Good Feel Better's Wellington Regional Coordinator.
I am pleased to welcome you all to Government House today. Look Good Feel Better has been supporting New Zealanders with cancer since 1991. Every year it hosts over 3000 women at its workshops. And so it is special to host this event during Look Good Feel Better's 25th anniversary.
The work of Look Good Feel Better is reliant on the many tutors and volunteers who offer their time and expertise. In Wellington some of the dedicated volunteers have been involved for around 20 years.
Leigh Renai is an example. She has been with the organisation since the very beginning. Her commitment demonstrates amazing dedication. It's great that we can recognise the contribution of the many volunteers today.
Today, however, is mostly about you workshop participants. The next few hours are all about you having an opportunity to pamper yourselves and to generally have a great time.
Some of you may be unsure or reluctant about being involved in the make-up workshop. Perhaps you are anxious about being at something and not knowing the other participants; or you're just generally feeling unwell. Being in a room full of strangers can be quite daunting.
Although you may not know many others here, you are with other women who will have had similar experiences. Talking, sharing stories and generally taking time to have some fun will be tremendously helpful for us all. We all know that if we look good, we do feel better.
My hope, and I am sure that of the organisers, is that you all leave feeling uplifted, having had a special time. I know you'll be keen to get into the main event so I'll finish with my congratulations to Look Good Feel Better on 25 years of service to New Zealanders. I hope all of you enjoy your time here at Government House – thank you.