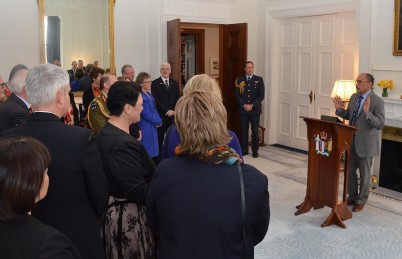 E nga mana, e nga reo, e nga iwi o te motu e huihui nei, tēnei aku mihi māhana ki a koutou. Kia ora tātou katoa.
Distinguished guests, ladies and gentlemen, warm greetings to you all.
I specifically acknowledge: Lt Gen Tim Keating, Chief of Defence Force and Brendon Boyle, Chief Executive of the Ministry of Social Development - tēnā korua.
Today is an opportunity for me, as Patron of the Youth Development Unit Patron programme, to thank you "Patrons" for your participation in the Limited Service Volunteer Programme.
One of the most valuable assets of any nation is its people. People represent the real wealth of our country, which lies in the hearts, minds and talents of our people.
Our young people have a big part to play in ensuring the future wellbeing of this country. It will be a loss to all of us if they don't get a chance to release their full potential.
I presume that you, like me, have been persuaded of the value of the Limited Service Volunteer programme. At one stage I was tasked by the Chief of General Staff to prepare a paper to determine whether the Army should continue its support to the LSV Scheme. My initial thoughts were, this is not core-business. After doing my research and seeing what was being done, my view changed – markedly – and I have remained a strong advocate.
I guess you will have seen the role the LSV Programme is playing in making sure that young people get on the right track and stay on it. Completing a course enables trainees to test themselves, to build confidence and to develop into outstanding, motivated young people with great futures.
The role you play as patrons is incredibly valuable - as role models for the trainees to emulate, as mentors to offer guidance and as their sponsors providing opportunities. Your life experience and achievements do inspire the trainees and also gives them something to aspire to. It's the real, hands-on patronage effect, where you can do and see the transition. I hope you have found being involved as a very special thing to be a part of.
So, thank you for sharing your skills, time, energy and experience and for playing your part in the programme so willingly. Thank you also for your commitment, care and concern for our young people and for supporting them as they reach out for a brighter future.
Kia ora huihui tātou katoa.