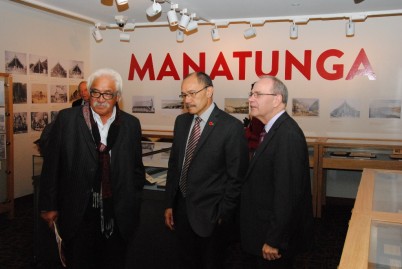 To view more images, click here
E nga mana, e nga reo, e nga iwi o te motu e huihui nei, tēnei aku mihi māhana ki a koutou. E nga Rangatira o Ngāti Whātua o Ōrākei, tēnā koutou. Kia ora tātou katoa. Distinguished guests, ladies and gentlemen, warm greetings to you all.
I specifically acknowledge: Colin Davis, Chair of the Auckland Library Heritage Trust; and Allison Dobbie, Manager of Libraries and Information Auckland Council – tēnā korua.
Thank you for inviting me here this evening for the opening of Manatunga. I also acknowledge His Worship Len Brown who started this opening ceremony sequence at the dawn karakia this morning – tēnā koe e hoa.
In June 1883 – 130 years ago this month – Sir George Grey gave a public lecture in which he outlined the gift he planned to give Auckland's newly-opened public library. He said he would give 8000 volumes to the library, a significant gift in its own right. He also said he would give what we now know as the Sir George Grey Special Collections – and what we might call one of the jewels in Auckland's crown.
From today, New Zealanders are able to see some of our most precious taonga from that special collection – including a letter and seal from King Tāwhiao, the second Māori king, and two sketches drawn in 1818 which are believed to be the earliest recorded handwritten paper works by Māori.
What a great benefactor Sir George Grey was, and what service he gave to New Zealand. When I look at him and his contribution to this country, I find myself amazed, admiring and in awe. He was Governor on two different occasions, he was the premier, and he was a soldier, an explorer, author, collector and linguist.
And we can also add to that list – a supporter of women's rights. He was a great believer in women's suffrage. He was a 70-year old MP when New Zealand became the first country in the world to grant women the right to vote in national elections in 1893, the 120th anniversary of which we celebrate in September this year.
Grey's energetic curiosity went into overdrive when he came face-to-face with the Māori people after being appointed Governor of New Zealand in 1845. Some might call him a Renaissance man. In fact he was a Victorian man with all the curiosity and energy that we see in his contemporaries - like Charles Darwin – and any number of those who came to New Zealand during the six decades of Queen Victoria's reign. Some like Sir James Hector, who established what is now Te Papa Tongarewa, as well the Royal Society of New Zealand, GNS Science and the Wellington Botanic Gardens, never left.
While preparing for this evening, I have been trying to visualise the New Zealand, the country and its people, that Grey's eyes would have seen when he first arrived in Auckland. He would have seen the cementing of the relationship between Māori and Pākehā; a relationship which has been described by writer Mark Scott in this month's North & South magazine in these words: "Māori and Pākehā were two races that fell in love with each other – personally and culturally." One sees the truth of that in thousands of families around our country – including, of course, my own.
Grey encouraged rangatira and others to record their history, traditions and culture. In effect, he ran a massive oral history project for the benefit of future generations and historians; and published the results in a number of books. He also collected artefacts – pieces that may not even have been recognised as taonga at that time. The result is the largest existing collection of indigenous manuscripts brought together by a single collector. It was recognised in 2011 by the UNESCO Memory of the World Programme.
I expect that many thousands of people from throughout New Zealand will make their way to Auckland over the next four months to see this unique exhibition. In doing so, they will be able to take part in events associated with this exhibition; and also with Auckland Week, Matariki and Te Wiki o Te Reo/Māori Language Week.
As Patron of the Auckland Library Heritage Trust, I am especially pleased to see the advent of a scholarship that will enable a researcher to make good use of the collection. And with that there is the hope they will follow in Grey's steps in producing publications so that others can enjoy the fruits of their scholarship and gain a better appreciation of our heritage. This initiative can only enhance the mana of this collection that is already one of Auckland's and New Zealand's great taonga.
In closing my remarks, I want to congratulate Robert Eruera, the Auckland Libraries Māori Heritage Librarian, who has curated this exhibition and all those who have worked so hard to bring the exhibition together. So in that vein, it gives me great pleasure as Patron of the Auckland Library Heritage Trust to declare Manatunga officially open. Kia ora huihui tātou katoa.