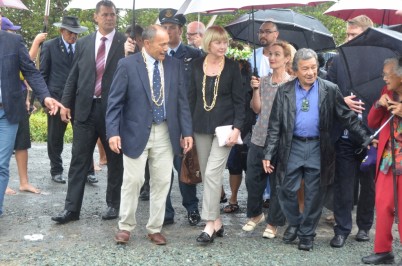 Rau rangatira mā e huihui nei,
Koutou ngā uri o ngā iwi, ngā hapū, me ngā tipuna,
o Hokianga Whakapau Karakia,
Tenei aku mihi ki a koutou katoa.
Me mihi anō ahau
Ki ngā maunga, ngā awa me
Te akau e takoto nei,
Hokianga Whakapau Karakia.
Me aku mihi nui ki te kaupapa tapu o tenei hui,
Te hui whakamaumahara i te
Hainatanga i te Tiriti o Waitangi,
Ki tenei kāinga tapu.
Kia ora huihui tatou katoa.
Distinguished people gathered here
You, the descendants of the tribes, the sub-tribes and the ancestors of Hokianga Harbour
My greetings to you all.
I also greet the mountains, the rivers and the harbour lying here.
I also greet the sacred event of this hui,
This gathering to commemorate the signing of the Treaty of Waitangi at this special place.
Greetings to us all gathered here.
I specifically acknowledge Hon Maggie Barry, Andrew Little, and Members of Parliament.
Tēnā koutou katoa.
Thank you for inviting Janine and me to Mangungu today. It's wonderful to join you in this beautiful historic place – and to arrive in such style!
It has been a personal goal for me to visit locations where the Treaty was signed in 1840 – so coming to Mangungu, one of the most significant of those sites, is a fantastic start to the year. And it is an honour to be the first Governor-General to visit here since Lt Governor Hobson came here.
I am sorry that I can't be here on the 12th for your annual commemorations – they are a significant part of our Treaty's story and I value this community's commitment to honour the role played by their tipuna 175 years ago.
It's important for New Zealanders to recognise that Treaty commemorations are on other days apart from 6 February. And I like to think that the more we commemorate the sites where the Treaty was signed, the more New Zealanders will become familiar with our founding document, have a greater sense of ownership of it and thereby affirm the fundamental partnership which makes every day Waitangi Day for us.
Behind me is a symbol which has been revived from the 150th commemorations for this year's 175th commemorations of the Treaty.
The white heron is about to take flight. It brings to mind the whakatauki – he kōtuku rerenga tahi – the white heron flies just once. It refers to a very rare or special occasion and is an appropriate symbol for landmark commemorations of Te Tiriti, our nation's founding document.
This year – 2015 – is a special year in the whakapapa of this nation. We have much to remember. As well as the 175th Treaty anniversary, we are marking 150 years of government in Wellington; 100 years since the Gallipoli landings; 50 years since self-government for the Cook Islands; and 40 years since Dame Whina Cooper took the hand of her mokopuna and set off down a dusty Te Tai Tokerau road. The land march that she led helped bring about big change, including the establishment of the Waitangi Tribunal and the Treaty Settlements that followed.
What these commemorations have in common is that they mark important turning points in our history and are part of who we are as New Zealanders. They retrace the footsteps of our ancestors and affirm our connections with them – whether it's at Waitangi this year, where our Pacific ancestry is being celebrated with the visit of the Hawaiian voyaging waka Hokolea; or taking part in gatherings like yours on the 12th; or finding out about our grandfathers' and great-grandfathers' service in the First World War; or going to WW100 exhibitions in towns up and down the country or visiting our new National War Memorial Park, Pukeahu, in Wellington, where we honour our war dead.
When New Zealanders go overseas, they will be able to go to new heritage trails in the battlefields of the Western Front and of course many will be at Anzac Cove on the 25th of April to mark the centenary of the landings there.
These are threads in our story that link us to our past and help us make sense of our present. Here at Mangungu, your historical re-enactments recall that day in 1840 when between two and three thousand people – a huge number for that time – came together here to hear their chiefs debate long and hard about the articles of Te Tiriti. It's a day to recall the high hopes of those who signed it, and to remember the words of those who took part in the day's proceedings.
It's a time to honour the people who later took on the challenge of seeking redress for breaches of the Treaty – to reflect on the tremendous progress that there has been in Treaty Settlements – and to look forward to further progress before the bicentenary of Te Tiriti in 2040.
As I said earlier, I am sorry I will not be here on the 12th– but today, I welcome the opportunity to meet members of the Hokianga community, to see the mission house and travel to Horeke in your magnificent waka.
As a matter of interest, on 12 February, Janine and I will be on our way to the Auckland Islands, in our Southern Ocean, which is about as far away from the winterless north as you can get to in New Zealand. It's known for its gales, pounding rain and cold temperatures.
I will be thinking of you, this lovely day – and the warm welcome you have given me – and wishing you sunny skies and calm seas for your commemorations.
No reira, tēnā koutou, tēnā koutou, tēnā koutou katoa.
Last updated:
Wednesday, 4 February 2015