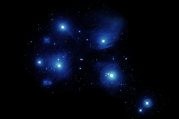 To view more images, click here
E kui mā, e koro mā e huihui nei, tēnei ahau, me taku hoa rangatira, a Janine, e mihi nei ki a koutou. Nau mai haere mai rā, ki te Whare Kāwana o Te Whanganui ā Tara, ki tēnei hui whakanui i Matariki, te Tau Hou Māori.
Ladies and gentlemen, my wife Janine and I consider it a great pleasure to welcome you all to Government House as we celebrate Matariki, the Māori New Year.
I specifically acknowledge: Hon Chris Tremain and Hon Pita Sharples, Ministers of the Crown – tēnā korua.
The Māori New Year, New Zealand's New Year, is signalled when the stars of Matariki, the Pleiades or Seven Sisters in the Taurus constellation, rise on the north-eastern horizon, just before dawn, and trace the path of the rising sun.
For Māori, Matariki was traditionally both a time to remember those who had passed away during the previous year, and a time to rejoice. In a wider sense, it is a time to look back on the things that are important to us, and to look forward to the future with renewed confidence, hope and ambition. The last of the crops have been harvested and with the start of the New Year it is a time of celebration to mark the growing strength of the sun. And so, Matariki is a time to celebrate new beginnings.
New Zealand is a land of new beginnings. Perched at the leading edge of the Earth, surrounded by the sea, New Zealand is a place where anything and everything is possible.
Earlier today, we hosted a citizenship ceremony here at Government House where 25 women from 21 countries became New Zealand's newest citizens. In addition to their certificate of citizenship, each one was given a Tī Koukā, or New Zealand cabbage tree, and invited to join us for this Matariki celebration. The Tī Koukā tree symbolises a new beginning and the new roots they have established here in Aotearoa.
Like the 25 new New Zealanders, all who claim New Zealand as home is an immigrant or the descendent of an immigrant. Regardless of whether they came here 1000 years ago by waka, 150 years ago in a sailing ship, 100 years ago in a steamer, or 10 years ago in an aeroplane, they were men and women who left their homes in search of a better life for themselves and their children.
In choosing to live here, men and women have shared the experiences of bringing life to our beautiful country. Those voyagers who came here on waka and sailing ships, their vessels pushed onward only by the wind, shared a perilous journey. Sometimes they were becalmed for days on end and other times their craft were caught in storms that threatened to send them to a watery grave. And once they arrived here, they shared the experience of living in a sometimes harsh environment. And that shared experience has produced a culture that values diversity, egalitarianism, mahi and the well-being of all members of our society.
In the context of the several themes we are marking tonight, there is a telling story about one of the first waka to land in Aotearoa that speaks of the qualities that has marked this country from the beginning of human habitation. Those who have been to Whakatane in the Bay of Plenty will have seen the beautiful bronze statue, The Lady on the Rock, which sits atop Turuturu Rock at the mouth of the Whakatane River.
It celebrates the bravery of Wairaka, the daughter of Toroa who was the captain and navigator of the Mātaatua waka. It is said that when the Mātaatua waka arrived after making its perilous voyage across the Pacific, Toroa and his men left the women in the canoe while they went ashore to explore this new land.
The waka began to drift back out to sea, and into the breakers which threatened to swamp it. Defying the tapu that forbade women from handling a canoe, Wairaka seized a paddle, told the women around her to do the same, and brought the waka back to shore crying: Kia Whakatane au i ahau – let me act like a man. This cry is said to be the origin of the town's name. She later moved to what is now Tamaki Makaurau, Auckland, where the suburb and mountain, Owairaka, are named after her.
The bravery and leadership that Wairaka displayed are the same qualities shown in the 1880s by Kate Sheppard, later to become the first President of the National Council of Women. Undeterred by convention and traditions that dictated what the role of women should be, with dogged determination and despite many set-backs, Sheppard organised three petitions, each one larger than the one before, calling on Parliament to grant women the right to vote.
And so in 1893 – just 53 years after the Treaty of Waitangi was signed - a treaty of partnership and commitment to a future together – New Zealand marked another new beginning that set it on a new course. It was a radical course at the time, and yet one that almost every other nation in the world has followed.
As we celebrate Matariki, we also mark that 120 years ago New Zealand became the first nation in the world to grant women the right to vote in national elections.
And it has been together that, in the spirit of Wairaka and Kate Sheppard, women and men have worked together to build Aotearoa-New Zealand.
So as we celebrate Matariki and all the possibilities and new beginnings that lie ahead, we congratulate our newest New Zealanders on taking the decision to make New Zealand both their home and their country. We also celebrate the contribution all New Zealanders, and especially New Zealand women, have made in making our country good and great. On that note, I wish you all the very best for our New Year and for our future well-being. Kia ora huihui tātou katoa.