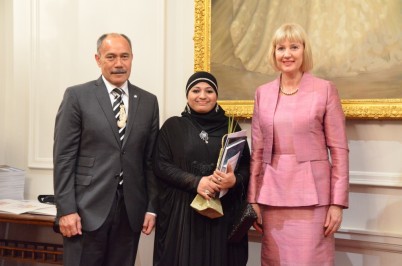 E nga mana, e nga reo, e nga iwi o te motu e huihui nei, tēnei aku mihi māhana ki a koutou. Te manuhiri tuarangi nau mai haere mai. E te iwi katoa, nau mai, ki te Whare Kawana o Te Whanganui-a-Tara.
Distinguished guests warm greetings. I extend a special welcome to those who have travelled a long way to be here. Indeed, I welcome you all to Government House.
I specifically acknowledge: Hon Peter Dunne, Minister of Internal Affairs; and Her Worship Celia Wade-Brown, Mayor of Wellington - tēnā korua.
It is a great pleasure for Janine and me to welcome you all to Government House today for this citizenship ceremony.
This is a life-changing moment for the 26 people here today who, very shortly, will be able to say "I am a New Zealand citizen".
We have people here from Somalia, the Philippines, Russia, Venezuela, Malaysia, South Africa, Sweden, the Ukraine, India, Taiwan, Colombia, Samoa, Fiji, the Solomon Islands, the United States, the United Kingdom, Sri Lanka, Australia, Brazil, China, Cambodia and Argentina. Thank you all for choosing to make New Zealand your home.
I am here by birth. Those of you about to become New Zealand's newest citizens are here by choice. You join the one in four people who were born outside of New Zealand who now call New Zealand home. More and more, we truly are a nation of immigrants. Over 200 ethnicities were identified by New Zealanders as their heritage in the last census.
This diversity is a source of great strength and vitality for New Zealand.
This year has been a significant year of anniversaries in the development of New Zealand as a nation. 175 years ago, Māori and representatives of the British Crown signed a Treaty at Waitangi – the founding document of modern New Zealand.
The Treaty established principles for relations between Māori and all the people who have come later to share this land with them. It will continue to guide those relations into the future.
150 years ago, Wellington became the capital of New Zealand, our nation's heart and the home of our parliamentary democracy and our national institutions. Wellington is celebrating this event this month – and the festivities will include an open day for visitors to this house.
The Treaty of Waitangi and our parliamentary democracy are both indebted to another important event that people in many countries around the world are celebrating this year - the 800th anniversary of the signing of the Magna Carta.
The Magna Carta was signed by King John of England in June 1215. It is considered to be one of the most important documents in history, because it established the principle that everyone is subject to the law - even the king - and it guarantees the rights of individuals - the right to justice and the right to a fair trial.
In New Zealand, we enjoy the rights and privileges of a citizen because we have inherited these Magna Carta principles. They underpin our law. These rights are as precious to us today as they were to the people of England 800 years ago.
In coming to New Zealand, you have left behind families, friends and a familiar world. It takes courage to make that giant step, that commitment. Becoming a citizen here does not diminish your heritage. I appreciate the importance of retaining your own traditions, your networks, your culture and your language. These are all part of who you are. And are part of the gift you bring to New Zealand's society.
You may be wondering why we hold a citizenship ceremony at this time of the year. June is the month of our Matariki festivities, which celebrate the Māori New Year. It's a time to think about what has gone before and what is yet to come. It is a time to get together and celebrate our cultural heritage.
So this makes it the perfect time to celebrate what you bring with you to New Zealand – and to celebrate the gift of citizenship and new beginnings.
I hope you are able to attend some of the many Matariki events happening in Wellington this month –
and you are most welcome to stay with us after this ceremony for our own Matariki celebration at Government House.
Welcome again, and I wish you all the very best for your future lives in New Zealand.
Kia ora huihui tātou katoa
I will now call upon Her Worship Mayor Celia Wade-Brown to conduct the citizenship ceremony.