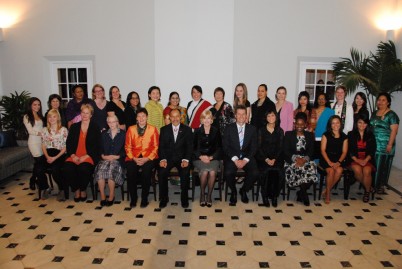 To view more images, click here
E kui mā, e koro mā e huihui nei, tēnei ahau, me taku hoa rangatira, a Janine, e mihi nei ki a koutou. Nau mai haere mai rā, ki te Whare Kāwana o Te Whanganui ā Tara, ki tēnei hui tāngata whenuatanga, i a tātou e whakanui ana i Matariki.
Ladies and gentlemen, my wife Janine and I consider it a great pleasure to welcome you all to Government House for this citizenship ceremony as we celebrate Matariki.
I specifically acknowledge: Hon Chris Tremain, Minister of the Crown and Your Worship Jenny Rowan, Mayor of Kāpiti - tēnā korua.
This is the third citizenship ceremony Janine and I have hosted at Government House, either here or in Auckland. I thank Her Worship Mayor Jenny Rowan for her assistance in administering the oaths and affirmations of allegiance.
I want to begin my address by congratulating the 25 women who have chosen to become New Zealand citizens today, completing the journey towards making New Zealand your home. I think it is fitting that we celebrate this special occasion with you, as our newest citizens joining the New Zealand family, by having you and your guests join us at the celebration of Matariki at Government House.
Matariki is the Māori New Year, New Zealand's New Year. It is signalled when the stars of Matariki, the Pleiades or Seven Sisters in the Taurus constellation, rise on the north-eastern horizon, just before dawn, and trace the path of the rising sun. Matariki is also marked throughout the South Pacific. And so in many ways this event sets us firmly in this part of the world, our part of the world.
Matariki then is a time to look back on the things that are important to us and to look forward to the future with renewed confidence, hope and ambition. It is a time to celebrate new beginnings.
Putting our markers in the sand is important in setting out new beginnings. About 1000 years ago the first of our ancestors to travel and settle here made their new beginning. In 1840, in another new beginning, Māori and Pakeha signed a treaty of partnership and commitment to a future together. One hundred and twenty years ago New Zealand marked another new beginning that set it on a new course, a radical course at the time and yet one that almost every other nation in the world has followed. In 1893 New Zealand became the first nation in the world to grant women the right to vote in national elections.
More than the mere casting of a ballot, it had a much wider significance that resonates to this day. It meant that all New Zealanders, regardless of race, ethnicity, gender, religion or wealth could choose their elected representatives. And it forever tied the fundamental right to vote to the right to citizenship.
And so in celebrating these various threads we have brought together 25 women who have sought New Zealand citizenship. Obtaining New Zealand citizenship – either by yourself or with your family – is the final step in your journey in making New Zealand both your home and your country.
In deciding to apply for citizenship, you will have considered many factors. While New Zealand does not require new citizens to renounce the citizenship of their birth, I am conscious that some of you had to do so to become a citizen here. That is no easy decision to take and affirms your commitment to New Zealand.
However, your new bond to New Zealand should not diminish the importance of your heritage - the culture and traditions you brought with you. Like a tapestry of many colourful threads, this diversity strengthens and enriches the fabric of New Zealand society, both now and in the future.
The changing face of New Zealand is very evident tonight. Today, 25 women from 21 countries have joined us as New Zealand's newest citizens. They hail from countries as diverse as the United Kingdom, Germany, Finland, the Netherlands, Russia, Armenia, Brazil, the United States of America, Canada, South Africa and Zimbabwe; as well as our Asia-Pacific neighbours: the People's Republic of China, India, Korea, Myanmar, the Philippines, Chile, Australia, Fiji, Tonga and Samoa.
I remind us all that in pledging allegiance to New Zealand and our Head of State, the Queen of New Zealand, these newest citizens have taken up the responsibilities of New Zealand citizenship; and to uphold the laws of New Zealand, and to respect the rights of others.
Citizenship is what binds us all together as one nation and one people. As the Māori proverb notes: "Ehara taku toa i te toa takitahi engari he toa takitini – My fame is not that of the individual, but that of the multitude. No-one can survive alone."
As we celebrate our newest citizens and Matariki; and all the possibilities and new beginnings that lie ahead, I am mindful that from this time New Zealand's future and all of our futures are interwoven. Congratulations again to our newest New Zealand citizens, and I wish you all the very best for our New Year and the future.
I invite Her Worship Jenny Rowan to join me and start the citizenship ceremony proper.
Kia ora huihui tātou katoa.