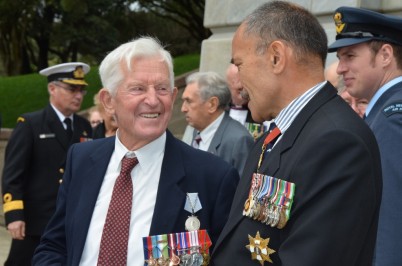 Kororia ki te Atua, he maungarongo ki te whenua, he whakaropai ki nga tangata katoa – tehei mauri ora. E nga mana, e nga reo, e nga iwi o te motu nei, e huihui nei, tēnei aku mihi māhana ki a koutou. Kia ora tātou katoa.
I specifically acknowledge: Rear-Admiral David Ledson (Rtd); HE O'Love Jacobsen, Dean of the Diplomatic Corps and Members of the Diplomatic Corps; Paul Foster-Bell, MP representing the Government; Hon Annette King, representing the Leader of the Opposition; Councillor Mark Peck, representing the Mayor of Wellington; and Commodore Dean McDougall representing Chief of New Zealand Defence Force; tēnā koutou katoa.
In times of war, a Merchant Navy is the 'lifeblood' of a nation and its war effort. Without this vital service, the Allies could not have won the Second World War.
Merchant ships and their crews were attacked by submarines, aircraft and warships. Some merchant seafarers escaped burning and sinking vessels only to spend days in lifeboats in freezing or shark-infested waters.
New Zealanders who served in the Merchant Navy travelled the globe - in the Pacific and the Arctic; they criss-crossed the Atlantic and sailed in the Middle East. They served under the British Red Ensign and under the flags of other nations.
Around 140 New Zealand merchant seafarers lost their lives during the Second World War, and for most, the sea remains their final resting place.
Today we remember the extraordinary courage and dedication of those who served in the Merchant Navy.
On this day in 1939, within hours of the declaration of War, the first British merchant ship, SS Athenia, was sunk by a German torpedo. The event highlighted both the strategic importance of Merchant shipping and the danger to merchant seafarers.
Darcy Hoffman, originally from a farming family in Gore, described the sinking of MV Canadian Star in the North Atlantic in 1943:
So myself and Joe got down to the foredeck and by this time it was lifting pretty high, as it was sinking by the stern, you see. We cut a raft and let it go and then jumped down to it. It finished up with quite a few of us on it, 13 I think - not a good number. The sea was rough as hell. After we got out of the lee of the ship, it just kept turning the raft over. That's where quite a few were lost. It was very cold in the sea.
...I didn't think we were ever going to get picked up because she was getting pretty dark. It was late in the afternoon. I thought, oh well, I might be finished now, because it was that cold, I could hardly hang on any longer. But with that, a corvette with the name of the Anemone – it's a sea flower – pulled alongside and just dragged us aboard. I think there were only eight of us left. We were on the raft a couple of hours, perhaps. It seemed like an eternity. We were very, very lucky. A raft's a very small thing. We could have been missed, you know.
Merchant Navy seafarers were civilians operating on the front line in a whole range of jobs –as deck hands, engineers, and stewards. In their roles, these civilians had the commitment, comradeship, courage and tenacity of combatants.
Their stories are dramatic. And yet for many of them, the telling was not, because for them, it was all in a day's work.
As seaman Dewi Browne put it: ...the point is, a chap's a seaman and you just keep going, war or no war, that's your job.
This no-nonsense mind-set did not mean they were not deeply affected by their experiences. Fireman and refrigerating engineer, Jim Blundell, recounted going to Hanmer Springs Hospital with post-traumatic stress:
By the time I got there I was down to seven stone - and all that stuff that goes with traumatic stress, you know, crying...I would never wish it on anyone. They were still treating guys from the First World War when I was there.
On this day we also remember those who served in the British Empire's Merchant Marine in the First World War, including the 68 or more New Zealanders who lost their lives. And we also remember the New Zealand merchant ships and seafarers that had carried troops to the South African War and later the Korean War.
Merchant Navy Day is a recent addition to New Zealand's calendar of commemorations. I acknowledge the tremendous efforts of Merchant Navy sailors and their supporters to achieve this dedicated day.
Last year I was pleased to authorise the flying of the New Zealand Red Ensign on land on Merchant Navy Day. I hope that seeing the Red Ensign helps to keep the contribution of the Merchant Navy in our national consciousness.
Historian Neill Atkinson has characterised the qualities of those civilians who braved wartime oceans thus: self-sufficiency, modesty, teamwork, egalitarianism, irreverence and an easy-going pragmatism.
I like to think the same qualities have been evident in all of the men and women who have served New Zealand. Much is known about the endeavours of those who fought in our three Armed Services. Today, we acknowledge New Zealand's 'fourth service', the Merchant Navy.
Let us never forget its contribution, the courage of its brave sailors, and their sacrifice.
Kia ora, kia kaha, kia manawanui, huihui tātou katoa.
Last updated:
Thursday, 3 September 2015