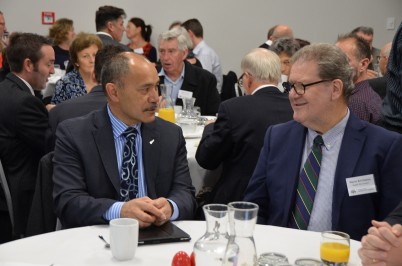 E kui mā, e koro mā e huihui nei, tēnei aku mihi māhana ki a koutou. Nga mihi o te ata ki a koutou. Ladies and gentlemen warm greetings to you all – good morning!
I specifically acknowledge: His Worship Bill Dalton, Mayor of Napier and Wayne Jack, Chief Executive of Napier City Council. Tēnā korua.
Thank you for this opportunity to address you and to find out more about business in the Hawke's Bay – your challenges, your successes and those tantalising possibilities on the horizon.
My wife Janine and I have had a wonderful few days in the Hawke's Bay. We've glimpsed some of what is happening in this region in terms of culture, education, viticulture, social services, environmental projects and volunteering. Later today we will learn more at JM Bostock and Hawke's Bay Independent Brewery.
A regional visit is our opportunity to meet people and learn what is happening outside of the big cities. It's important we do this, so that we can speak authoratively about New Zealand. As you are aware, every region has its unique history, geography, social circumstances and economy. These all produce equally unique challenges, opportunities and positive advantages.
Knowing what is happening in the regions is very useful when I travel – at home and overseas. When I travel overseas especially I am able to advocate for our industries, primary and manufacturing, and our research and education sectors.
It's great when I am able to say, with confidence, that in New Zealand we have developed a new way to approach your particular problem. For example, in the Middle East I told senior leaders about the work that Living Cells Technologies was doing in providing a better way of managing diabetes.
In South East Asia I helped to highlight a joint horticultural project and launched a new star-fruit. I've also been able to highlight the specialist courses and research being done in our research institutes, universities and polytechnics. And, I've advocated for our world-class wines and winemakers.
So Hamish Whyte's talk about Furnware is one I am keen to hear. Furnware's example of a family business in a regional centre, developing high-quality niche products, and taking on the challenge of operating in an international context is a remarkable one.
I can say that I can give a personal testimonial about Furnware's furniture. Recently I opened a new classroom block at Auckland Grammar School and tried out one of the very snazzy Furnware student chairs. I am pleased to report that I was most satisfied with its comfort and durability. The chair is a huge improvement on the wooden chairs that I remember from my school days.
One of the other things that I am interested in is what is being done to enhance business prospects in the future. In that regard I am pleased to hear of the new business hub.
The American comedian Milton Berle once said "If opportunity doesn't knock, build a door". It seems to me that your new business Hub might be that door for businesses wanting to set up in Hawke's Bay.
A regionally-based Hub is best situated to convey what Hawke's Bay has to attract people here – great climate, fantastic lifestyle, good schools, unique architectural heritage, outstanding produce and beverages and sound infrastructure.
The Hub shows a real commitment to enhancing the region's prosperity. Having business support services together in one place means businesses can get the assistance, networks and information they need to succeed. Other similar hubs that I've visited, around the country, help to attract business, increase efficiencies in existing industries and lift the region's overall contribution to our GDP – win, win, win!
In many ways it's also about identifying and taking advantage of opportunities. The increased interest of Aucklanders in moving here heralds an opportunity. If it means people can dispense with hours of commuting and hefty mortgages, and get a good work-life-balance, I'm sure businesses will see basing their operation here an increasingly attractive proposition.
Similarly, Māori business provides another opportunity. Later today I am going to visit the site where my tīpuna, Te Hapuku, signed the Treaty of Waitangi on 24 June 1840. Although there were breaches of the Treaty, Post Treaty Settlements represent a great potential for Māori engagement in regional enterprises.
Post Treaty Settlements have given real opportunities for Ngati Kahungunu and its hapu to participate with real economic backing – money, commitment and history. Everyone in Hawke's Bay can benefit from this boost to the economy, and I for one will follow the Post-Settlement progress with great optimism and interest.
Again, thank you for this opportunity to address you.
Kia ora huihui tātou katoa