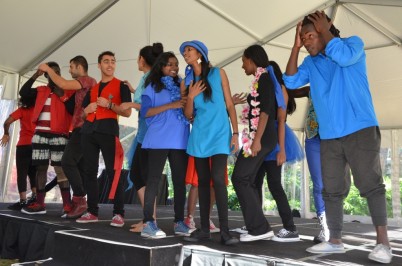 E nga mana, e nga reo, e nga iwi o nga hau e wha e huihui nei, tēnei aku mihi māhana ki a koutou. Naumai haere mai rā ki te Whare Kawana ki Tamaki Makaurau.
Distinguished guests, ladies and gentlemen my warm greetings to you all; and welcome to Government House.
I specifically acknowledge: from the Human Rights Commission, Chief Commissioner David Rutherford and Race Relations Commissioner Dame Susan Devoy; Director of the Office of Ethnic Communities, Berlinda Chin; and AUT Professor of Diversity, Dr Edwina Pio - tēnā koutou katoa.
It is a great pleasure for Janine and me to welcome you all to Government House today to mark Race Relations Day.
On this special day, 21st March, we observe International Day for the Elimination of Racial Discrimination, which commemorates the Sharpeville Massacre in South Africa 55 years ago in 1960. This year, Race Relations Day is special for Janine and me, and all of us here, because we have the privilege of celebrating it with young people who represent the many communities who have chosen to make this country their home.
During 2015 New Zealanders will commemorate significant anniversaries of events that have helped shape this nation. Accordingly, we have chosen Nationhood as the theme for our work at Government House this year.
One of the most important anniversaries is the 175th of the signing of the Treaty of Waitangi, between the British Crown and Māori.
The Treaty marks the beginning of modern New Zealand. It gave the rights of British citizenship to all New Zealanders, and envisaged an ongoing partnership between the Māori and British peoples.
From a partnership between two peoples 175 years ago, we have progressed to a multi-faceted partnership with over 200 ethnic groups now calling New Zealand their home.
The Treaty, therefore, is the starting point for race relations in New Zealand. It's vital that all our citizens, no matter where they have come from, understand its fundamental importance as the founding document of this nation – and the special place Māori have as the first-people of this land and their willingness to share this stunning land with others.
In 1840, when the first Māori chiefs signed the Treaty at Waitangi, the British representative, Captain William Hobson famously said "He iwi tahi tātou" – "We are one people".
Today I want to reflect on what that statement - "We are one people" - means to the incredibly diverse population of the New Zealand of today.
My first observation grows out of a personal experience last year, when I took part in National Geographic's Genome Project.
Basically, that meant having my DNA analysed to trace the routes taken across the planet by my ancestors.
What it brought home to me was the diversity that lies within all of us. My DNA traces the movement of my ancestors across to Asia, through the Pacific and to New Zealand. Also though, my recent-DNA tells of a heritage shared with people from Northern Europe, the Mediterranean and Southern Asia.
So in a sense, we are truly all one people, whose ancestors embarked on an incredible journey to share this beautiful, fragile planet. I like to think that by increasing our understanding of those common links will help us work together to solve the global problems that we all face.
"We are one people" does not mean that we all have to have the same culture and social practices. What it does mean is that we have to find ways of uniting, of opening lines of communication and of working together. As the humanitarian and civil rights campaigner Martin Luther King observed: "We must learn to live together as brothers or perish together as fools".
And if we look back at the founding document of this nation, at its heart, the Treaty of Waitangi gives every citizen the privilege to stand here and call this country my home, our home, whatever their country of origin.
Privileges and rights are on one side of the citizenship ledger. On the other side of the ledger are our obligations and responsibilities to others.
"We are one people" compels us to hold on firmly to fundamental values that are important to us all. Organisations like the Human Rights Commission remind us that in this country there is a commitment to a free, fair, safe and just New Zealand; where diversity is valued and human dignity and rights are respected. Observing Race Relations Day reminds us that promoting and protecting the human rights of all people in Aotearoa New Zealand is a constant responsibility.
We need people who would advocate for rights. As the English-American philosopher, political activist and revolutionary Thomas Paine said: "Whatever is my right as a man is also the right of another; and it becomes my duty to guarantee as well as to possess."
On Race Relations day, I want to affirm the notion of being a good neighbour – in our streets, in our workplaces and in the wider world.
I encourage you to contribute to a future where New Zealand is known as a country that promotes tolerance and embraces difference; and a country that is prepared to support other nations in their efforts to create a better world for their citizens.
I am delighted to be sharing Race Relations Day with people who have a variety of stories about their personal journey to Aotearoa-New Zealand, and becoming a member of our New Zealand whanau, our New Zealand family. I value the contributions you make in our communities, I value the vibrancy you bring to our culture, and we value the diversity we all bring to our society.
No reira, kia ora huihui tātou katoa - please enjoy the hospitality of Government House.