New Zealand Pavilion Official Opening Dinner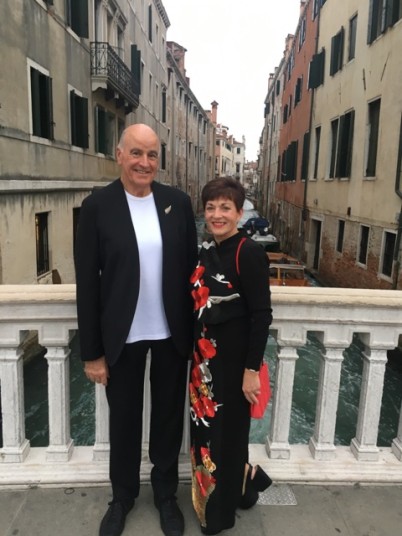 Signore e Signori, stimati ospiti, benvenuti e buona sera.
Ladies and Gentlemen, esteemed guests, Kia ora koutou and good evening.
I acknowledge Dr Julie Maxton, Executive Director of the Royal Society; Michael Moynahan, Chair of the Arts Council of New Zealand; Alastair Carruthers, Commissioner for New Zealand in Venice; Rhana Devenport, Curator of the New Zealand Pavillion; Leigh Melville, Head of Patrons of Venice; and of course, Lisa Reihana, the star of the show.
What an exciting day it has been. Seeing Lisa's work this morning far exceeded our already high expectations – the words 'stunning' and 'mesmerising' don't begin to convey its impact. I have no doubt that we all share enormous pride in what Lisa has created to represent Aotearoa New Zealand.
Emissaries is a landmark work that people will be talking about for years to come.
How fitting that it should start its international journey here in Venice.
Nearly 49,000 people saw In Pursuit of Venus [infected], the central component of Emissaries, at Auckland Art Gallery. Up to 500,000 people could very well see it here in Venice.
When it journeys to Australia, Honolulu, and the Royal Academy of Arts in 2018 and to the Musee du Quai Branly in Paris in 2019 as part of their respective Oceania exhibitions, the international audience will just keep growing.  Wherever it goes, it will resonate with audiences because it's a magnificent example of the old adage that "art crosses cultural boundaries".
That is very much the spirit of La Biennale de Venezia, where, time and again, the Arts have been powerful ambassadors for the peoples of the world.
It is tantalising to think about what might have been, if the Second World War had not thwarted Frances Hodgkins' selection as the first New Zealand-born artist to exhibit at Venice.
In 1939 she was invited to represent Great Britain at the 1940 Venice Biennale.  The Biennale did take place but wartime restrictions meant that her work could not be transported or exhibited there. Britain did not exhibit at the Biennale again until 1948, a year after Frances Hodgkins died.
Sixteen years ago, New Zealand finally made it here, in our own right.
We are very proud of all the artists who have represented New Zealand since 2001. David and I were fortunate to be here to see Michael Parekowhai's work in 2011, when we were patrons of New Zealand at Venice, like so many of you here this evening.
I am delighted that Francis Upritchard, one of our artists in the 2009 Biennale, has been invited back to the Curator's pavilion this year.  This is a great step in the history of New Zealand's presence at the Biennale and a tribute to Francis's work.
Congratulations to Lisa, Rhana, the technical team, officials and whanau who helped to bring Emissaries to life – to Alastair for his consummate skill in masterminding the event and to Creative New Zealand, Te Papa and Auckland Art Gallery for their splendid collaboration.
I also want to acknowledge the very special contribution of the many private patrons of New Zealand at Venice.  This programme has grown from strength to strength over successive Biennale.  Without you,  I doubt there would be a New Zealand contribution. Certainly not on this scale.
This is a wonderful example of a public private partnership. Long may it continue!
I wish the New Zealand Pavilion every success at this Biennale, and at many more to come.
Kia ora tatou katoa.