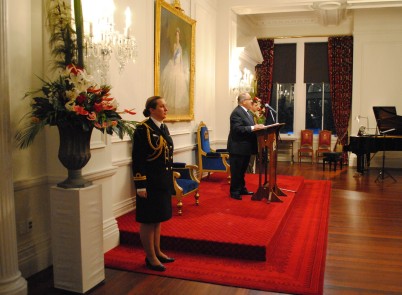 To view images from the reception, click here
I begin by greeting everyone in the languages of the realm of New Zealand, in English, Māori, Cook Island Māori, Niuean, Tokelauan and New Zealand Sign Language. Greetings, Kia Ora, Kia Orana, Fakalofa Lahi Atu, Taloha Ni and as it is the evening (Sign).
I then specifically greet you: Sir Michael Hardie Boys, my predecessor in office and Chair of the Trustees of the New Zealand Portrait Gallery; Avenal McKinnon, Director of the New Zealand Portrait Gallery and your husband John; Your Excellency Paul O'Sullivan, High Commissioner for Australia to New Zealand and your wife Merrilyn; Distinguished Guests otherwise; Ladies and Gentlemen.
Welcome to you all from Susan and I to Government House to this celebration of the return of the Norrie Collection and other portraits to Government House.
I wish to speak briefly of the significance of the collection, and its travels during the two-and-half years that this House underwent significant conservation.
In 1957 Sir Willoughby Norrie, who later became Lord Norrie, and Lady Patricia Norrie, gifted a collection of twelve British royal portraits to New Zealand. Announcing the gift of the portraits, by letter to the Prime Minister, Sir Sidney Holland, Norrie wrote that the artworks were "a small token of gratitude for our great happiness during four and half years in New Zealand."
A number of the portraits had been purchased in 1953 soon after Norrie became Governor-General. Others were already in the Norrie's possession. Their substantial gift remains a principal treasure here with some paintings that are more than 300 years old. They link the Governor-General's residence with the Queen of New Zealand and with the English Royal story.
The Collection can be said to be the heart of the art on display here. It represents a history that is relevant to New Zealand's adoption of the Westminster tradition. The earliest portrait is that of King Richard II who reigned in the late 1300s. The other monarchs after Richard II whose paintings are on the walls can be said to represent the evolving history of Parliament in whose interests they were served.
The twelve portraits in order of lineage include those of King Richard II already mentioned, King Henry VIII who reigned at the beginning of the 1500s, King Edward VI, who followed Henry, Queen Mary I, Queen Elizabeth I who reigned from 1558 until 1603, King Charles I from 1625 to 1649, his consort Queen Henrietta Maria, King Charles II in martial dress, King James II, and Prince George of Denmark, who was Prince Consort to Queen Anne at the beginning of the 1700s. Lastly, a portrait of the three eldest children of King Charles I and Queen Henrietta Maria is not there as it is currently undergoing restoration.
When the House is full of visitors we always notice that people congregate near "the Norries" to gaze at the portraits of the British royalty covering a more than 200 year period. People appear to look hard at each face for hairstyle, clothes, and other symbols reflecting the historical era and context.
The one artwork that can be called 'the odd one out' is the portrait of Oliver Cromwell whose contributions took place in the 1650s and who can be described as having put the grit in the Royal oyster which led to Parliament setting the terms of the contract with Charles II that whilst the Monarch reigns, the Government rules - which is the arrangement we inherit in New Zealand today.
Portraits, not part of the Norrie Collection, but which have returned, and form part of the Government House collection, include two hanging in this Ballroom.
Behind me hangs the portrait of Her Majesty Queen Elizabeth II, Queen of New Zealand. This particular portrait was commissioned by Sir Charles Lyttelton, Viscount Cobham, who was Governor-General of New Zealand from 1957 to 1962. It is now back in its place of honour here and can be said to endorse the Sovereign's role in the function of this room which hosted six investiture ceremonies in the week just gone.
On your right is a portrait of Her Majesty Queen Victoria, in whose name the Treaty of Waitangi was signed in 1840. Queen Victoria herself commissioned this portrait for St James's Palace and it was apparently her favourite portrait of herself. It is on permanent loan from the Royal Collection.
Behind me in the Blundell Drawing Room, is what is today regarded as the very significant painting of Captain Cook's colleague Captain Charles Clerke with a Maori chief. This painting by the late 18th century English portrait artist and politician, Sir Nathaniel Dance-Holland was given to Government House by Viscount Galway in 1941 but does not appear to have been valued until much later when it was identified in an Aide de Camp's suite and then placed much more suitably. On the main staircase are King Edward VII with Queen Alexandra from the beginning of the 1900s and King George V with Queen Mary from their reign between 1910 and 1936.
The Norrie Collection has now returned from a two and a half year tour. After we saw it at its first stop at the New Zealand Portrait Gallery in Wellington, it spent time at the Sarjeant Gallery in Whanganui and, most recently, at the Tairawhiti Museum in Gisborne.
Tonight we welcome these artworks back to their home where they serve as a reminder of history, and also as familiar friends watching over events in the Norrie Dining Room and prominently elsewhere in the House.
I wish to thank the New Zealand Portrait Gallery from all at Government House for looking after these national treasures and returning them safely (all but the one being restored).
And on that note I will close in our country's first language offering everyone greetings and wishing everyone good health and fortitude in your endeavours. No reira, tēnā koutou, tēnā koutou, kia ora, kia kaha, tēnā koutou katoa.