Rau rangatira mā, e kui mā, e koro mā, e huihui nei, tēnei aku mihi māhana ki a koutou. Nau mai,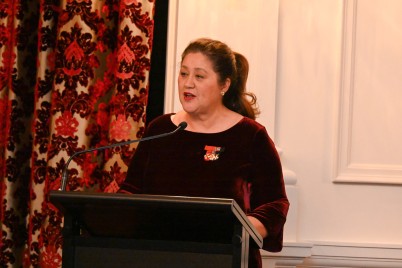 haere mai ra ki Te Whare Kawana o Te Whanganui-a-Tara.
Distinguished guests, ladies and gentlemen – my very warmest greetings to you all, and welcome to Government House Wellington. Dr Davies and I are delighted to be able to host this special event celebrating NZTrio's 20th anniversary.
I know the past two years haven't been easy for NZTrio, and I'm sure the pandemic has made us all truly appreciate the joy and unifying power of live performance. On that note, I'm very much looking forward to your performance later this evening.
Over NZTrio's twenty-year history, you have established yourselves, not only as one of our preeminent musical ensembles, but also as outstanding ambassadors for New Zealand music.
I know your work goes far beyond your exceptional musicianship and exhilarating live performances. Through your mentorship programme, and NZTrioLive!, you are helping to support New Zealand's next generation of musical talent.
You have also shown a staunch commitment to supporting New Zealand composition through your biennial NZTrio Composing Competition, and by commissioning and showcasing New Zealand works – over 75 to date.
I am particularly excited to hear the three brand new pieces that Somi, Amalia, and Ashley will perform for us this evening, composed especially for your anniversary.
In December of last year, Dr Davies and I hosted Virtuoso Strings for a special Christmas concert, in what was one of the highlights of our time in Government House so far. And I must say, they set the musical bar high.
During my term as Governor-General, I will ensure Government House remains a place where the arts are supported and celebrated.
Music and the arts are so important because they reflect who we are as New Zealanders – each of us with our own stories to tell, and our own way of telling them. And through those stories, we are better able to see ourselves in each other.
The whakataukī says: 'he toi whakairo, he mana tangata' – 'where there is artistic excellence, there is human dignity.'
I believe this dignity comes in our ability to express ourselves freely and authentically – whether with words on a page, oil on canvas, or through a musical composition.
And it was Confucius who said, 'Music produces a kind of pleasure which human nature cannot do without.'
I'd like to take this opportunity to acknowledge all the sponsors and supporters who make the work of NZTrio possible.
And of course, to Somi, Amalia, and Ashley – thank you for your outstanding commitment to your art, as well as for the generosity and manaakitanga you take in your approach to performance.
So, my congratulations once again to NZTrio on reaching the significant milestone of your 20th anniversary, and my thanks in advance for what I'm sure will be a very special performance.
Kia ora huihui tātou katoa.