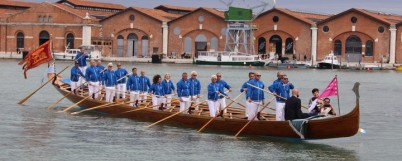 Signore e Signori, stimati ospiti, benvenuti e buongiorno.
Kia ora koutou.
I acknowledge HE Patrick Rata, New Zealand's Ambassador to Rome; Mr Carmelo Barbarella, former ambassador to New Zealand; Paolo Baratta, President of the Biennale di Venezia; Mr Tim Marlow, Royal Academy of Art Artistic Director; Mr Michael Moynahan, Chair, Arts Council of New Zealand; and Mr Alastair Carruthers, Commissioner for New Zealand at Venice.
It is truly wonderful to join my fellow New Zealanders here at La Biennale di Venezia, in support of New Zealand art – and in particular, this year's representative at our Pavilion – Lisa Reihana.
La Biennale di Venezia is the most prestigious event of its kind, and I am delighted to represent the people of New Zealand and Her Majesty Queen Elizabeth II, at the opening of Lisa Reihana: Emissaries.
Thank you for the extraordinary welcome. I know for Lisa and myself, arriving here in Disdotona was a huge honour – and made us feel right at home.
For New Zealanders, a gondola calls to mind our waka – the great canoes of Aotearoa/New Zealand and the Pacific – and perfectly aligns with the themes of voyaging and encounters threading through this exhibition – and indeed through the Biennale itself.
In New Zealand, we have huge respect for the Biennale. We value its mission to nurture and present the art of the nations of the world.
We appreciate its promotion of global tolerance and freedom of expression.
When New Zealand started exhibiting in 2001, it was a significant milestone for our artists, and we feel privileged to be included in this fascinating global conversation.
This year is particularly significant for us, as it is the first year the New Zealand Pavilion has been located at a Biennale site.
It's a privilege to be at the Tese Del'Isolotto and to know that this year, so many more people are likely to come to the New Zealand Pavilion.
I am in awe of what Lisa has achieved, and I am delighted an international audience will now have access to work that is both technically brilliant and utterly profound.
This Pavilion, with its proximity to the historic shipyards of Venice, is a perfect setting for an art-work about peoples who braved the oceans to survive, expand and trade.
New Zealand is the last major land-mass occupied by humans, and we are a young nation. When the first Venice Biennale was held in 1895, it was just 55 years since a treaty had been signed between Māori and Queen Victoria.
Lisa has explored what that colonial relationship meant, not just for Aotearoa/New Zealand, but for the indigenous peoples on the Pacific rim who experienced similar encounters with Europeans – then, and up to the present day.
In this time of global upheaval and tension, it is a work that resonates – reminding us, as it does – to value and respect cultural difference and the dignity of human life, in all its glorious diversity.
Viva arte viva – this glorious celebration of the creativity of the peoples of the world.