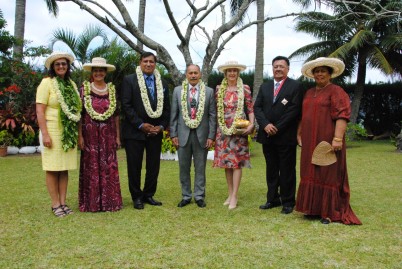 (Cook Islands time)
To view more images from the visit to the Cook Islands, click here
Rau rangatira mā o Te Whare Kawanatanga o Rarotonga, e huihui nei, e Te Mangai o te Kuini, Tom Marsters me Mrs Marsters, tēnei aku mihi māhana ki a koutou. Kia ora tātou katoa. Distinguished guests of Government House Rarotonga, Your Excellency Tom Marsters and Mrs Marsters, I extend my warm greetings to you all – kia orana.
On behalf of my wife Janine and our delegation, I want to thank you very much for your warm welcome. It is a special privilege for me, as Governor-General, to visit each part of the Realm of New Zealand, and one that I am pleased to fulfill. This is our first visit here as the New Zealand Vice-Regal couple, and we have been looking forward to coming here very much.
We are relishing the opportunity to experience some of the Cook Islands. It is so beautiful here that it is no surprise that so many New Zealanders – including ourselves in the past – choose the Cook Islands as a holiday destination. During this visit we want to again experience your hospitality, and meet the dynamic people with whom New Zealand and New Zealanders share such a strong bond.
The relationship between New Zealand and the Cook Islands is a special one. While our formal association in a modern sense began in 1901, it is founded on far more intimate historical, cultural and social ties. Those ties include similarities in our tikanga, our reo and our ancient stories, that have existed between our peoples and our countries for centuries. That history includes visits by Maori – Cook Island and New Zealand – and European explorers, including your nation's namesake.
There are ancient stories of Rarotonga as the last waypoint before waka set sail for Aotearoa, memorialised in the Garden of the Steven Stones. I claim ancestry from four of those waka – Te Arawa, Takitimu, Aotea and Mataatua. Our ties are also captured in the story of Paikea, the famous whale rider, an ancestor of both Ngāti Porou in Aotearoa, and the people of Maukē here. We are looking forward to our visit to Maukē, the place where Paikea's wife Kea, fearing her husband was lost in a storm at sea and died from her grief, is buried.
Those ties are also symbolised in a wharenui built in 1934 on Pakirikiri Marae at Tokomaru Bay in New Zealand. It has two names. In New Zealand Māori it is called "Te Hono ki Rarotonga " – the joining with Rarotonga – and in Cook Islands Māori it is called "Te Au ki Tonga " – embracing loved ones from the South. Fittingly, Rarotongans attended both its opening in 1934 and the 75th anniversary celebrations in 2009. The latter delegation was led by six Cook Islands ariki, and included then Cook Islands Deputy Prime Minister and later Prime Minister, the late Sir Terepai Maoate.
Our ties also include the service by Cook Islanders in the New Zealand Army, Navy and Air Force. Cook Islanders served in the Māori Pioneer Battalion and the Rarotongan Company in the First World War . Some Cook Islanders also served in the Second World War, including with the 28 (Māori) Battalion. I will be unveiling a war memorial on Mauke in recognition of the service people from there, have given.
And befitting those many connections, the relationship between New Zealand and the Cook Islands was transformed in 1965 when the people here chose to be self-governing in free association with New Zealand. That change encapsulated a new, unique and enduring relationship that has continued to evolve and prosper.
In two years' time, Cook Islanders will celebrate the 50th anniversary of that decision. It will signal a milestone in our bi-lateral relationship, and be a time to once again celebrate our shared Polynesian heritage, our shared history and our shared citizenship. We in New Zealand look forward to participating and celebrating with you on this important anniversary.
The real strength of the relationship is demonstrated in how, together, we have managed to accommodate new needs, new issues and new personalities over time, while holding firmly to shared values. As New Zealand's Prime Minister, the late Norman Kirk, wrote in a famous exchange of letters with the Cook Islands Premier, the late Albert Henry, in 1973:
"The special relationship between the Cook Islands and New Zealand is on both sides a voluntary arrangement which depends on shared interests and shared sympathies."
The spirit of those enduring shared interests and sympathies, and a platform for Cook Islands' engagement in the international arena in the future, was formalised in the Joint Centenary Declaration of the Principles of the Relationship between New Zealand and the Cook Islands. It was signed in 2001 by our then Prime Ministers, Rt Hon Helen Clark and Sir Terepai Maoate, in Rarotonga.
Your Excellency: New Zealand views the Cook Islands as a respected and constructive regional partner, as demonstrated by the excellent way it managed its recent term as Chair of the Pacific Islands Forum. We share common goals of peace and prosperity for all in our region. The Cook Islands has made a significant contribution to raising the awareness of issues and opportunities affecting small Pacific nations. Cook Islanders have been prominent in international debates around climate change and renewable energy.
New Zealand also values its relationship with the Cook Islands within the Realm of New Zealand. In this vein, I can confirm that New Zealand remains fully committed to its obligations, and reaffirms its commitment, to be a close and trusted partner.
Your Excellency:
I also want to acknowledge the contribution Cook Islanders make to New Zealand's culture and society. The large and vibrant Cook Islands community in Auckland does much to promote our understanding of our "cousins" from Te Moananui-a-Kiwa. Likewise, New Zealanders are pleased to be able to contribute to the Cook Islands in a variety of ways.
New Zealand's formal assistance, through the development programme, is an example of targeted support. I am advised that for the next three years, New Zealand Government intends to support public health, environmental quality and economic development through key infrastructure projects - water supply, sanitation and renewable energy. Concurrently, New Zealand will maintain our current level of support for health, education and tourism, all of which have had positive and beneficial impacts in recent years.
In conclusion, I believe the Cook Islands and New Zealand can take pride in the many wonderful achievements we have made together. We can look forward to continuing to build our bilateral relationship so that it delivers benefits to people in both countries, and enables us to achieve more together than we could separately.
Your Excellency, I affirm that New Zealand remains a committed partner and friend for the Cook Islands, bilaterally, as part of the Realm, and multi-laterally in the Pacific and beyond. We do this in the spirit of the dual names of the great wharenui at Tokomaru Bay - reaffirming our "joining with Rarotonga" and remaining "your friends from the south". Meitaki maata.
Kia ora, kia kaha, kia manawanui e huihui tātou katoa.