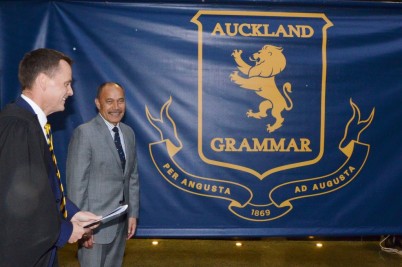 E te Tumuaki, Tim O'Connor; me te Poari Kaitiaki, Jeff Blackburn; e nga mema o te Poari, ngā kaiako, nga tauira, me ngā matua, o tēnei kura o Auckland Grammar. Tēnā koutou katoa.
Mr O'Connor, Jeff Blackburn, members of the Board, teachers, pupils and parents of Auckland Grammar School greetings to you all.
I also acknowledge: Hon Peseta Sam Lotu-l'iga; Sir Ralph and Lady Pamela Norris; Sir John Wells; Sir Ron and Lady Lewell Carter; Mark Sandelin, Chairman of the Board's Development Committee; Mr Jack Porus, Chairman of the Foundation Trust; Martin Price, President of Auckland Grammar School Old Boys Association; Malcolm Bowes from Architectus; and Jamie Sandelin and Ben Toogood the Head Boy and Deputy Head Boy respectively - tēnā koutou katoa.
It is a great pleasure for Janine and me to be here today, to celebrate the opening of the Augusta Block, 165 years after my predecessor Governor George Grey provided the initial endowment that led to the establishment of Auckland Grammar School. Grey would be delighted knowing that his support has resulted in Auckland Grammar School being one of the pre-eminent academic secondary schools in New Zealand. Janine and I are also pleased to be here because Auckland Grammar is in our neighbourhood, and we value the relationship we have with the school.
This occasion gives me an opportunity to publicly thank Mr O'Connor and the school for allowing us to use Grammar's grounds to fire the gun salutes for visiting Heads of State. The gun salutes add to the occasions and are part of the blend of a unique New Zealand ceremony of welcome.
Turning to why we are here today – opening the Augusta Block. Having been on the virtual tour of Augusta, I can already say it is very impressive. Well done to all involved.
Our being here today represents the culmination of the vision and work of many people. This Augusta Block is a visible sign of an investment in your young men. It represents a faith in and commitment to the future of Grammar's young men by the school's community.
The significance of this new building extends beyond the grounds of the school. It has provided a focal point for the school and your community. I acknowledge the generosity of the parents of current students, Old Boys of the school and the Old Boys' Association in providing substantial funding for the Augusta Block; and the forbearance of staff and students as it was being built.
You can gauge the calibre of a school by the people in it, and the people who choose to affiliate to it. By all standards, including Janine's and my observations of the boys meandering their way to school on school mornings and Auckland Grammar School's academic and sporting achievements; Grammar is in good heart. What this school is today compliments the heritage it holds and its illustrious old boys.
Amongst your very many distinguished old boys is Cyril Bassett VC. The example of Cyril Bassett, New Zealand's only Gallipoli Victoria Cross recipient, is one of credit for Auckland Grammar School, and what goes on here.
Cyril Bassett, a modest man, always maintained that hundreds more men deserved the Victoria Cross than himself. After the war, Bassett returned to banking. He did not seek fame, nor did he capitalise on his status. And when war came again in 1939, he again served his country.
Cyril Bassett's education, in the widest sense of the word, at this school contributed to his character. His courage, commitment and humility together with a respect and service for others and moral integrity and leadership – his example - were nurtured here. In August, 100 years after the acts of gallantry that won him the supreme accolade, Janine and I will be reflecting on his extraordinary courage, humility and commitment when we visit Gallipoli.
Bassett's life story exemplifies the words of the great educationalist and poet Matthew Arnold, who said: "Life is not a having and a getting, but a being and becoming".
It is the having and getting and being and becoming, which Bassett demonstrated in his life, that echo today. It is the young impressionable men who will have use of this superb facility and be inculcated in the "Grammar Way" who will have the opportunity of being and becoming leaders in New Zealand and beyond in the future. That is the significance of this Augusta Block.
I congratulate all of those who have contributed to conceiving, designing, funding and building this outstanding new facility. I am certain that the Augusta Block will function well for the students and staff of Auckland Grammar School today and it will add strength to the example this School and its people will continue to make into the future.
Kia ora huihui tātou katoa