Kei nga mana, Kei nga reo, Rau rangatira ma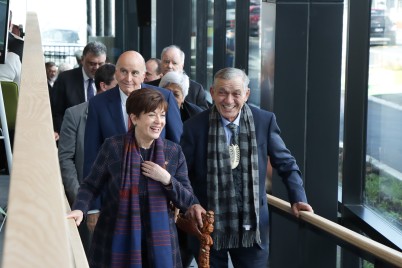 Koutou, tātou, kua tatū mai i runga i te reo karanga o te rā
Tēnā tātou katoa.
Me mihi te mana whenua, ka tika!
Waikato Tainui.
He piko, he taniwha! He piko, he taniwha!
Waikato Taniwharau
Tihei ki te whai ao, ki te ao marama.
Ka mihi ki te kaupapa o te rā, nana i powhiri,
arā te tuwheratanga o tēnei whare
Te whare e tu nei, Tēnā koe
No reira, Tēnā koutou, tēnā koutou, Tēnā tātou katoa.[1]
I acknowledge
Kiingi Tuheitia Potatau Te Wherowhero te Tuawhitu
Russ Rimington, Chair, and Dr Chris McLay, Chief Executive Waikato Regional Council
Members of Parliament, Mayors and Councillors
Other distinguished guests.
I am honoured to join you today for the official opening of the Waikato Regional Council's new home.
Having grown up in this region – and having attended Hamilton Girls High School just up the road – I feel like I am returning to my old haunts today. So I am pleased this celebration could happen before my term of office ends in a few months' time.
Today marks a milestone in the work of an agency that plays such an important role in the kaitiakitanga of the Waikato region.
When I looked at the map and realised the full extent of your rohe, I reflected on the unique responsibilities shouldered by the Regional Council.
There's the extraordinary geographical diversity, there's the rapidly expanding population, and there's the considerable contribution the region makes to the national economy.
The interests of a significant Māori population are recognised in the two Māori constituencies in the Council, and in the co-management of the Waipā and Waikato Rivers – along with a growing expectation that mātauranga Māori will inform decision-making processes.
And as with every region in Aotearoa, there are the looming threats of climate change and biodiversity loss to contend with.
We know that a significant majority of New Zealanders are concerned about the impacts of climate change – and I recognise the role that the Regional Council plays in monitoring and mitigating those impacts, and in setting expectations around human activity.
What is not so well recognised, is the equally serious threat of biodiversity loss.
I encourage any efforts to raise public awareness that we are all kaitiaki of increasingly fragile ecosystems, and that our very wellbeing – indeed human survival – depends on the health of complex webs of species.
We are not the centre of the universe, we are merely a part of it.
Ka ora te whenua, Ka ora Te tangata.
In my travels around the motu, and through my patronage of the Aotearoa Circle, I have seen the impressive results that can be achieved when local government, iwi, government agencies, businesses, scientific experts and communities work together for the public good.
David and I were very impressed when we visited one such example in your rohe - Sanctuary Mountain Maungatautari - earlier this year.
Along with other corridors of forests in the region, it is helping to provide a sustainable, predator-free, habitat for precious flora and fauna, with a resulting halo effect on the surrounding landscapes. It's exciting to know that network is expanding.
I know there are many local heroes working hard to restore wetlands, preserve mangroves, plant alongside waterways, clean up gullies, eradicate noxious plants and predators, and help protect and rebuild vital ecosystems.
And the momentum of this work is gathering speed.
As your strategic plan recognises, vibrant communities and a prosperous economy cannot exist without a healthy environment.
So I wish you well with your ambitious programme of projects focussing on environmental restoration, biosecurity and climate resilience across the Waikato region.
In choosing to move into this building, it's good to see the Regional Council walking the talk and including sustainable architectural features.
And now it's my pleasure to officially open the building, one of the motherships for your important work, and to wish the Waikato Regional Council every success in the years to come.
[1] To the many distinguished guests gathered here today, may I acknowledge you, one and all. I especially acknowledge Waikato Tainui of whom it is said that at every bend in the river stands a leader. Aha! Tis the world of enlightenment. I acknowledge the reason why we have gathered here today, the opening of this beautiful building. I greet you, everyone gathered here, greetings one and all.