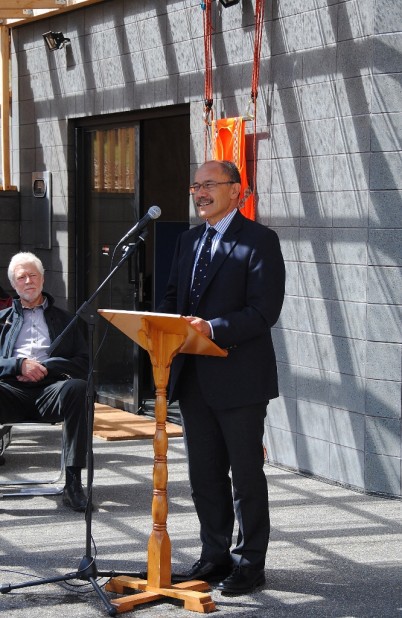 Rau rangatira mā, e kui mā, e koro mā, e huihui nei, tēnei aku mihi māhana ki a koutou. Kia ora tātou katoa.
Distinguished guests, ladies and gentlemen, warm greetings to you all.
I specifically acknowledge: Hon Jacquie Deans, MP for Waitaki; Lyall Cocks, Deputy Mayor, Queenstown Lakes District Council; Sergeant Aaron Nicholson, of the Wanaka Police; and Paul Marshall and Harry Maher, Chairman and CEO respectively of Wanaka LandSAR - tēnā koutou katoa.
Thank you for inviting me to what must be a very special day for Wanaka LandSAR and the wider Wanaka community. I'm delighted to be able to share it with you.
I'm sure it's a big day in other ways for some of you, with friends and family competing in the Motatapu. The magnificent hill country in this area is a fantastic place for sport and recreation. It's great to see so many hundreds of people take the opportunity to get out there and challenge themselves in such awesome surroundings.
As beautiful as that landscape is, it has a harsh, unforgiving side. The unwary or unprepared have come to grief in our wilderness areas. And even experienced professionals, and people who have done all the right things, can be caught out by bad weather or mishaps.
In a perfect world, everyone who ventured out into our high country, back country, mountains, forests and national parks would return home safely. Unfortunately that doesn't always happen. It's in those instances that groups like Wanaka LandSAR prove their value. There are many people, in New Zealand and around the world, who are grateful for the assistance rendered by LandSAR members.
The work of LandSAR is all the more notable because for the most part it's done by volunteers - unpaid professionals who make themselves available 24 hours a day, 7 days a week. As the Patron of LandSAR, I acknowledge and thank you for your dedication to our organisation and the work it does saving lives.
Search and rescue is no easy task. LandSAR people give many hundreds of hours of personal time to search and rescue duty, and of course these operations carry an element of risk. The work of Wanaka LandSAR is a fine example of service to others and you should rightly-be proud of your achievements.
The opening of this new building, constructed specifically for Wanaka LandSAR, is a tribute to the dedication and vision of its members. It's certainly a step up from the double garage out the back of the old police station!
Any venture like this involves an enormous amount of time, effort and money. A half million dollar cost is a substantial outlay. It would have been a daunting prospect when plans were set in motion.
And so today must be immensely satisfying to all who have contributed to the project: the LandSAR Wanaka members Roy Bailey, Geoff Hatten and Phil Melchior; Central Lakes Trust; and the wider Wanaka community, individuals and businesses.
The commitment and generosity of the local community have been outstanding; from cafe staff donating the contents of their tip jar, to local tradesmen providing goods and services that shaved almost $100,000 off the cost; to 11 year-old Kate Goodsell painting people's fingernails to raise money. Their willingness to contribute shows how much the Wanaka community values the work of Wanaka LandSAR.
Author Robert A. Heinlein said that in all our folklore, all human religions, all our literature, there is a conviction that:"when one human needs rescue, others should not count the cost"
The Wanaka and LandSAR communities clearly understand and support that conviction. Congratulations to everyone who has played a part, big or small, in bringing this project to fruition. And thank you to LandSAR Wanaka for what you do for those whose trip into the Great Outdoors goes wrong. Many families have a lot to thank you for.
Kia ora huihui tātou katoa