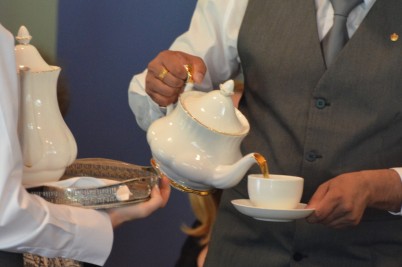 Kia ora koutou. Nau mai, haere mai rā ki Te Whare Kawana ki Tamaki Makaurau. Greetings to you all, and welcome to Government House Auckland.
I specifically acknowledge: David Belcher and Bruce Anderson, Chairman and CEO of The Parenting Place respectively - tēnā korua.

It is a great pleasure to welcome you all to Government House today for this Parenting Place High Tea.
The future of our young people is of great importance to everyone in this room. I'm pleased we can all join together to support The Parenting Place as they seek your assistance to expand their Attitude programme.
Given we are starting at 2pm(ish) and High Teas are usually timed for late afternoon, it's more a late lunch than High Tea. May be there's something we don't know about the duration of this event!
For me, as a parent and grandparent, I'm interested in those things that help our young people. Helping them to make good decisions in this contemporary world is especially important.
Research shows that our brains don't reach full maturity until at least our early 20s. Thank goodness for you women, because I've seen research suggesting that with men it's early 30s!
And I suspect most teenagers would counter the late brain development proposition by asserting that an adult's brain deteriorates very rapidly after the mid-20s.
As one research scientist put it "the teen brain is still under construction." This means that young people are often put into challenging situations without having the practical or notional thought processes to be able to navigate them.
There is other opinion that asserts that the pace of societal change has been hugely impacted by technological change. That, whereas when I was growing up it was quite appropriate for my parents and grandparents to say "Follow my example because you are too young to understand", now it is reasonable for a young person to assert "I won't follow your example because you're too old to know!"
The existence of a programme like 'Attitude' is a great way of bridging the gap and backing up the lessons that most parents offer. And of also filling the gaps for young people who might not be getting guidance at home.
During my time as Governor-General, I've met hundreds of young New Zealanders and they impress me with their intelligence, naturalness, energy, idealism and potential. Anything that helps them increase their ability to live a good life and deal with what the universe throws at them can only be of benefit.
I'm not sure what it is that Attitude offers, and so I'm looking forward to hearing from our speakers.
However, before we hear from them, I want to thank you all for your support of The Parenting Place and their programmes. The programmes they offer are of great benefit to our rangatahi from early years, middle years and tweens and teens.
I look forward to hearing from this afternoon's guest speakers – Yvonne Godfrey, Petra Bagust and Zane Scarborough - because I'm sure they'll have some interesting takes on young people and how we your support can help them learn about the world.
Kia ora huihui tātou katoa
Last updated:
Thursday, 27 November 2014