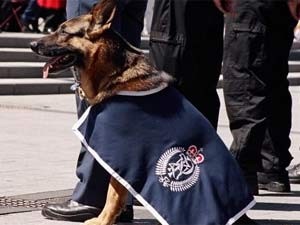 To view images from the ceremony, click here
E nga mana, e nga reo, e nga iwi katoa; tena koutou, tena koutou, tena koutou. Kia ora tātou katoa. Distinguished guests, ladies and gentlemen, greetings to you all.
I specifically acknowledge: Acting Commissioner Viv Rickard and Assistant Commissioner Grant Nicholls, of the New Zealand Police, and Superintendent Gary Knowles, Canterbury District Commander; and Senior Constable Bruce Lamb - tēnā koutou katoa.
It is a unique privilege to be here in Christchurch for this PDSA Gold Medal presentation ceremony. Gaining a PDSA Gold Medal is a significant tribute. I want to speak of the significance of this award, say something about the role of police dogs and specifically Gage.
Today I have the honour, on behalf of the Her Royal Highness, Princess Alexandra, Patron of the PDSA, Britain's leading veterinary charity, to present the organisation's Gold Medal to Senior Constable Bruce Lamb, on behalf of his late dog, Gage.
Gage is only the 23rd dog world-wide to receive this award. The PDSA Gold Medal is the highest honour for outstanding bravery and exceptional dedication for an animal in non-military conflict circumstances. The Medal is inscribed with the words: "For gallantry or devotion to duty." Established in 2001, the Medal is recognised as the animals' equivalent of the George Cross or the New Zealand Cross – the highest award for bravery in non-warlike situations.
Gage is the second New Zealand dog to receive this high honour. The first was George, a Jack Russell Terrier, who protected five young children from being attacked by pit bull terriers at Manaia in South Taranaki in 2007. Like Gage, he died from the injuries he sustained, and his award was posthumously presented by my predecessor, Sir Anand Satyanand, in 2009.
Gage won his PDSA Gold Medal when he took a gunshot that almost certainly would have killed his already injured handler, Senior Constable Bruce Lamb. During what was expected to be a routine drugs search of a Christchurch house in 2010 Senior Constable Lamb was shot in the face. As the offender fired a second round, Gage leapt over Senior Constable Lamb and was shot. Senior Constable Lamb and Gage managed to escape, but the six-year-old German shepherd police dog died soon after.
The situation Senior Constable Lamb, Gage, and other police officers faced that day was frightening. When they turned up to work that day, I'm sure they never suspected a routine search would turn into an armed standoff that left Gage dead and two officers with gunshot wounds.
As Governor-General, I want to acknowledge and thank the New Zealand Police for their work and service for all New Zealanders. Those who work with police dogs, in particular, make an immense contribution to policing in New Zealand and in keeping our communities safe. Police dogs and their handlers respond to more than 30,000 incidents a year that varies from tracking offenders, search and rescue, victim recovery, detecting drugs and responding to armed offenders.
Dogs' lives are short compared to ours. It is, as one writer once said, their only fault. And yet, living and working together as a team a dog and its handler form an incredibly strong bond. I am certain every dog owner knows better than most, the real meaning of a comment made by former American SPCA President, the late Roger Caras, who once said: "Dogs are not our whole life, but they make our lives whole."
In coming to the aid of his seriously injured handler, Gage's actions typified an unwavering bond that generates an unselfish dedication, service and courage to a mate. Gage was, to use Senior Constable Lamb's own words, "…incredibly courageous and scared of nothing. He was obstinate, and devoted to me, and in his prime."
The PDSA Gold Medal reminds us of a faithful and courageous dog, who in six short years gave remarkable service in our community. The medal also attests to the strong bonds between a man and his dog.
Kia ora, kia kaha, kia manawanui, huihui tātou katoa.
I would now like to invite my wife Janine to read a message from Her Royal Highness, Princess Alexandra, Patron of the PDSA.
Message from HRH Princess Alexandra
Your Excellency, honoured guests, ladies and gentlemen and friends of Gage, my thoughts are with you on this special day as PDSA, the United Kingdom's leading veterinary charity, honours Gage for his exceptional bravery. Sadly, Gage lost his life in the line of duty.
The PDSA Gold Medal was instituted in 2001 and is the highest honour for outstanding animal bravery or exceptional devotion to duty outside the arena of military conflict.
Gage is a perfect example of such a heroic dog and joins the illustrious list of 22 other dogs who have received the award.
Those of us who share a love of animals will understand the pride that Gage's handler, Senior Constable Bruce Lamb, will be feeling today.
I am sure that the PDSA Gold Medal, however special, cannot replace this extremely courageous dog, but I do hope that the spirit of the award reflects the strong will of Gage and the devotion he showed throughout his life.
HRH Princess Alexandra
Patron, PDSA