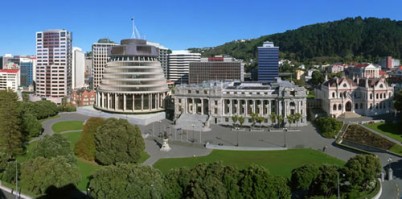 E kui mā, e koro mā, tēnā koutou katoa. Nau mai, haere mai ra ki Te Whare Kawana o Te Whanganui-a-Tara. Ladies and gentlemen, greetings to you all, and welcome to Government House Wellington. I want to specifically acknowledge: Claire Trevett, Chair of the Parliamentary Press Gallery, and the full and life members of the Gallery.
It's a pleasure for Janine and me to welcome you to Government House for what has become something of a tradition. At least once in a Governor-General's term, full and life members of the Gallery are invited along to dinner. In part the invitation is an opportunity to get to know you, and in part it recognises the fundamental role the media plays in our democracy.
As an aside, I was told that some members of the Gallery were a tad uncertain, earlier this year, whether an invitation would be extended from the House. Apparently, there was some notion that a job I held down for six months before this one might have coloured my thinking! The reality was simply that trying to find a free Friday night in our diaries, even six months out, was not easy.
Recently, Janine and I marked our second anniversary in the Vice-Regal role. I can say that it has been an honour to represent our Queen in New Zealand, and in turn to represent New Zealand and New Zealanders to the rest of the world. Janine and I have been privileged supporting and recognising New Zealanders in good times – at the Olympics in London or investiture ceremonies – and in sad times – like the poignant first anniversaries of the Christchurch earthquake and Pike River Mine tragedy.
Throughout our time, we have been filmed, recorded, photographed and interviewed by the media. While it's something I've faced throughout my career, Janine has taken a little while to get used to it. When I finished as the Chief of Defence Force, we had anticipated having more private lives and being out of the public eye. However, we fully realise that we now operate in a public space, and that it goes with the role. I endorse the role of the media in reporting the news and informing the general public about "goings-on". I recognise that you have a job to do and I'm comfortable that journalists I've encountered over the years have played with a straight bat.
I also recognise that the media, individually and collectively, play a central role in reporting, explaining and sometimes assessing political developments. In that space, you help voters to make their decisions. Your efforts are particularly important leading up to an election, when voters have the opportunity to choose who will represent them in Parliament, and by extension who will be the government.
It is now 20 years since New Zealanders voted to change from first-past-the-post to the mixed-member-proportional model. Despite being used in six General Elections, it seems to me that the way MMP works is still not always well understood. In that regard, on-going education is needed to ensure voters are better informed to make their choices on Election Day. While this is primarily a matter for the Electoral Commission, I think the media has a role in helping to explain to voters how their individual decisions and choices translate into seats in the House and the formation of a government. It is that latter aspect – government formation – I want to focus my remarks on this evening.
In usual circumstances a Governor-General, who serves a five-year term – give or take – will be involved in at least one, possibly two election cycles. In my case, having been involved in an election soon after taking office in 2011, the election next year will be my second. I note there has been some speculating and hypothesising about the possible outcome of the 2014 election in the media already. So I thought it useful to talk with you tonight about my role in the government formation process.
Government formation is an inherently political enterprise – and that is how it should be. The Governor-General's role is to appoint a government based on decisions arrived at by elected politicians. I don't and won't speculate or comment on the merits of election outcomes, or on the considerations that motivate parties as they legitimately position themselves in the pre- and post-election periods.
My concern is with the constitutional principles – the rules of engagement if you will – that underpin government formation. These principles are not new. They are well-established from the practices and comments of several of my predecessors, and they are also well-documented in the Cabinet Manual.
It is worth reminding ourselves of the rules of engagement from time to time, as general elections occur on a comparatively frequent basis in this country. Furthermore, New Zealanders confirmed their support for MMP in 2011, and so it will form a central element of our constitutional arrangements and be with us for the foreseeable future.
Another reason for keeping these things fresh in the mind is that you never know when you might need them. It was during a dinner for journalists much like this one, here at Government House on 14 June 1984, that Sir David Beattie had an unexpected visitor in the form of the Prime Minister, Sir Robert Muldoon. The Prime Minister was seeking a dissolution of Parliament. The trigger had been Muldoon's falling-out with MP Marilyn Waring on the issue of nuclear ship visits. The Prime Minister, it seems, was concerned about being able to maintain his one-seat majority, and had decided to advise an early election.
As Gavin McLean recalls in his book "The Governors", Sir David excused himself from his guests and went to the door to greet the Prime Minister. The Prime Minister was able to assure Sir David that he still retained the confidence of the House for the time being, and Sir David received the advice and granted the dissolution accordingly. What the journalists were doing in the meantime I don't know. However, it's well known that Listener editor David Beatson typed up the press release announcing the election.
My focus this evening, however, is not on the steps leading up to elections, but rather what happens directly afterwards. The question is, what do our constitutional arrangements require of political parties before a prospective government can be sworn in by the Governor-General? In a nutshell, it's about quantity and clarity. Let me explain what I mean by this.
In New Zealand's system of parliamentary democracy, the government is formed out of the elected members of Parliament. The formation of a government depends on one or more parties being able to show they will have a majority in the House of Representatives – that they have "the confidence of the House". This is where governments in parliamentary systems like ours get their legitimacy from: by having the support of a majority of members in a democratically-elected parliament. This is the "quantity" part of the equation. The prospective government needs to be able to show it will have the numbers.
Being able to demonstrate the confidence of the House was the key to government formation under FPP, and it remains the case under MMP. However, whereas FPP Parliaments tended to be dominated by two large parties, which could almost always form single party majority governments, under MMP the increased number of parties in Parliament has resulted in parties needing to enter into coalition or support arrangements to get a majority.
It is worth remembering that a party or grouping of parties may be able to secure a majority even if it does not hold more than half of the seats in the House. This is because a confidence vote, like all questions put to the House, is decided by a simple majority of votes cast. To illustrate the point: a party may state publicly and unambiguously that it will not provide support on matters of confidence to any other party or grouping of parties, and that it will instead abstain on confidence votes and vote on legislation case by case. Whatever that party's motives, its abstention is constitutionally significant, because it reduces the number of votes another party or grouping of parties will need to win confidence votes and command the confidence of the House.
Another possible outcome of the government formation process is that the person appointed Prime Minister is not the leader of the party that secured the single-largest share of seats. So far under MMP, the leader of the party with the largest number of seats in Parliament has always been able to form a government. While some voters think that will always be the case, it may not. Again, the fundamental question is where the confidence of the House lies. If two or more other parties are able to cooperate, whether in a coalition, or on the basis of commitments of support, they may be able to muster more votes between them than the party with the most seats, and be able to form a government.
I'd now like to turn to the "clarity" side of the equation. Under MMP it is not enough for a party or grouping of parties simply to have the numbers in the House. They must also communicate the result of their negotiations so the public knows what sort of government has been formed, and so as Governor-General, I can appoint the leader of that party or grouping as Prime Minister.
What is required are clear and public statements by the party leaders concerned, showing that the prospective government will have the confidence of the House. By clear and public statements I mean that the parties forming or supporting the government must make unambiguous explanations of their intentions on matters of confidence, so it is obvious to everyone where party allegiances in the House will lie.
To date, coalition and support arrangements under MMP have always been captured in formal written documents, often announced at media conferences. Written documents have clear advantages in terms of certainty and transparency, and I would expect that practice to continue.
Quantity and clarity: the confidence of the House, expressed in clear and public statements. These are the things that parties need to be able to show before a Governor-General can appoint a government.
Since MMP was introduced, it has been the practice of the parties forming the government to commit to working together for the duration of the parliamentary term. This is not a formal requirement, and there can never be a guarantee that any agreement reached will hold in practice. My experience of New Zealanders, though, is that they place a high value on stable government, and will expect parties to make best endeavours to agree on commitments for the full term of Parliament.
In conclusion, ours is a young, vibrant country with a strong democratic record. We, in New Zealand, have much to celebrate with pride – universal suffrage, including a 120-year commitment to women's suffrage, stable governments and an active and responsible fourth estate. As you may perceive, I am confident that our constitutional arrangements are well-equipped to translate the will of voters at the next election into the "peace, order and good government" that we all value and deserve. The rules of engagement alone are no guarantee of that, however. Making our parliamentary democracy work requires all players to exercise their roles responsibly and in good faith.
The thoughts I have shared with you this evening concern the most important constitutional activity that follows from an election. I am pleased to have been able to deliver them without any "unexpected visitors!" and without an expectation of one of you doing a David Beatson and producing a press release. As we go into an election year, I encourage you to keep up your good efforts, to report thoughtfully and accurately, and to fulfil your vital role in helping voters to understand not only how elections work, but also their potential outcomes, and the rules of engagement in the government formation period. Welcome again to Government House, and I trust you enjoy our hospitality this evening.
Last updated:
Saturday, 9 November 2013