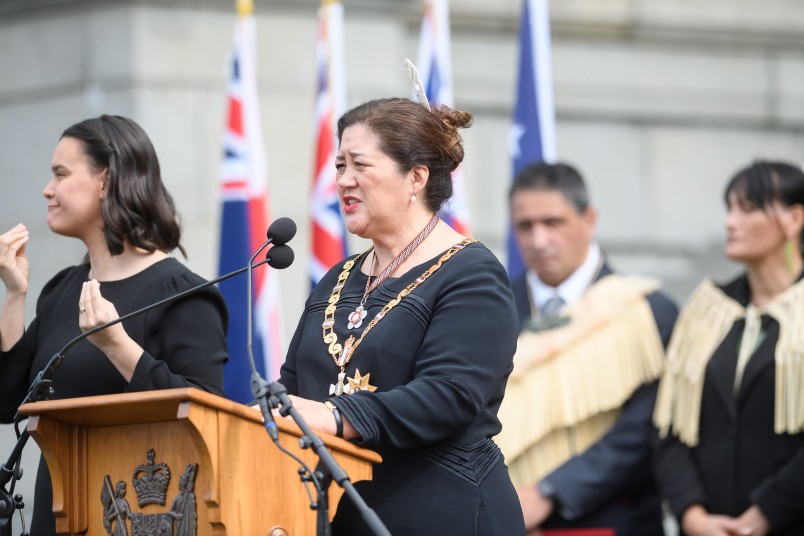 Ka hoki mai, ki te hunga ora. No reira tena koutou, tena koutou, tena tātou katoa.

On the 11th of February 1952, New Zealanders gathered on these grounds to honour the passing of His Majesty King George VI, and to witness the proclamation of Queen Elizabeth II, Queen of New Zealand.

In the succeeding seventy years, Queen Elizabeth would serve the people of the Realm of New Zealand, as our Queen, with unwavering loyalty and devotion, and with a profound sense of responsibility and care.

Many New Zealanders will have cherished memories of Queen Elizabeth's visits to New Zealand over the course of her reign; of the warmth and grace of her presence.

Through periods of immense hardship and change, Queen Elizabeth remained a pillar of true dignity and strength; a model for living life in the service of others.

Today, on these same grounds, we bear witness to another moment of deep and historic significance for Aotearoa New Zealand.

With this ceremony, and with the flags of New Zealand, the Cook Islands, Niue, and Tokelau at full mast, we duly acknowledge the accession of our new King, His Majesty King Charles III.

I know that King Charles shares his late mother's abiding sense of duty, and love for the Realm and people of New Zealand.

As Governor-General, it will be my honour to serve as His Majesty's representative here in Aotearoa.

On behalf of all New Zealanders, I extend to King Charles our loyalty and support, and wishes for a long and happy reign.

And so, on this momentous day, let us gathered here do as our forebears did those seventy years ago: let us join together in reflection and gratitude, and let us look forward to the reign of our new Sovereign, and this new chapter in our nation's history.

E te atua tohungia te Kīngi.
Last updated:
Sunday, 11 September 2022